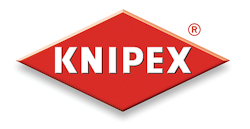 2035 South Arlington Heights Rd
Suite 110
Arlington Heights, IL 60005
KNIPEX-Tools is the Sales and Marketing Organization of KNIPEX-Werk and is located in Arlington Heights, Illinois. KNIPEX-Werk, Wuppertal, Germany is the largest manufacturer of professional quality pliers on earth. We concentrate our efforts on being the best pliers manufacturer in terms of quality, innovation, and efficiency and our pliers satisfy the highest expectations in terms of performance, ergonomics and service life. Aggressive sales and promotional opportunities available for distributors and wholesalers. KNIPEX – Tools Designed with Your Hand in Mind.
KNIPEX is known for superior quality and innovation. One of our most unique and top-selling tools is the Cobra® Water Pump Pliers. The tool's thin head fits into tight places. Serrated gripping jaws grip any shaped object: round, square, hex or flat. The adjustment stays set where you put it and a pinch guard eliminates those painful blood blisters on your hand. Try it for yourself! Experience the KNIPEX difference.
Feel free to reach out to us for more information on our innovative product offering.
Request More Information
Fill out the form below to request more information about KNIPEX Tools LP.
---