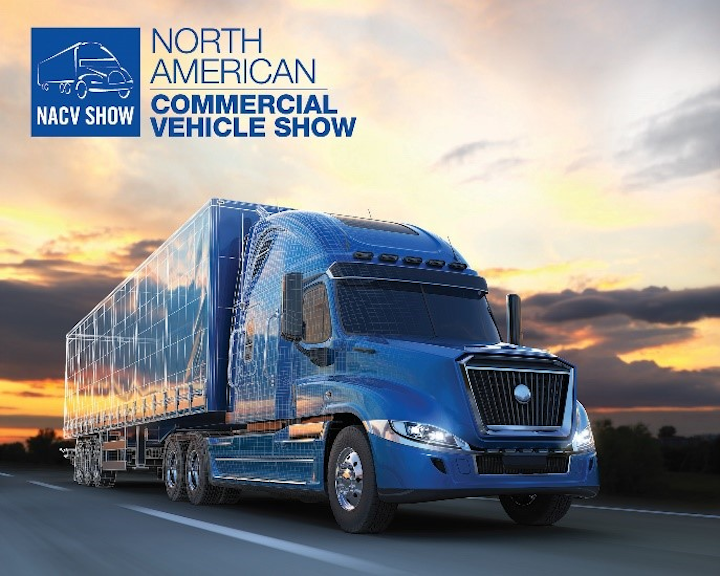 Image courtesy of NACV
Whether you're a small, medium, or large Class 8 fleet manager, head of maintenance, or fleet service provider, the biennial North American Commercial Vehicle Show (NACV Show) promises to boost your efficiency, operational intelligence, and productivity by addressing many of your maintenance and repair challenges. Much bigger than the first show held in 2017, NACV Show 2019 features 530,000 sq. ft. of products and emerging technologies from around the world. You can enjoy demonstrating the latest innovations in vehicle maintenance and repair tools including remote diagnostics and discovery solutions, data collection and analysis, faster turnaround, accident prevention, and cost reduction solutions. This four-day event of commercial vehicle innovation takes place in the Georgia World Congress Center in Atlanta from October 28-31.
What's more, the show's new on-floor education sessions will address leading maintenance and repair challenges. Industry expert panels and keynote speakers will provide insight into collecting and organizing the right data and how to use this data to improve and diagnose fleet maintenance issues. Discussions will also center on how to reduce fleet downtime and how to harness opportunities to maintain your fleet in a cost-effective manner.
Address diagnostic issues; source solutions
Many fleet managers and maintenance pros look forward to attending the show because of its educational sessions and product demonstrations to address their diagnostic and repair challenges, its source fleet maintenance tech solutions, and the ability to talk to peers and manufacturers. Whenever you can join a gathering of OEMs, support people, service technicians, component providers, and engineers who are sharing ideas, experience, and knowledge, it really benefits your fleet. You will be able to demo current product offerings and gauge where the industry is headed by holding meaningful discussions with exhibitors.
Kyle Behnke, CEO of United Federal Logistics, Inc., a Georgia-based private fleet of 17 units that run for FedEx Ground and Forward Air, will extend his visit to the show this year: a recurring theme heard from 2017 attendees. He looks forward to developing new relationships with vendors and observing the demonstration of the latest technologies that can improve driver and fleet safety.
"The most challenging part of my job is gathering information to figure out what needs to be done to keep my fleet maintained," says Behnke. "Because my fleet is on the road 24/7, I need quick discovery and turnaround when one of my trucks returns for service."
Rodger Smyth, safety director of fleet management at Atlanta Commercial Tire, one of the largest truck tire dealers and servicers in the Southeast, strives to provide his small to mid-sized fleet customers the very best service and cost-effective tire management solutions possible. "I make it a point to attend the NACV Show to stay informed about maintenance and repair technology trends," says Smyth.
After a successful visit to the inaugural show, Smyth plans to spend more time on the show floor. "I plan to evaluate and demonstrate new maintenance tools, including tire inflation and diagnostic technology and tire inflation systems," he adds.
Connect with smart technology
Smart technology designed to help the industry address diagnostics, preventative maintenance scheduling, and repair is a highlight of this year's show. "One thing is for sure: in any industry, you rise with technology or risk falling behind," says Smyth.
Designed for adaptive diagnostics and dynamic fleet maintenance scheduling, first-time exhibitor STAR Group America, LLC, is launching its PRISMA Smart Content Service platform into the North American fleet marketplace at the show, as well as showcasing its GRIPS Content Management solution. "We look forward to meeting face-to-face with potential North American customers at the show and to collaborating with them on their fleet maintenance and repair information needs," says Alan Horvath, Managing Director of Cleveland, Ohio-based, STAR Group America.
STAR's PRISMA platform delivers intelligent content and helps fleet managers and service technicians build maintenance solutions, work descriptions, and diagnostics. The GRIPS technology creates, tracks, and structures large volumes of VIN-specific product information, addressing the technical information needs of fleet maintenance managers and repair shops. "As the originators of commercial vehicle parts data and technical information, GRIPS is perfectly designed for OEMs to manage and prepare their data to address fleet maintenance managers problems," adds Horvath.
Behnke says, "I want to make sure we don't pay for extra parts or involve more people in the discovery process then we need to. During the show, I will be looking at diagnostic tools that can help me avoid incurring extra costs associated with problem discoveries."
Addressing the needs of Behnke and other fleet managers and maintenance pros, San Diego-based Mitchell 1 will demonstrate its TruckSeries online vehicle information platform at the show. TruckSeries offers complete diagnostic and repair information for all Class 4-8 vehicle brands and models.
"TruckSeries provides technicians with a number of repair and service resources, including details on component diagrams," says Kristy LaPage, business manager, commercial vehicle group at Mitchell 1. "Our platform saves in-house discovery time because maintenance managers can use TruckSeries to determine whether or not their shop has the capability to repair a truck. No need to take apart the vehicle when you can accelerate the decision to outsource the repair, saving diagnostic costs," adds LaPage. TruckSeries is integrated with Manager SE Truck Edition, Mitchell 1's truck shop management software that helps repair shops run their business more efficiently and profitably.
Exhibitor Aperia Technologies' will showcase its recently launched Halo Connect tire analytics platform. Halo Connect uses machine learning and proprietary algorithms to sense and diagnose tire issues long before one could with a pressure gauge or typical tire pressure monitoring system -- effectively enabling fleets to shift from a reactive ERS model to a proactive and predictive service model.
By combining the power of active tire pressure management with smart tire analytics, Halo Connect virtually eliminates unplanned downtime due to untreated tire leaks and underinflation. "Unlike other systems, Halo Connect actively measures and adjusts tire pressure in real-time while sharing relevant analytics to the fleet," says Judith Monte, vice president of marketing and customer success at Aperia Technologies.
She adds, "By the time we exhibit at the show in October, we will have full production quantities of our new Halo Connect technology for fleets interested in optimizing their tire management and service program."
Learn and Collaborate
NACV Show 2019 offers unique opportunities for you to stay up to date. The more knowledge you have about emerging smart technologies and fleet maintenance solutions, the better armed you will be when choosing the right partner to help you move forward. Kyle Behnke notes, "I depend on my smart technology partner to remind me when maintenance is due and to provide diagnostics to assess, discover, and solve my fleet's repair issues."
Attending the show is a great way to address the data side of fleet maintenance to better support your technicians and your fleet's diagnostic needs. The show offers you a first-hand look at what's current and what's coming down the pike, letting you stay on the cutting edge of industry innovation so your fleet doesn't fall behind.
"Whenever you can gain access to multiple resources, you should take advantage of the opportunity to learn," says Mitchell 1's LaPage. "The NACV Show 2019 offers you the ability to check out innovative solutions and to network and collaborate with industry peers to improve your business."
Carmen Diaz is the show manager for the NACV Show. For more information about attending, contact Ashley Olian at aolian@hfusa.com.