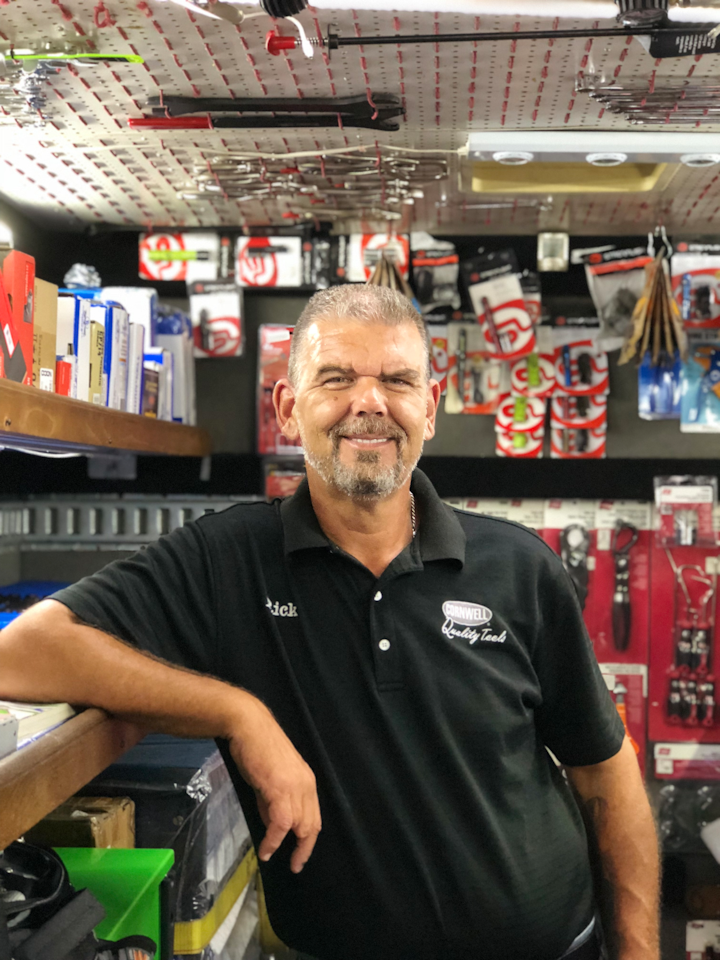 Virginia-based tool dealer Rick Brown was the first Cornwell tool dealer to place a million-dollar product purchase, and since then continues to average roughly a million dollars in sales and collections each year. Even with seven competitors on his route.
He was also Professional Distributor's first Mobile Tool Distributor of the Year back in 2012.
But with all those firsts, he's not the first tool dealer to have to figure out how to navigate the trend of technicians purchasing their tools online, especially millennials. And with 2,500 customers on the books, he sees his fair share of how it has affected his business and steered many conversations.
"With the youth of today, the millennials, they [have] more tendencies [to buy] things off the internet because they can get it for half the price for what a tool man's selling it [for]," Brown says.
And they're not shy to bring it up either. At least not at first.
"They just haven't realized the service that comes with purchasing the tool [from a dealer]," Brown says. "As they start getting older and hang out with the older mechanics, the older mechanics are teaching them that you might pay a little more but you're gonna get better service with the tool."
So, with the help of his veteran technician clientele backing him up, and perhaps a little bit of his laid back "southern charm," Brown continues to service new customers by explaining the benefits of having a tool dealer on their side.
"Some people buy it, and some of them don't," Brown says of new customers. "But we go with what they do. I can't force them to buy the tool, I can just offer it to them. If they're willing to make that deal, we'll make a deal
with them."
And that's generally how Brown runs his business and treats his customers: like friends.
He knows their families by name, or when they are expecting a new child. He's been known to drop off a baby blanket and a Cornwell-branded rubber ducky as a 'congratulations.'
"If you know a little bit about each one of your customers, there's always something you can talk to them about," Brown says, who considers many of his customers like family.
And even with a 'family' of more than 1,000 customers, made up of specialty shops and 20 percent heavy duty and industrial customers, Brown still finds time for his own family.
While Brown says he has "another good 15 years" left, he wants to be in a place in his career where he can reduce the number of days a week he works from five to three in order to take a break and spend even more time with his wife, who currently helps with stock ordering and financials.
Rick Brown is a featured distributor in Professional Distributor's 25th Anniversary Special Edition October 2018 issue. He was first featured in the magazine in 2012.