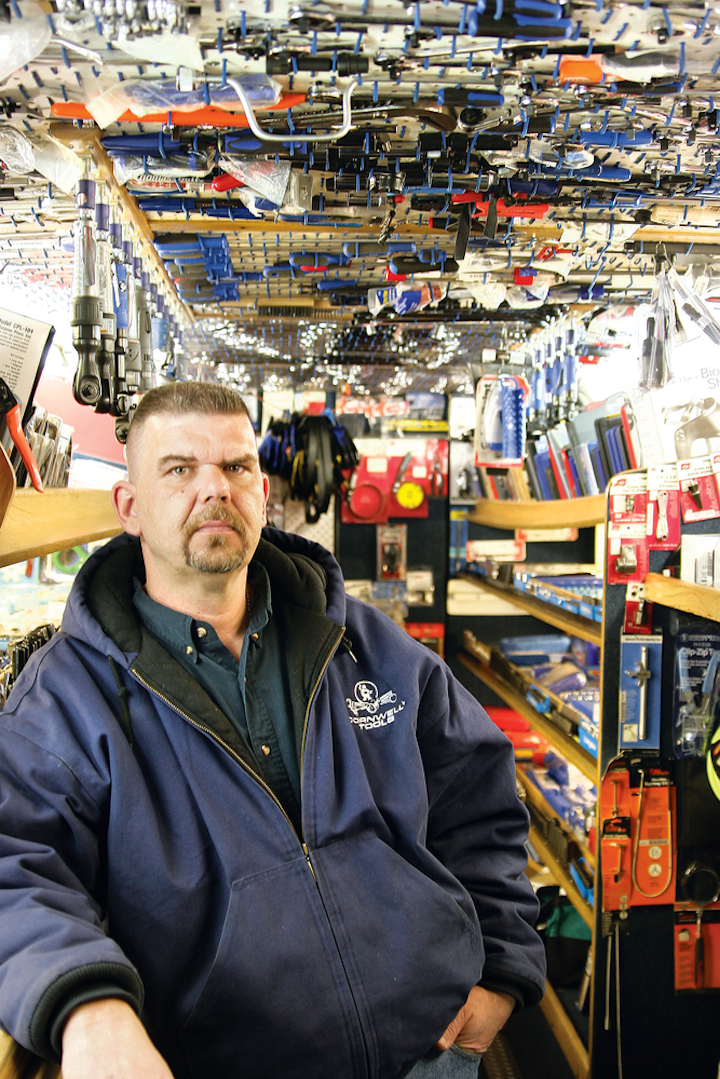 Every month we interview a successful tool distributor and tell you how they meet the challenges, nurture the business, and deal with some of the most demanding customers in the world. Last summer we began a search for the tool man's tool man (or woman): an ambassador who projects a positive image of the profession, someone that everyone would recognize as a true professional.
Nominees were judged not just on the success of their business, but also on their attitude, their sense of community both inside and outside the industry, and the appearance of their truck.
This month we are proud to announce our 2012 Mobile Tool Distributor of the Year: Rick Brown of Manassas, VA.
Rick is a Cornwell dealer and was nominated by his district manager, Steve Sullivan, who described Rick as "Quite an individual. I've been in this business for 34 years and he's the only one I've met who has become this self-sufficient. He's really on fire."
Steve says Rick's increase over the previous year was 17 percent, which is impressive enough, but it also made him the first-ever Cornwell dealer to reach the million-dollar mark.
But numbers tell only part of the story. Steve says Rick "has so much fun with his customers" and is "respected by Cornwell dealers all over the country. He's a great listener, always puts a positive spin on things."
Rick is also involved with a community service group called Freedom Behind the Wheel, a non-profit organization that provides wounded veterans with the opportunity to participate in motorsports events driving hand-controlled cars (see sidebar).
A Late Start
Rick has been in the business only six years, but he became interested over 20 years ago when he rode with a good friend who had become a tool distributor. "I thought it was the most fun job ever, but every time I tried to get a route something would fall apart and it just didn't happen."
After two decades turning wrenches in dealerships and independent shops, he finally heard about a Cornwell route that had opened up nearby. "I figured if I could make the owner of the shop $300,000 dollars a year, why couldn't I do it for myself? That was over five years ago and I haven't looked back."
Rick attributes his success to being a competitive person. "When I went to my first Cornwell rally and saw someone get the gold ring, I said 'I want that.' "
Rick placed 23rd in his second year, in the top ten the next two years, and was number one in 2010 and 2011. In addition to being competitive, Rick also loves what he's doing. "This is one of the greatest things I've ever done. I couldn't see myself going back to work for somebody else. I like having the freedom to do what I want and do it my way."
Maybe it's just his Southern culture, but the mood on Rick's truck is relaxed and familiar, not at all competitive. "It's just something that comes naturally. I love talking with people, and (now) I get paid to do it. Some days I feel like a bartender, listening to everybody's problems, maybe giving some advice … they know they can vent and not worry (because) it all stays on the truck."
That said, Rick is indeed attending to business. In a 70-hour week he drives about 250 miles to collect from 425 customers, and he sees almost 1,100 customers in dealerships, independent repair shops, heavy truck shops, landscaping shops, a large construction company, a couple of motorcycle shops and even the aircraft maintenance shops at Dulles International Airport. Rick said he doesn't do much business in tire shops because "the techs are mostly young, hourly, don't know how to manage money yet, and usually they don't stay there very long."
Social Media
Rick also doesn't bother chasing skips. "I won't spend time chasing money that might not be there 'cause that ends up costing me money. I'd rather collect money that I know will be there." Even so, he's found a few skips on Facebook. "You can send them messages telling them they still owe you money, and they'll message you back 'OK.' Then they'll put you on the !#% list and won't ever talk to you again. But you can still find them."
Facebook has also turned out to be a good sales tool. "I'll put new products on Facebook with a special price. If a customer gets on the truck and says they saw it on Facebook, I'll give them that price." He has sold four Power Probe kits that way, in one day.
When asked about selling toolboxes, Rick says he treats them like an impulse item. "I've never asked for a toolbox sale and I've never pushed anybody to buy anything. Sometimes I'll tease a guy whose box is old and beat up, telling him he needs a new one. If they want it, they'll come see me about it."
Once the seed is planted, Rick makes sure he's ready for the sale. "Last year I started ordering custom boxes. I built boxes that I like and put them on the truck, and a guy would walk out to the truck and say 'I like that box, I'm going to buy it.'" Last year he sold 14 custom toolboxes.
Other impulse items on his truck include magnetic hooks, flexible flashlight holders, beef jerky, a wide assortment of knives, and bags of apple chips, which he didn't think would sell. "I sold 96 bags in three days. With a buck on each bag, that's a pretty good profit margin." The apple chips were his wife Laura's idea, and even though her direct contribution to the business is minor, Rick pointed out that he wouldn't be this successful without her help and understanding.
Another important person in his business is his Cornwell customer service rep, Charlene Stankiewicz, who said Rick is "always professional, easy to work with and does what he needs to do to help his customers."
Enjoying the Ride
Rick Brown has made so much progress in such a short time that other distributors in his area think he's preparing to become the district manager. But that's not his goal. "I've thought about it, but I like what I'm doing. I couldn't be an employee. Maybe in a few years if I burn out on this … I've achieved all I set out to do in this job; finished number one, cracked the million dollar mark, (and) I have some of the best customers in the world. Now I'm just enjoying the ride. This year I plan on taking a vacation. I'm taking my wife on a cruise 'cause the last three or four years I've always focused on being number one. She understood, so she deserves it."
Enjoy the trip Rick, you've earned it.