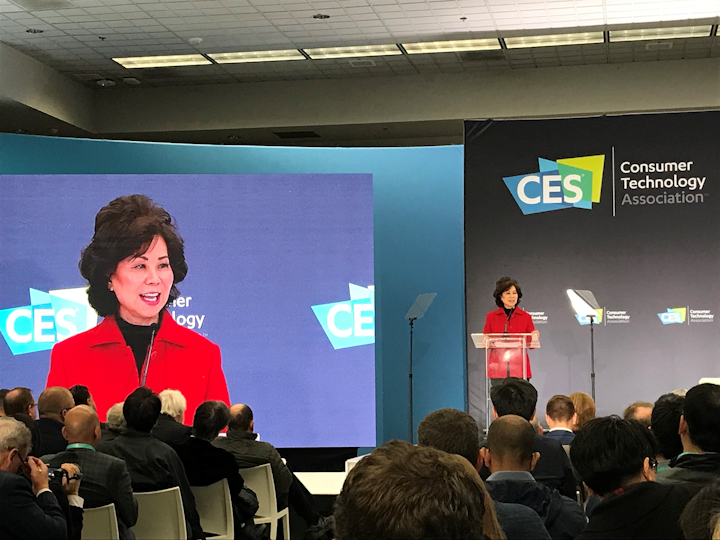 U.S. Secretary of Transportation Elaine Chao announced the release of Automated Vehicles 4.0 titled "Ensuring American Leadership in Automated Vehicle Technologies" at the Las Vegas Convention Center during CES 2020.
Automated Vehicles 4.0 (AV 4.0) is a joint White House and U.S. Department of Transportation (DOT) initiative that unifies automated vehicles effort across 38 federal departments, independent agencies, commissions, and executive offices.
"Automated vehicles have the potential to save thousands of lives annually and improve the quality of life through reduction of traffic congestion, increased productivity, environmental benefits," Chao says.
In the past few years, advanced driver assistance systems (ADAS) such as blind spot monitoring, adaptive cruise control, lane departure warnings, and automatic braking systems have become commonly available. Chao notes that these advancements are instrumental in automated vehicles, which are among the exciting on-going developments in transportation today.
Realizing the potential of automated vehicles, the federal government is "all in for safer, better, and more inclusive transportation" that could be provided by automated vehicles.
AV 4.0 establishes U.S. government principles organized around three core interests: Protect users and communities, promote efficient markets, and facilitate coordinated efforts.
"Transportation today is synonymous with innovation, and transportation is going to be as instrumental in America's future as it has been since our nation's founding," Chao says. "We are preparing for the transportation system of the future."
The future of transportation will make our lives easier, more enjoyable, and will increase the standard of living for everyone on earth, Chao concludes.
AV 4.0 can be downloaded at HERE.