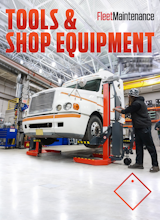 One of the keys to vehicle uptime is shop efficiency. To remain as efficient as possible, technicians performing maintenance and repairs on vehicles need to be able to keep up with advancing vehicle technologies. In addition to proper training, technicians require high-quality and up-to-date tools and equipment. 
As technology advances, vehicle systems become more complex. Vehicle service and maintenance is becoming more complicated in areas such as advanced driver assistance systems (ADAS), engine aftertreatment and emissions systems, advanced suspension components and more. To provide proper service and repair, many of these systems require specialized tools and equipment. That's not to mention having adequate tooling and equipment to complete day-to-day tasks in the bay. 
But how does a shop decide what tools to purchase? There are countless options available from different manufacturers, so it's important to consider and compare side-by-side to ensure the tools and equipment purchased are the ones that best fit the shop's need.