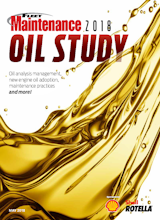 Maintaining a safe, efficient and profitable operation are the primary goals of any fleet. To attain these goals, fleets must focus on maximizing vehicle uptime and minimizing operational costs. At Fleet Maintenance, our ultimate goal is to provide best practices on fleet maintenance and repair. 
Oil analysis can play a key role in helping to keep vehicles running efficiently and reduce maintenance and repair costs. In particular, oil analysis can aid in detecting engine issues before they become problematic. While preventative maintenance measures like this are decidedly a benefit, fleets are varied in their approach to if and when they conduct oil analysis. 
To measure current practices and benefits to oil analysis, Fleet Maintenance has conducted an oil study for the third year in a row. Along with details on the adoption, frequency and methods fleets employ to conduct oil analysis, the results of this study also cover general oil preferences and usage trends. 
Survey feedback provides a window into how peers operate, and allows fleets to consider adjustments to processes as needed. 
In this whitepaper, we provide a general overview of the survey results, insights into fleets' current oil practices as it relates to oil analysis and other maintenance, along with current oil preferences and purchasing trends.