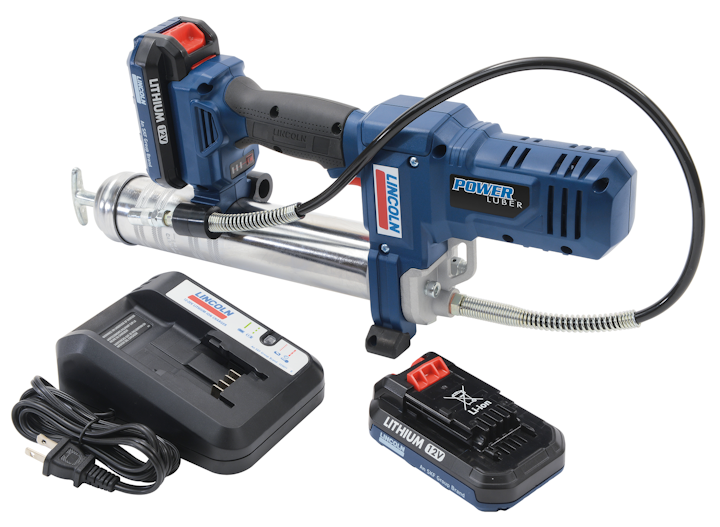 The Lincoln-branded 12-Volt Lithium-Ion PowerLuber is designed to simplify and speed up the manual lubrication process. The PowerLuber features a Li-ion battery and delivers grease at up to 8,000 psi. Its three-point base keeps the tool upright, which helps prevent dirt and debris from entering the motor. The grease gun's ergonomic, lighter-weight construction is designed to reduce operator fatigue and allow access to tight areas. The tool's new dual-lip follower enables bulk or cartridge delivery and eliminates grease bypass. The 12V PowerLuber has a bright, built-in light emitting diode (LED) to illuminate the work area. Also, the grease gun has an integrated hose holder and tube guide for secure hose storage and easy threading of the grease barrel.
The Review
Pumping grease manually may work fine if there are only a couple grease points, but compared to pneumatic and cordless grease gun options, it's time consuming, explains Matt Fanslow of Riverside Automotive in Red Wing, Minnesota.
Pneumatic grease guns could be the answer, but still require technicians to drag an air hose behind them as they work. That's where cordless options come out on top.
"Cordless offers the accessibility of manual and the speed of pneumatic," Fanslow says.
Compared to all the cordless and pneumatic grease guns Fanslow and his technicians have used in the past, Lincoln's 12-Volt Lithium-Ion PowerLuber is the most lightweight grease gun they've ever worked with.
The technicians, who use the PowerLuber mainly for maintenance and part replacement of suspension joints and universal joints, found that the tools' lightweight construction and cordless feature makes them more efficient on the job.
What's more, the PowerLuber includes an LED light feature.
"The LED flashlight on top was very much a welcome surprise," Fanslow says. "Weight and the light are the two things all of our techs commented on."
The grease gun also packs a punch, and "has the power you would expect from a pneumatic" option. One technician at Riverside Automotive was wary that the grease gun's 12 volts would be too weak for the job.
"He was proven wrong and he was glad to be wrong," Fanslow says.
To set up, users must charge the battery and install a grease cartridge before use. Besides the grease itself, everything needed for the tool is stored in a blow molded case. Fanslow says it's "extremely" easy to use and, once charged, the battery connects like virtually any other cordless tool in the shop.
"It does what you expect and more," Fanslow says of the tool. "It's a grease gun, for crying-out-loud, yet it does that like you would expect a premium grease gun to do, and then they add the thoughtful feature of a light. It is a great feature and well appreciated
by the techs under the vehicles
servicing them."