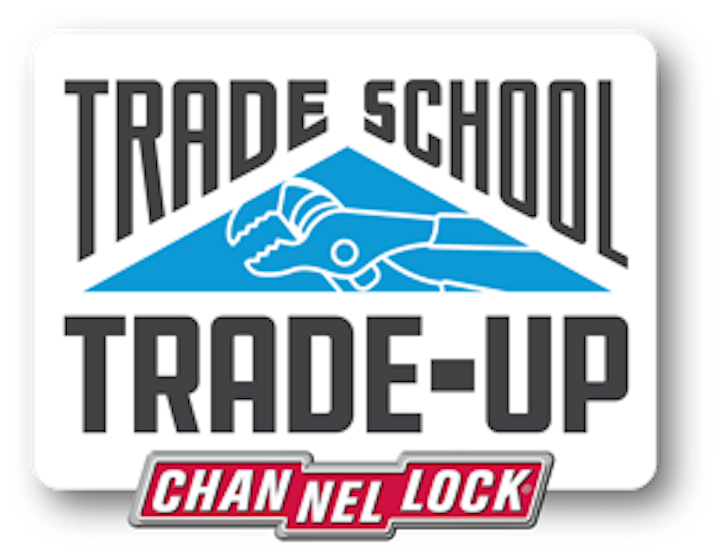 Channellock, Inc. announced the third year of their Trade School Trade-Up Competition. The competition sets out to help close the national skills gap by funding initiatives and tools that will largely impact America's future tradesmen and women. This year will be the largest year ever for the event, as CHANNELLOCK will now sponsor two competitions – one in the spring and the other in the fall. In addition, the company is launching its Trade Travelers tour this spring.
"In light of the growing skills gap, it is important that we find passionate, hardworking students in our younger generations to join skilled trades," said Ryan DeArment, vice president of sales and marketing, Channellock, Inc. "This unique competition offers students the opportunity to showcase the value of their education as they train for their future careers."
How to enter
If you're a student in plumbing, HVAC, welding, automotive, and electrical trades, you are eligible to participate. This year, Channellock Inc.'s challenge is to show why your program deserves a classroom makeover. To submit an entry, get a group together to create a short film showcasing your team's skills in action. We want to see what makes your program special. You'll be graded on passion, content, and need. Check out last year's first-place winner for inspiration.
Timeline
January 2: Submission period begins
February 12: Submission due date
February 19: Top three entries announced
February 20-22: Voting through Facebook
February 23: Winners announced
Prizes
1st place: $5,000 cash prize, CHANNELLOCK tools for team members and classroom, a classroom makeover with CHANNELLOCK BLUE wall paint and fatheads
2nd place: $2,500 cash prize, CHANNELLOCK tools for all team members and their classroom
3rd place: $1,000 cash prize, CHANNELLOCK tools for all team members and their classroom
Learn more about the competition and how to enter by visiting channellock.com/tradeup.
Trade Travelers Tour
Channellock will kick off its first ever Trade Travelers Tour in 2020, embarking on a journey to visit top trade schools across the country. The tour will begin in Channellock's hometown of Meadville, Pennsylvania, at the Crawford County Career and Technical Center, then travel to leading trade schools across the country, ending with a grand finale celebration at the spring Trade School Trade-Up winner's school.
"During our Trade Travelers Tour, we'll be giving away special CHANNELLOCK tool sets to up and coming tradesmen and women," said DeArment. "In addition, we'll also be sponsoring educational opportunities with CHANNELLOCK pros, where students can learn from seasoned experts in their chosen trade."