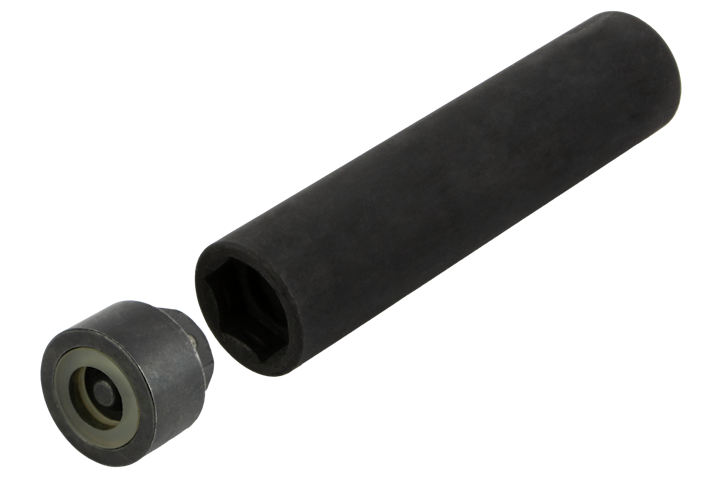 Selling points
Offer customers an innovative, multi-function tool
More cost effective than buying both standard versions separately, according to the company
Designed to reduce space needed to stock two standard hub removers
Features and benefits
This tool can quickly and effortlessly free sealed front hub assemblies of both late-model Dodge and Ford 3/4, and 1-Ton trucks, without causing damage or damaging the assembly.
Quick-change insert allows the Dodge specific hub removal adapter to easily become applicable to Ford trucks.
Uses the force of the power steering system to loosen the hub assembly, instead of having to use other methods which can possibly damage hub assemblies.
Reduces the time it takes to complete front-end related jobs.
Application
The No. 90700 is a go-to tool in situations where the removal of a front hub assembly is required, such as hub and axle assembly replacement or replacing axle shafts, U-joints, and axle seals.
Origin
According to the company, Cal-Van Tools originally produced the Dodge Wheel and Hub Removal Adapter, No. 90300; when the time came to develop a Ford version of the tool, Cal-Van thought it would be best to offer technicians a version with the flexibility to work on multiple vehicles. The adapter was designed to convert the existing No. 90300 into a tool capable for Ford applications.
Manufacturing specs
The No. 90700 measures 1.13" by 1.13" by 5.4", weighs 1.07 lbs, and is made in Taiwan. It is rated S45C HRC:34-36 and has a manganese-phosphate finish.
Storage and display
The No. 90700 is packaged individually with blister and cardboard backing. Cal-Van Tools recommends placing it next to existing front hub removers, front axle hub nut sockets, or any driveline related product.
Demonstration
Having one No. 90700 out of the packaging will allow technicians to see the interlocking function of the two pieces.
Suggested retail price
$44.15
For more information
1 (800) 537-1077
info@calvantools.net