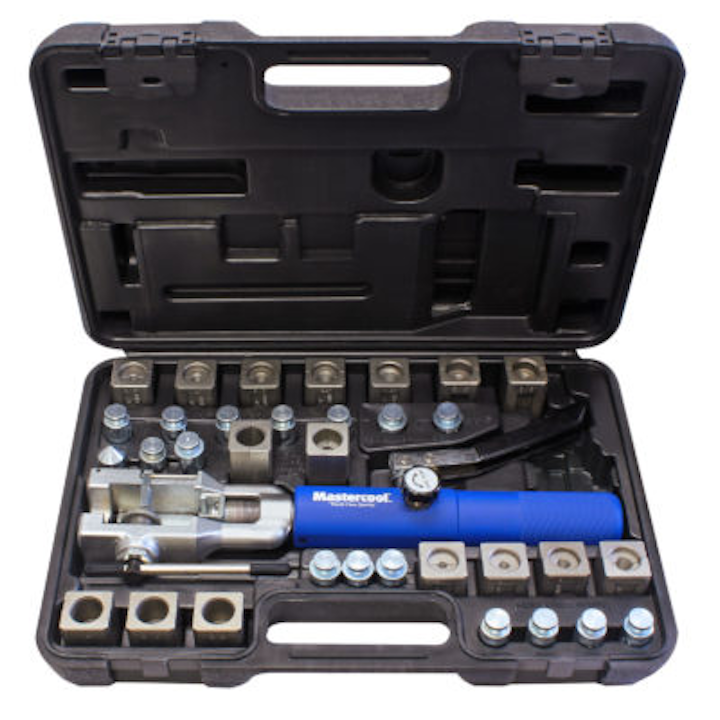 Selling points
Creates production quality brake, transmission, and fuel line flares
Hydraulic application ensures leak-free flares
Creates new GM transmission cooling line flares (Jify-Tite)
Creates flares with existing vehicle tubing or new tubing
Universal flare coverage
Features and benefits
The 72485 will quickly and easily create brake, fuel, and transmission line flares. The hydraulic operation will ensure the creation of leak-free production quality flares. The 72485 can be used to create flares on existing tubing or new tubing.
The kit fabricates: push connect 1/4", 5/16", and 3/8"; GM fuel, brake, and transmission lines of 5/16" and 3/8"; flare/double flare 3/16", 1/4", 5/16", and 1/2"; metric bubble flares at 4.75mm, 6mm, 8mm, and 10mm; and GM transmission cooling lines of 3/8" and 1/2".
Comes in a custom molded box
Tube and die set stabilizing arm for easy tube forming
Magnetic adapter holder keeps adapters in place
Equipped with an enlarged die set compression area for a better grip of dies
Create production quality flares on annealed stainless steel, terne plate steel, soft aluminum, and soft copper tubing
Application
The 72485 allows the technician to quickly and easily fabricate brake, fuel, and transmission line flares in a repair or new install. On-vehicle application and production quality leak-free flares are ensured due to smooth hydraulic operation. Universal application is possible on brake, fuel, and transmission lines, including GM Jify-Tite.
Origin
No longer does the technician need to struggle with a manual flaring tool to create leak-free flares. Manual flaring tools can be difficult to use, and the resulting flares could possibly leak. The 72485's smooth hydraulic operation and the pressure it creates ensures the formation of any flare, on or off the vehicle, according to the company.
Manufacturing specs
The heavy duty construction of the 72485 provides for years of field service. The head of the hydraulic yoke is constructed of zinc-plated steel. The dies are constructed of sintered steel and the adapters are constructed of zinc-plated carbon steel. The 72485 creates 5,000 psi to ensure the creation of production quality leak-free flares.
Storage and display
The 72485 is packaged in a custom molded ABS blow molded case.
Suggested retail price
$529.95
For more information
1 (800) 522-5076
www.mastercool.com