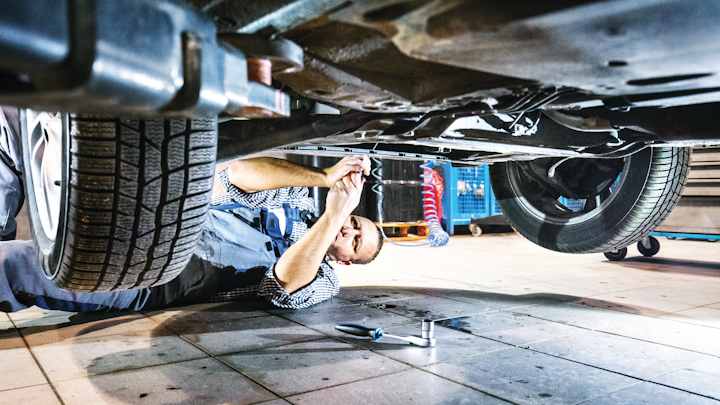 Photo courtesy of S.U.R.&R.
Line repair tools and solutions are of interest to the technicians making the repairs up to the shop owner level.
Because shop owners often purchase line repair kits for shop-wide use, this tool category offers mobile tool distributors an opportunity for in-depth sales. Consider creating relationships with shop owners and perhaps find new opportunities for existing shops on your route by putting a focus on line repair sales.
Line repair decisions for technicians
Major fluid lines in a vehicle system include fuel, brake, A/C, transmission, power steering and coolant lines.
When one of these lines is damaged there are two routes a technician can take: repair a damaged portion or replace the entire line.
A technician replacing a line completely can purchase premade lines which can be installed after the damaged lines have been removed. But, if a technician is performing a repair, oftentimes they will need to fabricate a new line, or a portion of a line.
When a technician fabricates a line, they are deciding which line material to use, and which fittings are needed to connect a line. They decide how they will prepare a line and which particular flare is needed on the line to make a connection. While there are many decisions a technician needs to make, it's also a relatively standard service most shops can provide.
"I think the 'fabrication' word is sometimes an intimidating word," Keith Stewart, S.U.R.&R's sales director says. "It has sort of a connotation to people. The bottom line is, it's very easy to make these lines with the technology that's out there … The last decade or so has really seen a major change in terms of technology that makes these repairs easier for people to perform." S.U.R.&R supplies vehicle fluid line repair solutions.
Different line materials available allow technician to route, bend and connect lines easier, Stewart says. Those were some of the key barriers technicians used to struggle with.
"Shop owners don't like surprises," Stewart says. "Shop owners definitely don't like surprises with lines that don't hold their fuel and leak and cause problems. So, the introduction of easier to use materials and better flaring tools, as well as quick-connect technology and different types of fittings and adapters ... these developments have really changed the industry and made it easier to do this kind of work faster and more reliably."
Fluid lines are most often made of steel, aluminum, rubber, nylon or a combination of these materials. For example, A/C lines are usually made of aluminum, while for brakes lines the standard is nylon. Power steering lines are made from a combination of steel and rubber; transmission lines tend be steel, or nylon and rubber; and coolant lines are aluminum and rubber.
Knowing which materials are used for a repair can help determine which products to sell to which customers. Technicians using metal materials may need tube cutters, deburrers for removing metal shavings left behind after cutting metal tubing, or calipers to accurately measure the outside diameter of metal tubes. Technicians working with rubber may need a hose cutter or a crimping tool to properly close hose clamps.
Other products to offer would be tube benders, tube straighteners, fluid line stoppers and flaring tools.
"With the onset of some more advanced flaring tool technology, by our company and others, that's really been a game changer for people," Stewart says.
Common causes of damaged lines
One of the biggest factors of line damage is corrosion. This is driven primarily by the application of salt and brine on the roadways in colder regions of the U.S.
While effective in its intended purpose, the unintended result of these anti-icing road treatments is advanced vehicle corrosion.
"Not just lines, but virtually everything under that vehicle – including the frame – is subject to a material that is much more damaging than conventional salt," Stewart says. "I've had people say they're doing more brake line repair than they've ever done in their career. I'm talking about 30-, 40-year veterans of this industry."
Brake, fuel and A/C lines see the most corrosive damage, Stewart explained. But because of compact design other lines, like power steering for example, are being routed differently to use every available angle, and therefore becoming more exposed in the process.
Other causes of damaged lines, according to AirSept President Aaron Becker, include:
Metal line "wear-through" leaks due to friction caused by vibration at contact points, such as line clamps, frame rail mounts, and firewall entry/exit points
Metal/rubber line failure due to debris strikes (e.g., rocks or gravel thrown from the road)
Metal/rubber line failure at bend points
Leaks due to cross threaded joints
AirSept is a manufacturer of line repair solutions.
Gauge interest and need
The first step in selling line repair tools is gauging the needs of the customer. Knowing the type of line repairs a shop does, and how often they do it, can help justify the need to stock products that will help technicians on the job.
And if a shop doesn't perform line repair work at all, that doesn't mean the end of the line (pun intended). See this as an opportunity to "sell" the idea of adding a service and then provide them with the means to follow through.
"Spreading the word to customers about a new service and profit opportunity is essential to success," AirSept's Becker says. "In many cases, providing line repair options to your customers will be a 'first to market' advantage."
Stewart of S.U.R.&R. says line repair services can be an easy expansion opportunity for shops previously oriented in tire, muffler or quick-lube services.
"In the overall world of repair, line repair is a relatively 'low tech' repair, as compared to higher tech repairs where you would need to use high-cost scan tools, or [perform a repair requiring an] advanced skill level," Stewert says.
Stewart credits the ease of service to the introduction of innovative tooling and material improvements in the past 10 years or so.
"[Shops] can grow their business and do this type of work very easily and affordably, and very competitively in the market," Stewart says. "So this gives [distributors] a chance to do some things for their customers that maybe otherwise they couldn't or wouldn't. And it gives the vehicle owner a lot more options."
Questions to ask:
Do you currently offer line repair or line building services?
    If so, what systems do you service?
    If not, are you interested in offering a quick, easy and profitable new service?
 Do you most often repair or replace damaged lines in your shop?
What material of lines do you work with?
What tooling do you currently use for line repair?
 Do you have any line repair kits? How often do you use them?
Selling to technicians versus shop owners
Line repair presents an opportunity for a distributor to expand their reach and sell to both technicians and shop owners. Technicians for example will likely buy tooling, while shop owners would opt to purchase the line repair kits.
"Technicians generally purchase the splice kit needed to repair the vehicle they are working on now, while shop owners can opt to buy line repair assortments that provide flexibility and access to components needed for multiple system applications," explains AirSept's Becker.
Because many and most transactions in a mobile tool distribution business are with shop technicians, line repair offers an option that benefits the entire company and allows distributors to begin a relationship with the shop owner, S.U.R.&R's Stewart explains.
In some cases, dealing with shop owners can also have its upside when it comes to collections.
"Generally speaking, with a shop, the receivable is payed quicker than if it were done with a technician," Stewart says. "Normally the kit is payed for in full ... while tools are financed."
Whether selling tooling to veteran technicians who can fabricate a fluid line behind their back, or selling the idea of line repair to a shop looking to expand their services, this tool category offers endless possibilities for your customer base.