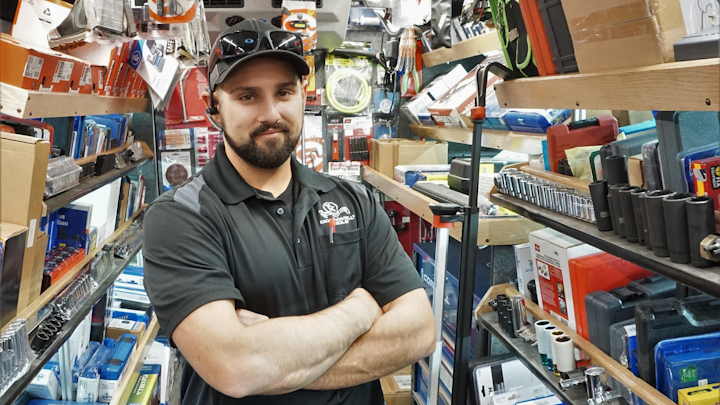 V. Brajkovic
At 8 AM Cornwell Tools dealer Vito Abbinante said his goal was to sell a toolbox, and he had a specific customer in mind. By 9 AM he collected $1,500. Fifteen minutes later he unloaded that Cornwell toolbox off the truck for the same customer he mentioned hours ago. Collections tick up to $6,000. It's not even lunchtime.
Currently the 22nd top Cornwell Tools dealer in the country, Abbinante has booked more than $906,000 in sales this year. In 2017, Abbinante finished 8th in the country with just over a million in sales.
His route consists almost entirely of automotive repair shops, with three heavy duty shops sprinkled in. He hits every shop on his route once a week, and has the advantage of servicing "automotive industrial parks" a couple days a week where he hits shop after shop without moving his truck more than three miles all day.
He's out the door and on the road as early as 7 AM and is back home to his wife and sons by 6 PM most days.
Abbinante is an ASE Certified technician who started out in the garage. When he was 12 years old, Abbinante worked in the shop of Keith Magnuson (now a Cornwell Tool dealer). He was self-taught and worked in several automotive repair shops. That's the world he knows, and since being recruited to the Cornwell franchise nine years ago when he was 22, Abbinante still lives and breathes tools.
"It's the only thing I've ever done ... the automotive industry," he says. "And I know I got out of it when I was 22 years old, so I was still freshly new, but still, I grew up working in a shop."
That familiarity shows when he's on his route, making his rounds. Abbinante is a big tote-and-promote guy. Every month he consults the Cornwell Tools sales flyer and loads a bag full of that month's product deals and a couple items of his own selection. Once in the shop, he sets up camp on the floor, lays out his product and calls his customers over to check out the stock. The customers know the drill, passing things around and asking questions. Eventually he'll call them onto the truck where it's all business … and a lot of product.
"You name it, I sell it," Abbinante says. "I sell bacon now. I just sold $100 in bacon about three minutes ago. So whatever you need, I get you." (By the end of the day Abbinante had sold $600 worth of Divine Swine's uncured bacon jerky at $10 a bag. Almost every technician that came on the truck added one to their order after his persistence. "You've gotta try this bacon." "You guys like bacon?")
And it's not just the add-ons either. A week before, Abbinante sold $10,000 in scanners alone, mostly Autel and one Launch Pad II.
At this point, he checks his phone and has 19 text messages from his customers. Which is "nothing" compared to a "busy day" where he gets 60 text messages and makes and answers up to 100 calls over his Bluetooth headset. His customers know he's on his way.
Selling yourself first
Even competing against all major flags and an independent tool distributor on his route in Schaumburg, Illinois, a Chicagoland suburb, he never seems to linger on that being a problem. There's a natural confidence about him when he talks about his mobile tool business. After nine years on the truck, Abbinante seems to have proved himself to his customers, and to himself.
"You have to sell yourself, not the product," Abbinante says. "You sell yourself, you gain people's trust. [Customers] know I'm going to be there. They know that I have a ton of stuff on my truck. When they need something they call me."
For Abbinante, the name of the game is mutual loyalty and respect.
"We're both loyal to each other," he says. "I take care of them, they take care of me, and they know that."
Attracting business with success
After running the same route for nine years, it looks like Abbinante has it easy. His customers buy, pay and encourage new technicians in the area to do the same. But Abbinante will be the first one to say owning a mobile tool business, or any business for that matter, isn't a "cake walk."
Getting to this point, with loyal customers who call him first for inquires and pay (and add to) their balances every week, comes after years of hard work.
"I've had ups, I've had downs," Abbinante says. "Every tool guy has. You've gotta wake up and put two feet on the ground and go to work. You keep showing up and over time you're going to build a clientele. You're going to build an established business. And trust."
Once a distributor hits their stride, that's when true success comes.
"People are attracted to success," Abbinante explains. "They see that I have a lot of stuff, they see that I'm a successful tool dealer. And people like that because they trust that I will be there. I've shown that I'll be there and that's why they're loyal."
"If you go walk out to my truck you'll see all my inventory, all my stuff," he says. "The chances are I'm gonna have something that you need. If you came on my truck and there were bare slots, like just very minimal … you're not gonna trust that guy. You're not gonna know that he's gonna be there next week; he might go out of business. So I've been around and, like I said, I've built trust."
Maintain customer balances
Selling, Abbinante can do. Coming from a technician background he knows what his customers want, because he wants it, too. But selling to his customers isn't the end game. He has to be smart, too… money management smart.
"If you're too good of a salesman it could hurt you," Abbinante says from experience. "You [have to] take your good sales tactics and balance them with money management. And that's the truth."
That's where Abbinante has found the sweet spot: maintaining customer balances.
"They're paying 10 percent from their initial purchases," he explains of his rule. "So if you owe $200 dollars and you're $20 a week, and you just buy a $300 tool, your balance is now $500. You gotta pay me $50 a week or you can't buy this until you pay it off."
For the past nine years Abbinante has based his collections off a 10-week term. By collecting 10 percent of a customers bill weekly, with some people paying more some weeks, his average turnaround time on money is six-and-a-half weeks.
Abbinante gives an example of his long-time customer, "Frankie" Perez, who's been a customer for nine years.
"He's never paid me off," he says. "He's given me money for nine years every single week. But that goes back to the whole thing: he trusts me. He knows I'm going to take care of whatever."
That's the ideal customer, something he has a lot of. But Abbinante knows it's not always that "easy."
"There [are] certain people that I try not to sell to, stupid as that sounds," he says. "Because if I let them buy the whole truck, they will. But they don't have the money to pay. You've got to maintain your balances. That's like the whole game of this. You have to maintain everyone's balance that owes you money. So every person's different."
Balance management is the "trick of the trade," Abbinante explains. It's all about keeping the income steady and "not going broke because you're selling too much."
But Abbinante isn't turning down good business. The goal is to get people on the truck and have them leave with something.
"I've got guys that their balances get low and they're like, 'Let's go shoppin'!'" Abbiante laughs. "I'm like, 'Let's go! Jerky's on the house!'"
Run with the pack
Kenny calls early in the day. That's fellow Cornwell Dealer Ken Jaros, who was featured in Professional Distributor's March 2015 cover story, Unconventional Success, and recruited Abbinante to the franchise. They're good friends. They grew up in the same town. They talk about the toolbox sale, and laugh about a joke. It's a quick, friendly, easy exchange that seems routine. They talk on the phone for 20 minutes every morning on the way to their respective routes, and then throughout the day. Abbinante says they feed off each others energy, using their competitive energy as motivation for their respective routes.
"If it wasn't for Kenny, there's no way I would be this successful," he says. "No way. He's been a huge influence. Thanks Kenny … dirt bag." He laughs. It's a sentimental moment, it needed a joke.
While Abbinante doesn't sell himself short, he gives a lot of credit to the people around him for his success. Ken Jaros, for one, and his district manager Bob Jaros, who is also Ken's father. Then there's Tony Bond, another Cornwell dealer in the area, and Magnuson. Abbinante says they're a team, they celebrate each other's successes and discuss any paths for improvement.
Having a support system like that makes a big difference in Abbinante's business. "My tip for any dealer would be to become friends with your other dealers and talk to them on a daily basis," he says. "Not all of them. Find one, two. I talk to four people."
Bob Jarso, for example, has been in the tool business for 40 years, and Abbinante says his advice is invaluable.
"He's seen a lot, he's heard a lot, you know, it's experience," he says. "He's been a big help."
He also gives a lot of credit to Cornwell franchise support.
"Everybody at Cornwell that helps: customer service, credit department, tech credit," he says. "I mean, it all contributes to this. It's not just me out here. Without everybody you couldn't get everything done, there's no way. You couldn't be this successful without all the resources that Cornwell does provide. It's pretty awesome. They've got an awesome program. If I could go back and do it all over again, I would do it. "
Maybe for Abbinante, first introduced to Professional Distributor as "a nice Italian guy," the family mentality just comes natural.
He's nailed down his work-life balance, and is big on family. He places all his stock orders three times a week on the truck, taking no work home.
"When I'm at work, I'm at work," he says. "When I'm at home, I'm at home. Once I go home my boys are running up to me with their GI Joes. I don't wanna be doing paperwork. When I go home I want to be at home. That's it. Done."
A look forward
Abbinante doesn't see himself slowing down anytime soon. He's upgrading to a bigger truck, hopefully sometime this year, and will continue to service his customers.
"My goal, honestly, is to go out every day and give it my all," Abbinante says. "And for me to know that I went out and gave it my all is good enough for me. I don't want to be that greedy person. Yes – I want to do good. Yes – I do do good. But I don't look at it like I have to be the best. I look at it like I get up, I go to work and I do my best job the whole day, and I go home and do it all over again. I don't have exactly a set goal; I don't go by the whole numbers thing. I didn't even know I was No. 19. I knew I was up there, but I'm not a big-business corporation where numbers matter to me."
With his support system, business smarts and loyal customer base, Abbinante looks to have clear skies ahead.
"Thank God I have good customers, respect and trust and everything to make me be successful," he says. "It's not all done by me, I've had a lot of help during the way."