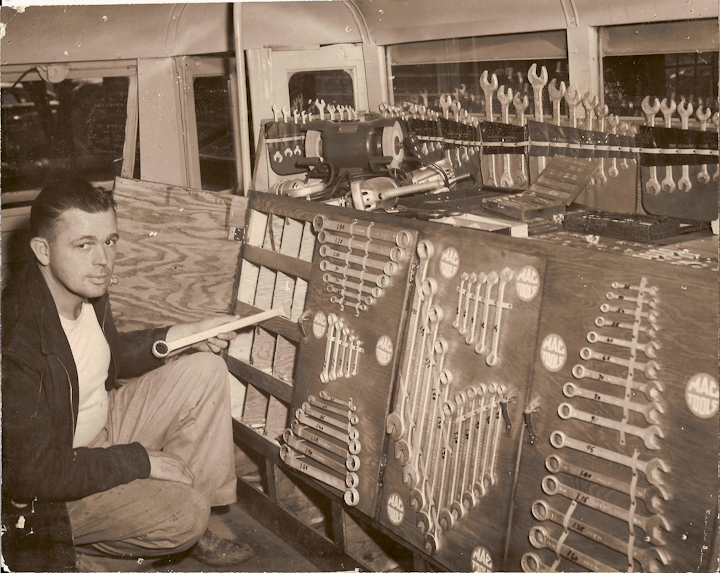 Photo courtesy of Mac Tools
You'll notice this issue of Professional Distributor has a different look to it. We wanted to mark our 25th production year in this – the October issue – by checking in with a few memorable mobile dealers from years past. Though it's always fascinating to see how time and technology continue to impact the mobile tool trade, it was not an easy task to select just a few faces from the great many people who have graced the pages of PD through the years.
In preparation for the issue, we paged through many old stories and proud truck pictures. Right away I couldn't help but notice something: Whether a franchise seller or independent, all the profiles we've done over the years (and we've done a lot) tend to have a few things in common. You can bet all the mobile dealers we've ever featured in these pages possess a commitment to hard work, a pioneering spirit and a fierce loyalty to their customers.
It's worth repeating: Hard work. Spirit. Loyalty. These are no small concepts for someone in business (any business), then or now. It's these traits that continue to spell success for many mobile distributors waging war against convenient – but faceless – online retailers, for example. When I talk with shop owners and technicians along a well-worn route and they tell me they can't get a better deal than they can from their "tool guy," or "he shows up regularly, and we know everything about each other's lives," it's clear that relationships are number one.
Back in 1993 when the first edition of PD mailed, there were no smartphones, websites or social media; at that time, the World Wide Web had barely been invented. It's now 2018. Yes, Amazon Prime delivers products just about anywhere in two days with free shipping, but guess what? In all corners of the country a handshake, service, warranties, financing and relationships still win out over a click. But it takes work, perseverance and a winning mindset. And of course, your own brand of personality, which our four featured mobile dealers have in spades.
We hope you'll enjoy this special issue of Professional Distributor. Share with us your plans to keep business driving forward for the next 25 years. We'll be ready to come along for the ride.