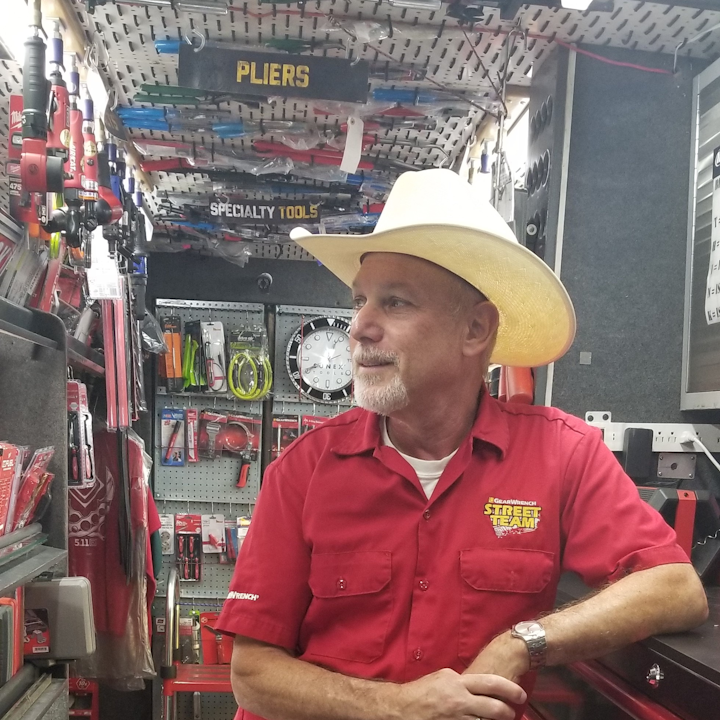 For the past 10 years, independent mobile tool distributor Bob Flynn has seen his fair share of industry shake-ups.
From the Cash for Clunkers government incentive in mid-2009 to get older cars off the road, which in turn kept them out of repair shops, to the current steel tariffs which are driving up some tool prices in the U.S., Flynn has paid attention to the bigger picture and adjusted his business accordingly.
When Professional Distributor first met up with Flynn in 2014, his clientele had been transitioning from almost exclusively dealerships to independent shops in the wake of the Cash for Clunkers incentive. Cash for Clunkers was a government effort starting in the summer of 2009 which encouraged drivers to trade in their older vehicles for newer models with better emission levels. In turn, Flynn says he noticed a big shift in the automotive industry that has never "bounced back completely." 
With fewer aging vehicles to repair, dealerships shifted largely to warranty work, which meant less money for technicians and therefore a transient customer base that wasn't healthy for a business providing financing.
But Flynn noticed, and he followed suit. Today, his 50-shop route is made up of almost exclusively independent repair shops, with only three dealerships on his weekly route.
With that adjustment made, Flynn is now seeing the effects of the steel tariffs imposed by the Trump administration on the industry and his tool business. Flynn says he speaks directly to manufacturers, some seeing as much as a 25 percent tariff on their tools imported from China. In turn, that tariff can drive up the price of the product for the company, the distributor and ultimately the customer.
Flynn is doing his best to keep up with the changes by stocking up on products he knows will be hit by tariffs, and informing his customers of the reasoning for price increases.
"You sorta-kinda got to be more in-tune with what's going on in the world because of what's happening in China and Russia," Flynn says. "That is affecting my little face of the planet here and my business."
Paying attention and looking out for his customers is kind of Flynn's 'thing.' (Also his signature cowboy hat, but that's a given.)
"The first thing that people need to understand about me — and my customers will tell this to any new people — I watch their finances as much as I watch mine," Flynn says. "And I'll caution a guy about getting in over his head. I teach people all about finances. Nobody in America does that; I do it. I've had about 30 people that I've taught … to get their credit score from the 500's to the 800's."
And other than helping his customers with financial advice, he gets joy out of helping them find the next best product.
"I'm one of these people, if something excites me, I'll sell the hell out of it," Flynn says. "Enthusiasm's contagious. I see a new product or a new promotion, I'll go out there and I'll get it on the truck. I'll talk about it and I just sell it like crazy."
Bob Flynn is a featured distributor in Professional Distributor's 25th Anniversary Special Edition October 2018 issue. He was first featured in the magazine in 2014.