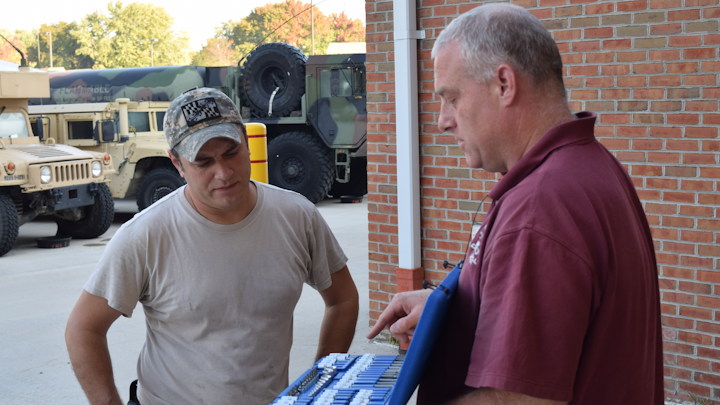 The combination of a sincere appreciation for his customers, a natural enthusiasm for the sales process and more than two decades in the tool business have paid dividends for Baltimore, -based Cornwell Tools dealer Rick Huether.
An entrepreneur by nature, Huether has engaged in a number of business ventures at various times in his life. And while selling tools has presented him with both challenges and opportunities over the years, his passion for it remains as strong as ever. 
"It's a rewarding business, and it allows you to help a lot of people," says Huether. "And when you help them, they want to help you. I think that's what I enjoy the most."
Huether has come quite a ways since the early 1990s, when he got his start as an apprentice for another flag. After spending three years learning the trade and conducting his business out of a small Chevrolet series van in the Washington D.C. area, Huether was approached by the flag about buying his route. He politely declined the offer, moved to North Carolina and opted to take a position as an industrial rep for the same company for a short time.
A few years later, Huether was back on the street selling tools. From 2000 to 2010, he worked a few different routes in the Maryland area. His business saw tremendous growth over time, and he eventually expanded to six routes. In 2010, though, he left the tool business to run both an entertainment business and a restaurant for two years.
"But I realized you can't make the money outside that you can make in the tool business, so I went back," he says.
On the job
Huether's route is primarily located in White Marsh, an area located about 15 miles northeast of Baltimore, and can most accurately be described as a "county route." It is neither rural nor urban, and also not very large geographically. Huether makes approximately 100 or so stops every workweek, has roughly 220 customers on the books and sees no more than a couple of hours of windshield time a week. He sees customers in a variety of industries, including industrial, automotive, military, construction and marine. In addition, Huether sees dealerships and body shops, but generally avoids most chain operations. His annual sales are around $900,000, and he says business does not see a whole lot of peaks and valleys over the course of the year.
As Huether sees it, there are five behaviors behind every successful tool dealer:
●    See every customer every week.
●     Work a full day and a full week.
●     Show tools and talk tools.
●     Ask for money when you have to.
●     Follow up.
"Customer relations and customer service is key," he adds.
Learning by doing
Almost everything the longtime Cornwell dealer learned about the tool business came from on-the-job experience, as Huether did not have an automotive background when he broke in as an apprentice. With time and effort, though, he was able to obtain the necessary knowledge to find his footing and eventually build a lasting career for himself.
"Knowing the tools comes while you are in business," says Huether. "I didn't know a thing about automotive at all. I was the guy where a customer said 'Hey, can you go get me a muffler bearing installer,' and then I spent an hour on the truck looking for it. While I didn't know anything about tools, I knew the value of taking care of customers."
Huether also invested a considerable amount of time and energy into attending seminars and listening to tapes to develop and refine the sales skills he deemed necessary to better do his job. His efforts, he maintains, have been critical to his success.
"Because at the end of the day, I don't think (a sale comes down to) the product," Huether says. "Some customers are die-hards (who buy a particular brand), but I don't think it's about the product. They buy from who they like."
All business most of the time
Like most dealers, Huether spends a significant portion of his day talking to his customers about tools. However, unlike some of his professional counterparts, he makes a concerted effort to keep the vast majority of his conversations focused on tools. Whether it is trying to find out what they need, pointing out something on his truck or toting and promoting in the shop, Huether makes sure shop owners and technicians understand he is engaging them in conversation to make a sale.
"When the customers get onto the tool truck, they know that's why I'm there," Huether says. "Sure, we talk. We goof off. But they know I'm there to sell them tools to make their jobs easier."
Huether really does enjoy seeing and spending time with the customers he sells to on a regular basis. Whether it is on the truck, in the shop or somewhere in-between, he is energized by the face-to-face interactions and motivated to help them do their jobs more efficiently.
"And the majority of customers, if they know you are helping them out, they'll respect that and do whatever they can to help you as well," says Huether.
Mutual respect and understanding
The respect and trust Huether has earned from his customer base allows him to have higher turns than many other tool dealers in the business.  At this point in time, his turns are at about 20 weeks on average.
"My receivable book will probably scare the majority of people out there," he says. "But I don't have a problem giving a customer what he wants. I'm not on a strict five-week turn or a 10-week turn, but I'll service the heck out of guys. They know they can come to me for whatever product they need and we'll work through whatever it is."
When it comes to making sales, Huether looks at each customer's situation on a case-by-case basis. Thanks to his wealth of experience as a successful tool dealer, he says he is adept at determining who he can conduct business with and what shop owners and technicians will be good customers for him.
Like any dealer, Huether is forced to deal with skips from time to time. However, he does not let the occasional unfortunate situation prevent him from trying to drum up sales with customers both new and old. And while the total dollar amount of his losses due to skips is higher now than in years past, Huether say it doesn't worry him because his annual sales are higher and the frequency with which a customer fails to pay him is not what it once was, either.
"If you are always focusing on the money you've lost, it's going to cost you even more in the future, because you are going to be hesitant to sell to anybody," he says, adding that his focus is almost always squarely on the customers who buy tools, spend money and pay on time.
Huether's approach to his business has evolved over the years. When he was younger and less experienced, he says he would often stew over problems both large and small. Now, however, he has learned to set aside issues and compartmentalize them until a more appropriate time becomes available for him to address the problems head-on.
"If there's a problem, I usually want it fixed now," says Huether. "But when you have all these pieces of the pie, it can't always get fixed right now. But as long as you stay on top of it, and you dedicate 10 minutes of your day to problems -- after that? Move on."
On the grind
Establishing and maintaining a proper work-life balance has been a challenge for Huether at times during his career. His entrepreneurial spirit has led him to get involved in a number of business ventures over the years, and he eventually found it was difficult for him to push aside his responsibilities and take some time for rest and rejuvenation. Even now, as the sole owner and operator of his own tool business, he says embracing time away from the route remains a work in progress for him.
"After all these years, I'm really learning how to understand how to take vacations," says Huether. "I know some guys who take a vacation (every few months). They come back refreshed, but I'm still learning how to do that."
His enthusiasm for the sales process, his respect for his customers and his desire to grow his business causes Huether to work as long as he needs to each day until "the job is done." However, he readily admits one of the most significant challenges he faces on a day-to-day basis is finding time to attend to every task and responsibility.
"There are just not enough hours in the day to do everything there is that needs to get done," says Huether. "I'm the stock boy, the salesman, the porter and the accountant. I'm doing everything."
A self-employed employee
Though prioritizing his duties and tasks can be difficult at times, Huether says finding the motivation to serve his customers' needs comes much easier. They are his employers, he says, and he relies on their business for his livelihood.
"The reality is they can fire me any day if I don't do what I'm supposed to do," says the longtime Cornwell dealer.
Huether is proud of the time and effort he puts in with his customers, and he is quick to say he will "go the extra mile" for them when necessary. His one request? He asks them to understand he also serves more than 200 other shop owners and technicians with many of the same needs, wants, challenges and concerns.
"While I'm in front of you, I'll give you everything I have," he explains. "But when I go to the next customer, I have to give them the same respect. But if you need something, and you can't get out to me, I will come back to you. I will do everything I can."