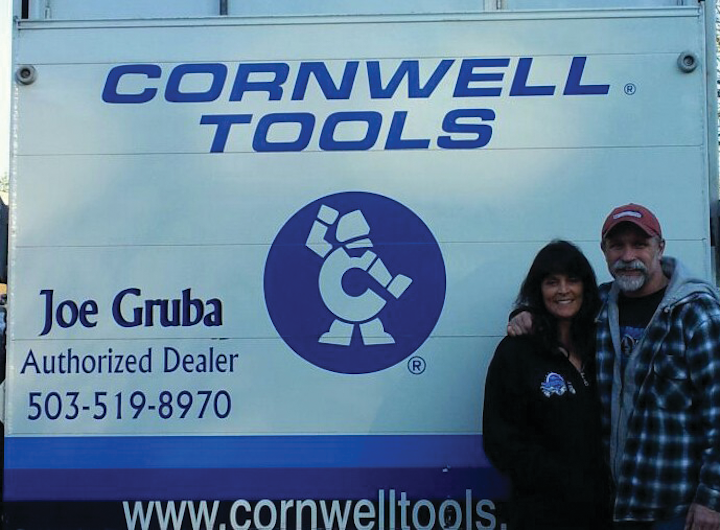 Tool sales are up, payments are up, and business is up for Portland, Ore. area Cornwell dealer, Joe Gruba. In the February 2011 issue of Professional Distributor, he made it very clear that customer satisfaction is vital to the success of his thriving business. This is still the case, and year after year, his business grows. One way he accomplishes this is with customer incentives.
"Business is good. It seems to increase a little bit every year," said Gruba. "Toolboxes are doing really well. They seem to be pushing those a little harder than in the past. Scan tool sales, with some of the new scan tools on the market, cordless tools. We also do a lot of payment-builder stuff. In a nutshell, it's a buy-one-get-one-free type of deal. An air tool might come with a free set of sockets, for example."
With deals like these, the tools practically sell themselves. According to Gruba, "If you sell tools, people will come."
If selling tools is the easier part, getting consistent, weekly payments on those tools is the difficult part. As an incentive for his customers to make payments, Gruba will often run raffles. "You know, a TV before Christmas has always been a hit."
"I run a little deal, kind of a dollar game, I guess. For every fifty-dollar payment that a customer makes, I throw a dollar in the bucket. The punch card has 13 punches. When the card is full, they get a ticket for the raffle. Every two or three months, they can win the amount of cash that is in the bucket."
By offering incentives to "thank" the customers for making payments, Gruba has created a positive cash flow. He said, "Good customers are always out here looking and buying. You want to keep the payment average up. That's what I use the games for."
This veteran tool dealer attributes part of the success of his business to the respect he gives his customers. "You have to treat your customers how they want to be treated. Well, that's a saying that goes back to the beginning of time, isn't it?"
The other part of his success that Gruba makes sure to mention? His wife.
"All I have to do is get in the truck, sell tools and collect money." His wife, Teri, manages the business-end, shipping out tools needing repair and running tools to customers, among many other things.
The Cornwell system will track time through the week, but it only tracks from the time he prints his first invoice to the time that he prints his last invoice. This is over 60 hours, and it doesn't include any travel time or work at home. "She helps me at night when I get home with freight to get out of the truck and done in a timely fashion," said Gruba. "My wife is a huge asset to our business."