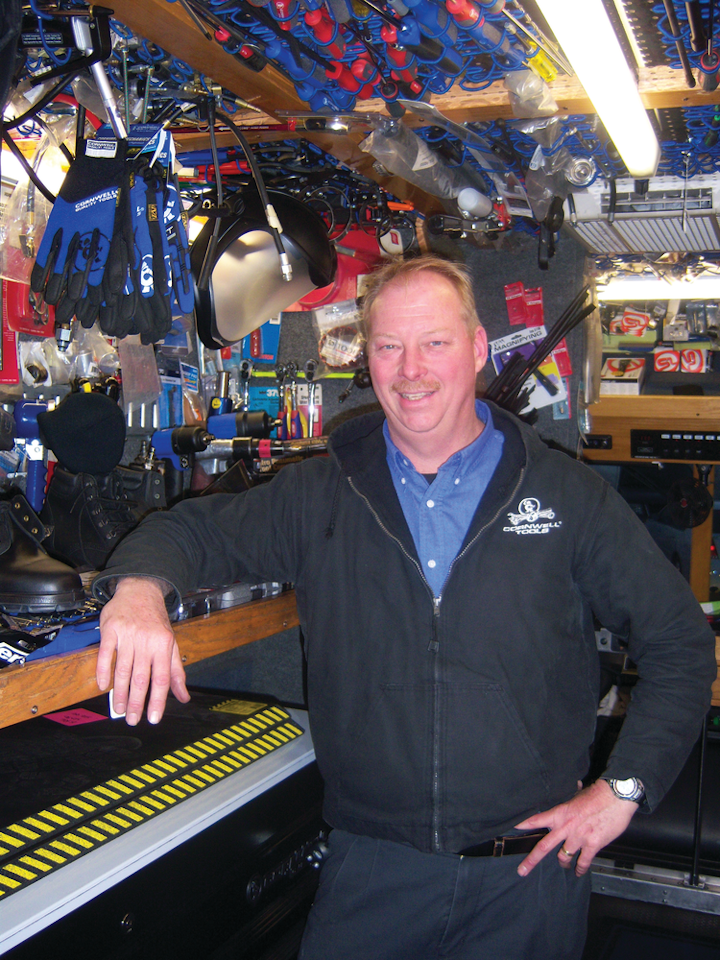 When Professional Distributor first profiled Dave Putits in 2008, the article focused on how the Southern Californian used basic business skills to run his then eight-year-old Cornwell Tools business successfully. "Smile-Collect-Sell" was the motto Putits espoused at the time, and it worked.
Shortly after that story was published, the economy took a steep dive, putting many automotive repair shops out of business and taking a number of mobile distributors with them. But Putits, sticking to the lessons he learned in the beginning, managed to weather the storm and has resumed his growth.
"If you take care of the customer, they take care of you," Putits says, repeating the lesson that made him a fast success in mobile distribution. While this statement sounds like a cliché, the second part of it, "they take care of you," is something some distributors have not understood as well as Putits. He expects his customers to pay him a fair price and in a reasonable amount of time. He tells them that he needs to make a certain margin on every sale to be in a position to honor their warranties in the future.
"I have to run my business in a way to stay in business," he says. "Consequently, I need to make a dollar amount on every tool. I'm always up front with them (customers) and they know where I stand."
Putits brought sales experience from the battery business when he decided to get into mobile tool sales in 1999. He sold batteries for a battery manufacturer for several years before getting the entrepreneurial itch. "You've got all these jobs (as a mobile distributor) wrapped up into one," he says. "After riding with a couple of dealers, I knew I could do the job." His wife, Chris, has assisted him with bookkeeping.
When the recession struck in 2008, Putits knew from his earliest exposure to the business that he was going to pull through. Because as challenging as the climate got in the recession, it was mild compared to his first year in tool sales.
When Putits borrowed $40,000 from his father-in-law to buy his starting inventory, after spending $10,000 of his own money to buy a used, 16' truck, there hadn't been a Cornwell Tools dealer in the territory for 10 years. Some former Cornwell customers still needed warranties honored. Others were reluctant to buy from him.
He told the shops he visited that he would offer flexible payment terms. He found success offering customers 10-week payment terms. For toolboxes, he offered customers 7 percent minimum interest for two years if he deemed them creditworthy.
"You can always turn something into a positive sales opportunity if you look at it from a different angle," he notes.
In determining who to give credit to, Putits considered whether or not they would make a down payment on the purchase. He also looked at the person's payment history. He pays attention to whether or not they have a credit card or own their own home. People who have credit cards and own homes tend to be more responsible, he found.
Putits was also able to win customers' trust by being personable, a skill he had honed in his prior sales career. Once he gained a customer's trust, the customer would tell him what tools they wanted.
As an experienced salesman, Putits also knew sales is a "numbers game." So he made it a point to visit three or four new shops every day. Since not every shop is a good customer, he knew he needed a constant supply of new shops to "test" to replace those that he stops visiting. Most of his stops were clustered in auto malls, which are somewhat unique to Southern California.
Attentive bookkeeping
As important as selling skills was Putits' attention to strict business management.
Early on, his wife, Chris, instructed him to put aside 40 percent of his sales every week for home and business expenses. This left 60 percent for tool purchases. "You have to put money aside for maintenance, fuel, health insurance and retirement," Putits says.
Keeping his balance current every week played a big role in his early success. B
He was able to pay off his first truck well ahead of schedule.
Realizing he could increase sales with more inventory, he spent $110,000 in 2005 on a new, customized, 24' Cummins truck which allows him to carry $140,000 worth of retail inventory. The truck has wood shelves and a wood cabinet for holding his laptop. There is also a wood hammer display case on one of the walls. For security, remote-controlled, dead bolts were installed on the doors of the truck.
Buying smart also played into Putits' management strategy. He tried to buy in quantity as often as possible to get pricing discounts.
He purchased repossessed toolboxes from other distributors who sometimes offered good bargains to unload them.
He found that the Cornwell tool rally and quarterly regional dealer meetings were important to attend. There are deals available at these," he says. His wife, Chris, comes with him to the annual tool rally. Putits went as far as to postpone some purchases, knowing he would get a better deal at a show.
Thanks to wise business management, he turned his entire inventory every eight or nine weeks.
Recession strikes
The business was on a steady growth curve until the recession hit in 2008. Annual sales fell by $82,000 in 2008, but Putits always believed there was an opportunity in every setback, and the recession was no different. It weeded some competition out of the Southern California tool market, for one thing. For another, some of the commercial property owners that previously restricted automotive establishments became more flexible in allowing these businesses. This gave many automotive shops more options in trying to manage their costs, which helped them stay in business.
Downsizing his inventory in response to a declining customer base was crucial to keeping the business debt-free.
Putits began rebounding in 2010. Sales in 2012 grew $44,000 over 2011, and this year he's on track to do even better.
Challenge: Skips
Putits' only surprise when he got into the business was the occasional customer who failed to pay him.
Minimizing "skips" is the hardest part of the business, Putits notes. He has used collection agencies and gone to small claims court to fight delinquent payers, but there is no effective corrective action to "skips." The best strategy is to prevent them from happening.
When a customer skips on him, Putits lets the other techs at the shop know about it. He uses this for leverage in negotiating with the other techs in the shop on price.
While only a minority of customers are problem payers, Putits says these problems can destroy a dealer's profitability. He keeps his losses below 1 percent of his total sales.
Problem pays, however, are rarely with large purchases, Putits has found.
Putits services a variety of automotive stops: repair shops, body shops, dealerships, recreational vehicle stores, etc. He has found body shops to be among the best customers, especially if he can manage to visit them shortly after the scrap dealers come by. If he happens to arrive at the right time, the techs are flush with cash from scrap sales and often in a buying mood. In some shops, techs pool their proceeds from scrap sales to buy tools from him.
"A body shop has more finesse," he says. "I tend to have better luck with those customers."
Proactive marketing
Putits gives each customer a Cornwell flyer at the beginning of every month. He also places them in service bays and in restrooms.
The Cornwell Tools software recently added a new feature that Putits hopes to use. He will be able to create flyers using drop-and-drag art from the company's website.
He makes it a point to carry tools with him into the shops. "I'm real big on walking-in tools," he says.
Candy and snacks also play a big role for Putits. He buys candy in bulk from membership warehouse clubs and sells about 60 candy bars a week. He gets a 40 percent profit margin charging a dollar a bar. But more importantly, a free candy bar has clinched many a sale. "I've closed more deals on a Snicker's bar than I can count," he says.
He also claims beef jerky and sweatshirts are consistent, reliable sellers.
Aggressive displays
Putits covers every square inch of his walls with tool displays, including the area above the driver's seat.
He finds toolboxes are great for displaying toolbox canopies. He has found toolbox canopies great accessories.
A wall-mounted, 6'-by-4', video recorder from RapidFix, an adhesive manufacturer, has added a high-tech, audio-visual experience to Putit's truck. "I get guys mesmerized by it," he says. "It's a great marketing tool."
During his previous sales career for a battery manufacturer, one of Putits' customers was the state border patrol. The contact he established at the border patrol helped put him in a position to bid on an automotive tool contract. This has proven to be a lucrative arrangement. The border patrol pays its bill up front and Putits does not have to warehouse the tools; he simply sends the order to Cornwell which delivers it to the customer via courier. "It's great for me," he says. "They don't buy too much, but when they do, it's quite a bit." He recently sold them a pair of tool carts.
Putits has not sought out other government contracts due to the amount of time these sales usually take. The bids require extensive paperwork, and getting an answer can take three months.
The business has benefited from the popularity of some higher ticket items recently, Putits notes, such as scan tools and battery-operated hand tools.
He also notes there is a growing awareness about safety in the workplace, resulting in a growing demand for safety gloves.
Tools for hybrid repairs present a challenge, Putits notes, both for the customers and tool trucks. California is known for being progressive with hybrid vehicles, but the percentage of vehicles that are hybrids remains small. Tools specific to hybrid work tend to be fairly pricey, he notes. The decision to invest in such tools is a tough one for shops and techs since it's difficult to know how much they will use these tools.
At age 51, Putits expects to be running his routes for another 20 years. "Cars are always going to be around," he says. There is a chance that his youngest son may want to follow him into the business.
When asked what qualities a person needs to succeed in mobile distribution, Putits says a person must be a "self-starter." This means being willing to put in the long hours needed to make enough money to be successful. "That's the biggest downfall I've seen in tool guys (who fail)," he says.