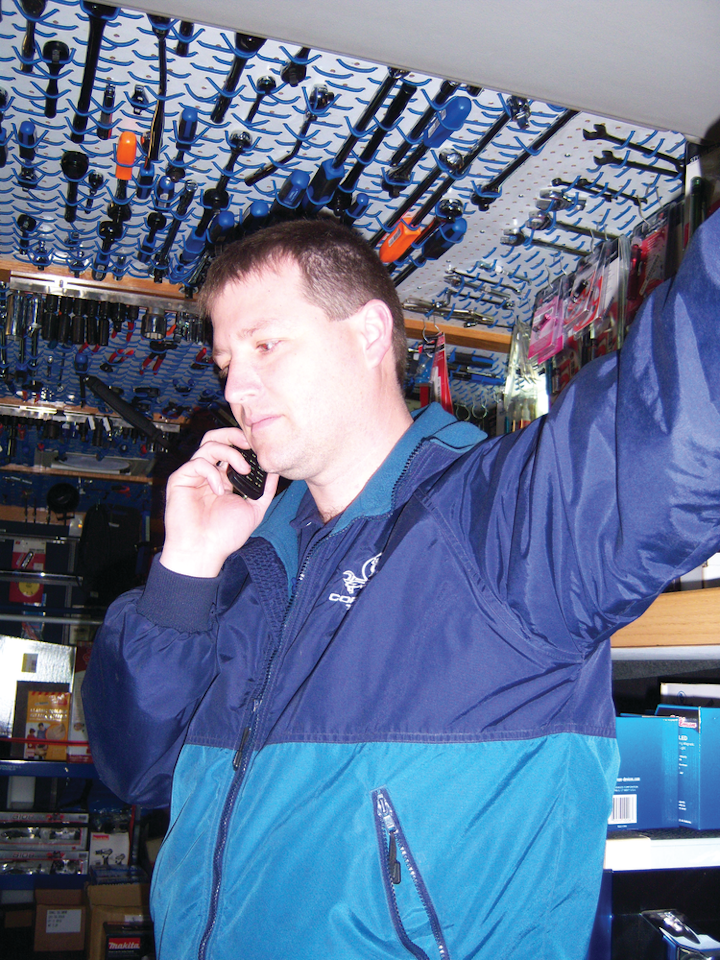 It is often said that luck plays a big role in a person's success. What is less often said is that what a person does with their luck plays an even bigger role.
In Shane Sutton's case, good fortune did not become apparent until he put the lessons he learned as a Cornwell Quality Tools district manager to use as a Cornwell dealer.
Sutton had an opportunity to work in Cornwell management in between stints as a Cornwell dealer. Now, three years into his second "tour" as a Cornwell dealer, he has been more successful thanks to the lessons he learned as district manager.
Like anyone in business, Sutton brought certain strengths to the dealer position, such as good interpersonal communication skills and extensive product knowledge. During his stint as a district manager, he gained a greater understanding of areas where he himself needed to improve as a dealer.
Today, he has one of the more successful Cornwell franchises and is on a positive growth curve.
Sutton, 38, gravitated to the automotive business while in junior high school. He earned an associate's degree after graduating from high school and went to work as a technician at a Cadillac dealership.
In the 10-year period he worked as an automotive technician, he got to know his Cornwell dealer, who impressed him with his professionalism. "He always got things taken care of," Sutton recalls. "You didn't have to remind him of anything."
He eventually became a Cornwell dealer himself, and after two years he became a Cornwell district manager before returning to his former dealer position.
Armed with the insights he learned as a district manager, Sutton dedicated himself to doing a more thorough job serving fewer customers. Riding with dealers, he learned that maximizing sales and minimizing travel time were important factors in a dealer's profitability.
 "I definitely sell to more guys at fewer stops," he said.
Most of his accounts are automotive shops, but he also has some rental equipment stores and construction companies. One construction company recently needed a vacuum pump for cleaning backhoes.
Serving a 15-mile radius of Oklahoma City, Sutton visits an average 15 to 18 stops a day, most of which he visits every week. He has a total of nearly 90 stops.
Renewed focus on collections
One of the biggest changes Sutton made in his second "tour of duty" was a more concerted focus on getting paid faster.
In the two years he worked as a district manager, Sutton had a chance to see a lot of dealers in action. Something the successful dealers did that Sutton himself didn't do was being assertive about getting paid. Sutton saw that a dealer can improve his collections by diplomatically reminding customers to pay their bills. He recognized this was an area that he himself was most deficient in as a dealer.
He now displays a large poster near the front of his truck stating, "What If," in big letters, followed by "On pay day your boss said he was short this week and could not pay you?" and further notes "It's the same for the Cornwell dealer."
He does not negotiate much on price. Sutton claims his products are competitively priced compared to other brands of similar quality. Hence, he says there is no reason to accept a lower profit margin.
To facilitate payments, he has added a credit card reader with a laser jet printer for processing payments in the truck. Most customers still pay using cash or checks.
And there is always a contest that rewards customers for paying their balances faster.
Customer contests drive sales
This past December, Sutton offered customers a chance to win a popcorn machine, a mobile cart and a TV. For every payment of $30 and above, the customer received a raffle ticket. Drawings were held after four weeks.
In four weeks, Sutton sold 1,500 raffle tickets. This translated into a hefty amount of extra cash for the month of December. Because of it, he says he was able to escape the sales dip that occurs in December due to Christmas and New Year's Day. Sutton does not rearrange his schedule to make up for visits lost to holidays; he simply tells these stops he will see them the following week.
During December, he also delivered free cookies and calendars to all of his customers. His wife assembled 600 to 700 baggies with cookies. Buying, assembling and delivering the cookies takes time and money, but Sutton sees this as part of relationship building.
Sutton makes sure all customers get Cornwell catalogs, which the company provides him for free. "That's free marketing," he says.
Promotions drive sales
Products on promotion are placed on two toolboxes near the truck entrance. Sutton says it's important to highlight promotions because customers always want to know what's on sale. Sometimes, when a customer needs a tool, they ask him when it will be on sale. Cornwell has several products on promotion every month.
He changes the displays monthly, a strategy he claims gets people to spend more time in the truck.
Lending scan tools for the week and "tote and promoting" increases sales opportunity.
Sutton has tools displayed individually and in sets throughout his truck. Most tools are displayed in sets. "There have been quite a few times somebody will want one little item; I'll show it to him in a set and he'll say, 'I'll take the whole set.'"
He makes it a habit of asking customers how they are doing with tools he sold them. With his technical background, Sutton can often answer questions about what tools are needed for specific jobs.
He also makes it a habit of spending time talking with customers about things other than tools. This is part of relationship building.
No shortcuts on the job
The most important lesson of all that Sutton gained from his district manager role was not to take any shortcuts on the job.
In addition to spending time chatting with customers, other aspects of the job require attention.
There is also a lot of time spent searching for tools that aren't stocked on the truck.
Ordering inventory is also time consuming, as is restocking the truck.
Since most of the manufacturers he carries offer to repair broken tools, Sutton accepts most repair requests, which take extra time. "It's a service to keep them coming back," he says.
Selling large items like toolboxes take extra time. When he sells a toolbox, Sutton has to drive 20 miles to get it from his local distribution center, rearrange the truck to make room for the toolbox, deliver it to the customer, then rearrange the truck again.
All of the time consuming work pays off in the end in the form of higher sales.
Credit issues challenge dealers
Knowing how much credit to extend a customer is another important part of the job. Knowing which customers to extend credit to is a skill that a dealer acquires with time. Sutton tries to offer flexible payment plans with customers, as he has learned that customers appreciate this. One customer recently wanted scan tool that cost nearly $600. Sutton agreed to accept $100 in weekly payments.
The most important thing Sutton learned as a district manager is the importance of taking the time needed to do everything the right way. A tool dealer simply cannot take short cuts. This is what separates the successful dealers from the losers.
As his business grows, he will consider hiring someone to help him with orders, arranging displays and making special deliveries. "It would free up a lot of my time," he says.
Sutton's experience as a district manager also taught him the importance of education. This is a key reason he attends the Cornwell Expo every year.
"The amount of money I make is up to me," he says. "I don't have anybody holding me back. If I don't do well in this business, it's my own fault."