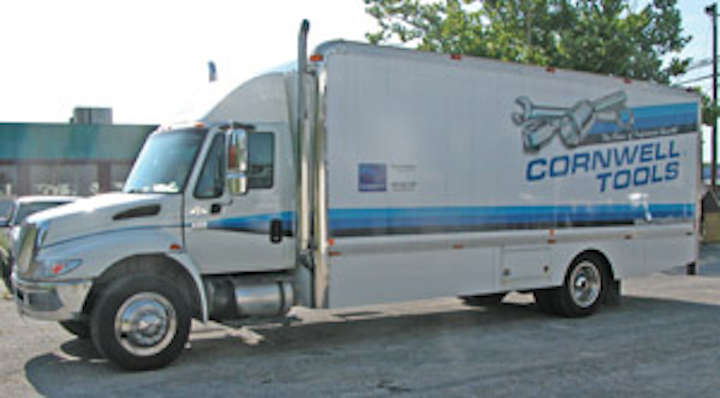 When Danny Windings started selling tools in Carbondale, Ill., 10 years ago, he didn't know anything about tools. He entered the business after working for a major food wholesaler warehouse, where he traveled a lot and worked long shifts Sunday through Friday.
"When I started, it was just me and the catalog and I got to know those tools," Danny said. The hard nights of cramming paid off for the Cornwell Tools' mobile dealer. He finished in the top 100 nearly every year with his first tool company. He continued that success when he began distributing for Cornwell in 2001, and ranked as the company's No. 8 dealer last year and No. 6 the year before.
After 10 years of tool distribution work, Danny finds it's important to "work a little smarter and work a little harder, not necessarily longer." His typical route day is as long as his stops are open, and Danny tries to make good use of regular business hours.
In addition to Cornwell, Danny is also the exclusive local distributor for Hunter and Challenger. After Danny established a positive rapport with a large Ford dealership, the dealership purchased about $70,000 in all new racks and Hunter equipment from Danny as their sole distributor.
Persistence pays off
"I'll come back in the morning, then," Danny told one shop manager when informed that the afternoon is very busy.
"I never give up; I just keep coming back like a bad habit," he said, unfazed. "The interaction makes the day fly by so fast because when you're trying to stay on time, stay on track, the time just speeds by. Lots of shops close at five o'clock. You just go as hard as you can go until then. I make it look easy, but most of the time I'm high-stepping."
Danny believes it's important to keep an accurate schedule, but knows it's even more important to be available to his customers.
Danny's route splits between repair shops and stores in Carbondale and rural days that include stops at a marina, trucking and construction companies, colleges and the
National Guard.
One central stop on his route is Southern Illinois University-Carbondale. SIUC is the national winner of the Automotive Industry Planning Council's Award of Excellence for 2005, and is rated as the nation's top post-secondary education for automotive technology by the Automotive Industry Planning Council. SIU is a constant on
Danny's agenda.
Students in SIU's automotive technology program perform work and attend classes in the travel service and grounds department of the campus.
"The travel service and grounds department (at SIU) uses all of my stuff," Danny said. "I'm the one who comes up here, and they know that if they ever have a problem they can come to me."
Inventive incentives
Whether he's at a large dealership or a one-bay independent garage, Danny's ability to relate and identify with customers is a major asset. But offering specials and incentives never hurts. Especially when you can get a leg-up on the competition.
After a competing brand started a new dealer in his territory, Danny "celebrated the new guy" with 20-percent off anything on his truck for a week. "Even if it didn't create the sales, it got them thinking about other things they needed," Danny said.
Other "non-celebratory" incentives Danny offers include 10-percent off for paying cash (helps keep his debt ration at 2 percent), and drawings for a free Cornwell cart (retail $100) for double payments.
"I'll give one (cart) away per day," said Danny. "We probably get about 50-percent participation."
One-stop shop
Danny thinks of his truck more as his store than just a vehicle full of automotive tools. He bought his 2006 International two years ago, a $110,000 investment in the business that continues to pay for itself with each sale. His truck is generally stocked with about $150,000 in inventory. But selling tools isn't just show.
"Every now and then, if there's a guy that I'm trying to pinpoint, [I'll bring a tool inside] and try to get him back on the truck," Danny said. "But a lot of my guys will just come to my truck. … They'll come out every single time because this is my store. I run my business right out here.
"One of the serious things about this business is how well you take care of your customers," Danny said.
"The way I see it, wrenches are always going to sell, toolboxes are always going to sell, but I can get any specialty tools those guys need. Whether it's for a GM, Chrysler, or Ford, I'll go to any extent to find whatever they need."
"I have a personal relationship with all these guys," Danny said. "I know their background. … It's like doing business with close, personal friends more than with just customers. It's basically relationship stuff. You get to know your people, you know who to pressure, who not to pressure."
It's infrequent, but Danny still sees some problems crop up with payment issues.
"What I normally do is, if that customer's having problems, I will do whatever I can to work with him," Danny said. "Or if he's just not making any progress at all … instead of me doing a repo, I will let him give me the stuff back. It makes it a lot better if I can talk him into giving the stuff back instead of manhandling him."
By the numbers
Danny tries to average $10,000 in sales/$10,000 in collections per week. Last year, Danny did approximately $680,000 in sales for Cornwell Tools (and another $650,000 in capital equipment for Hunter and Challenger). Danny attributes much of his success to his Cornwell team.
"Cornwell Tools is really good to me," Danny said. "Cornwell … is more personable." Danny specifically cited Cornwell customer service rep Sarah Bush as a great help to his business, along with his district manager, Greg Gamble.
Keeping an eye on the industry
Danny said the demand for more auto techs in his territory is growing. Because he's an active part of the industry, Danny looks for ways
he can help match employers and techs without alienating good customers.
He's looking into posting a jobs/help wanted bulletin board on his truck. "If a guy's looking to start a new job or start something up, he can do that without me trying to find somebody out of another shop," Danny said.
It's tough to stay sharp in an industry as demanding as mobile tool distribution, which Danny knows first-hand. He points out that prioritizing and maintaining focus helps him achieve balance in both the industry and his personal life.
"I've been married for 18 years and have four kids ages 15 to 4 months," Danny said. It's important that tool dealers keep their focus on what's important, he said. When you've got a family, you need to be careful not to get too "wrapped up in the business."
Cutting back on the clock a little probably won't jeopardize the successful business that Danny has run for a decade and counting.
"I will probably be in this industry until I retire—unless there's a guy with a lot of money who wants my route … and it would have to be a lot of money," said Danny.
Even then, it is unlikely that Danny will ever slow down for good.
He indicated that selling his route would simply give him enough time for a short pause before diving into building a new route, and another successful business.