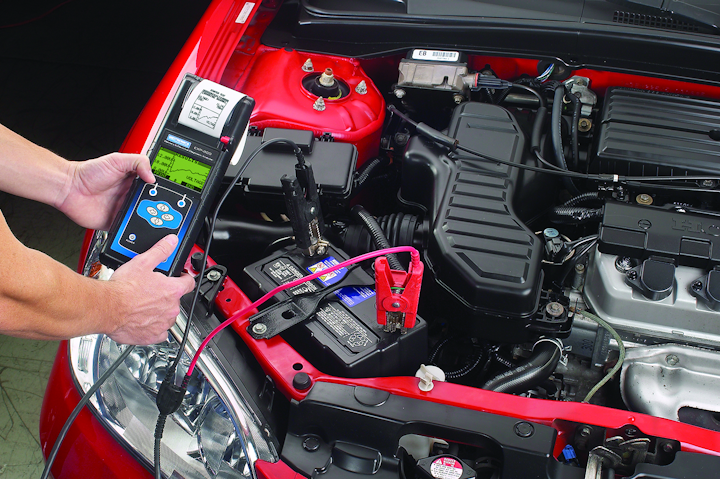 Calls to Midtronics Customer Service often fall into one of three categories. Save some time and learn how you may be able to remedy these common battery testing issues on your own.
No. 3 – TIE: SYSTEM NOISE & SURFACE CHARGE ERRORS
A System Noise error message occurs when the tester detects a load or current in the system. Before testing the battery, turn off the engine and all loads, such as A/C, headlights, etc. Remove the key from the ignition and make sure doors and the hatch/trunk lid have been closed for a few minutes. Allow several minutes for all electronics modules in newer vehicles to go to sleep. Vehicles with keyless ignition may stay awake if the key fob is nearby, so make sure that is not a potential factor as well.
A Surface Charge error happens if a higher than normal or unstable voltage level is detected, and can occur if a battery was recently charged or if the vehicle had been running and was just turned off. With the ignition turned totally off, turn the headlights on for a short period of time to stabilize the battery voltage. Turn off the headlights and try the test again.
No. 2 – INACCURATE TEST RESULTS
Be sure to enter all information into the tester accurately. Entering an incorrect battery type, chemistry, rating type, or rating value can cause incorrect test decisions. Always enter the correct specifications for each battery you are testing.
Connect the tester clamps properly, with as much contact and as close to the battery terminal as possible. Remote and auxiliary posts introduce more resistance into the test and will affect testing results. If testing a side post battery, always apply lead post adapters before connecting tester clamps.
Discharged batteries often test as "good" or "bad," but in some instances batteries must be fully charged to obtain an accurate decision. If the test results in a "charge and retest" decision, the best course of action is to charge the battery with a diagnostic charger, like the Midtronics GR8 or GRX. Not only do diagnostic chargers charge batteries safely and quickly (in approximately 20-30 minutes), they also run continuous diagnostics while charging. A diagnostic charger stops the charging session if it determines the battery is not viable. Why wait hours for a battery to charge only to ultimately find out it's a bad battery and needs replacement?
And, coming in at No. 1 - CHECK CONNECTIONS
The Check Connections error is one of the most common issues encountered by customers and can occur on all testers and chargers. Proper connections are critical to accurate battery tests. When any Midtronics product senses a less-than-ideal connection, the "check connections" error message is displayed. If this happens:
Check that a good connection is being made at the battery post. If you receive this error repeatedly while connecting to a remote post or to an auxiliary terminal, move the test cable clamp directly to the post of the battery. Always try to make contact with the lead part of the battery post.
Check the battery post and test cable clamps for grease, corrosion, or dirt/dust. If necessary, a few minutes spent cleaning with a wire brush and baking soda/water solution should do the trick, enabling you to create a good connection and obtain an accurate test result.
Inspect the test cable clamps for damage, including broken wires or solder points or weak spring tension. If any of these conditions exist, replace the cables in order to complete valid battery tests.
Information provided by: Midtronics