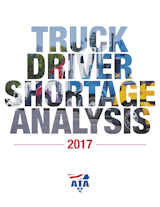 Over the past 15 years, the trucking industry has struggled with a shortage of truck drivers. The shortfall was first documented in a 2005 report. At that time, the shortage was roughly 20,000. During the Great Recession that started in 2008, the driver shortage was erased, but only because industry volumes plummeted, resulting in fewer drivers needed. However, as industry volumes began to recover in 2011, the shortage slowly returned. The driver market continued to tighten, and the shortage skyrocketed to roughly 45,000 by 2015. In 2016, the industry still suffered a shortage, but it was less than in 2015 as industry freight volumes softened. As this report highlights, the driver shortfall is expected to rise by the end of 2017 to the highest level on record as freight volumes recover and the industry transitions to the use of electronic logging devices to record driver hours-of-service.
There are many reasons for the current driver shortage, but one of the largest factors is the relatively high average age of the existing workforce. According to surveys by ATA, the average driver age in the for-hire over-the-road truckload industry is 49. Other trucking sectors have an even higher average age, like less-than-truckload and private carriers. While the driver shortage is not as acute in these sectors as it is in the over-the-road truckload sector, the high average age still affects the overall shortage. As these two groups see drivers retire, they often go into the truckload labor pool to recruit drivers.
Today, motor carriers struggle to find enough qualified drivers, which makes the impact of the shortage seem much worse than the numbers in this report. Many carriers, despite being short drivers, are highly selective in hiring drivers because they have made safety and professionalism high priorities. The driver shortage is really a problem for the entire supply chain as 70.6 percent of all freight tonnage is moved on the nation's highways.4 According to the American Transportation Research Institute, 43 percent of trucking's operational costs is driver compensation,5 which is the largest operational cost for a motor carrier. Additionally, as volumes increase, the existing driver pool is only more strained.