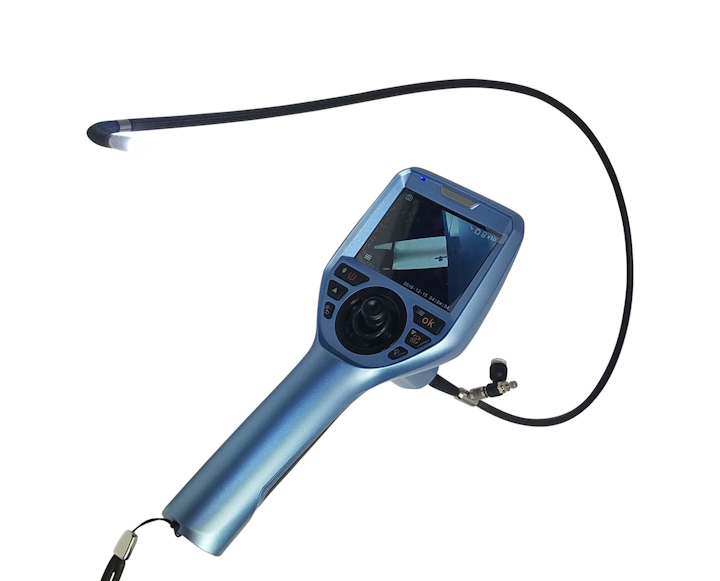 Product description:
The Oasis Scientific Vividia ME-610C Automotive Articulating Borescope is designed for quick inspection of hot car engines and diagnostics with special air cooling channels. The ME-610C has a 1m long, 6.5mm diameter waterproof probe with 360 degrees articulation controlled by a joystick. The Vividia ME-610C provides high quality images with high illuminance LEDs. The insertion tube and camera probe are cooled with compressed air, so it can be used at temperatures as high as 572 degrees F. 
When it comes to a thorough inspection, it doesn't get much better than full articulation and a clear picture. Matt Fanslow of Riverside Automotive in Red Wing, Minnesota was impressed with the span of the Vividia ME-610C's 360-degree articulation, which helped him to see into the heater core from the heater box, among other uses. "You whip [the borescope] around in every direction, not twisting on the cable or trying to orient it right. I really liked that," Fanslow says. "It articulates in every direction and points back to you, which is … really nice, especially when you're trying to wind your way through something and watching as you go." 
Setup for the tool consisted of a simple plug in and charge. Fanslow added, the ME-610C comes well packaged in a "very nice, sturdy plastic blow molded case with its charging adapter and cleaning cloths."
The Automatic Articulating Borescope allowed Fanslow to get an inside look into places and parts he could not see into otherwise, like a burnt spark plug, or to confirm a suspected leak coming from the intake. Not only does seeing the problem help technicians confirm a diagnosis – they can take it back to the customer. "Before [this product] you would have no visual confirmation something was wrong," says Fanslow. "You could be looking at some hefty disassembly to verify and [in some cases] you end up using your imagination. This is visual proof. Take a picture and send it to the client."
He was impressed by the image quality, too, compared with borescopes he's used in the past which seemed to lack focus at a couple of inches away. "The [Vividia cameras] seem to do much better up close – they remain clear. I was very happy with that," he says.
Fanslow said he would like to see a bigger screen on a future iteration of this product (the screen is 3.5 inches) or have an output to his cellphone, and possibly a narrower probe – 4 or 5mm versus the current 6mmm.
At the shop, Fanslow said "this was the first grab" for him and his fellow technicians. "You could look into those enclosed or hard-to-reach areas without taking a lot of stuff apart, like in the case of a dropped bolt – you could quick run the borescope in there and sneak [the bolt] out with a retriever tool."
Overall, Fanslow found the ME-610C to be a powerful diagnostic tool for visual confirmation in several scenarios, saying "this is the one to get."