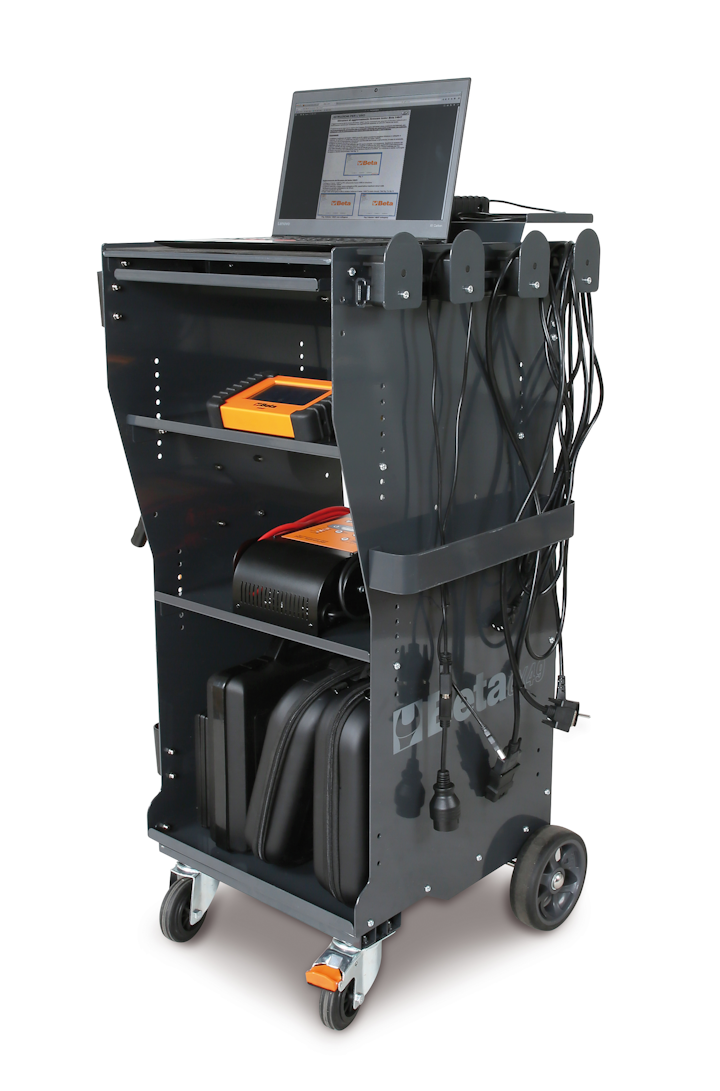 The Review
Over the years, Scott Brown of Connie & Dick's Service Center in Claremont, California, says he has "grown to appreciate the thought and effort put into a piece of equipment, and [the Beta Utility Work Cart, No. CX49] clearly has had a lot of thought and effort put into it."
The cart has plenty of room for the storage of meters, leads, scan tools, laptops, and many more tools, Brown says.
"There are adjustable hangers for cables and/or small hoses on one side, and the other [side has] low profile storage areas for small items like banana clips, test lead connectors, et cetera," he explains.
A slide-out tray is also attached for easy access to keyboards, laptops, tablets, or other tools, he notes.
There's also room for more mounting on the sides, further expanding the cart's storage capabilities. Brown says he plans on mounting his programming battery maintainer on the side very soon.
 "[The cart] arrived strapped to a pallet – since this is a heavy [product] – and was packaged very nicely," Brown says.
Assembly of the cart took only about an hour and was aided by the provided manual, which he notes was easy to understand and "basically just an illustrated assembly page."
According to Brown, the cart itself is simple to use, but he recommends placing heavier components at the bottom of the unit to lower the center gravity, reducing the tipping tendency."
Brown found many features of the cart he liked, such as its maneuverability, the work surface height, ergonomics, and the professional look.
Brown also liked that "the unit has a very small footprint, which makes it nice to operate in tight quarters."
He also notes that the cart helps when it comes to saving time in the shop.
"Efficiency is added by storing an eclectic mix of the typical tools needed for specific operations such as module programming, diagnostics, et cetera," he says.
In the shop, the cart gets used as a work surface for scan tools, lab scopes, and other instruments aiding in diagnostics. Prior to owning this cart, some of the current items stored were housed in cabinets and storage drawers.
Though the shop uses a variety of service carts, Brown seems to find the Beta Utility Work Cart especially useful.
"This one, in particular, is nice for storage and overall utility due to its tall stance and small footprint," he says. "The two top surfaces allow us to store/display tablets or PC-based diagnostic tools with excellent visibility."
To view Brown's video review of this product, visit VehicleServicePros.com/21087723.