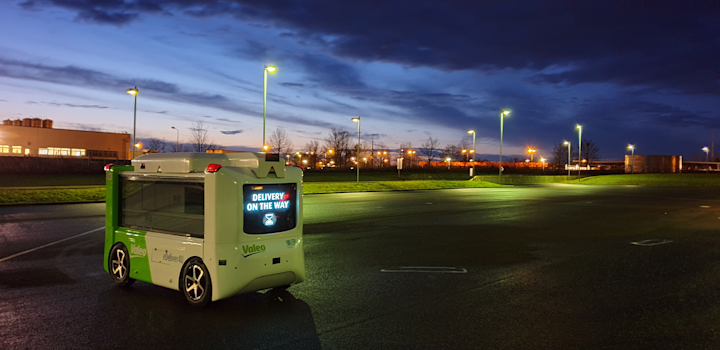 Valeo, an automotive supplier specializing in developing electric, autonomous, and connected vehicle technologies, presented its autonomous, electric delivery droid prototype, the Valeo eDeliver4U, at CES 2020 in Las Vegas. Valeo developed the technology in partnership with Meituan Dianping, a Chinese e-commerce platform for services, which operates popular food delivery service Meituan Waimai. The two groups signed a strategic cooperation agreement at last year's CES to develop a last mile autonomous delivery solution.
At about 9' long, 4' wide, and 5 1/2' tall, the droid can deliver up to 17 meals per trip, autonomously negotiating dense and complex urban environments at about 7 1/2mph without generating any pollutant emissions, according to the companies. With a range of around 62 miles, this prototype serves as a glimpse of what home delivery could look like in the near future, especially in the ever-growing number of zero-emissions zones that are being created around the world. Meituan Dianping's connected delivery locker allows for safe delivery to the end customer, who can book through a smartphone application.
The droid's autonomy and electric power are delivered by Valeo technologies that are already series produced and aligned with automotive industry standards, thereby providing a high-level of safety. The droid operates autonomously using perception systems including algorithms and sensors. It is equipped with four Valeo SCALA laser scanners (an automotive LiDAR already fitted to vehicles in series production), a front camera, two fisheye cameras, two radar devices, and six ultrasonic sensors, coupled with software and artificial intelligence. The electrified chassis features a Valeo 48V motor and a Valeo 48V inverter, which acts as the system's "brain" and controls the power, a speed reducer, a 48V battery, a DC/DC converter, and a Valeo 48V battery charger, as well as electric power steering and braking systems.
"This delivery droid illustrates Valeo's ability to embrace new forms of mobility using its technological platforms. The modularity of the platforms means our technologies can just as easily be fitted to cars, autonomous shuttles, robotaxis, and even droids," said Jacques Aschenbroich, chairman and chief executive officer, Valeo. "These new markets will allow us to further consolidate our leadership around the world in vehicle electrification, driver assistance systems, and autonomous driving."