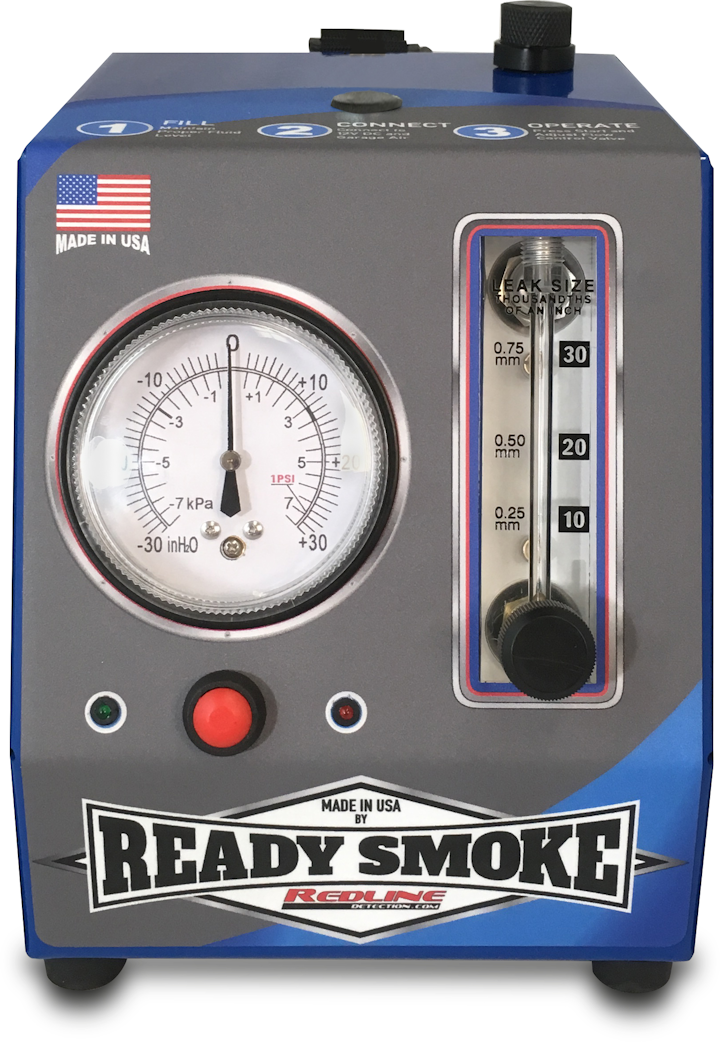 Diagnostic leak detection technology, referred to in the field as "smoke testing" or "using a smoke machine" is used by technicians as a solution to time-consuming problems.
Here are five tips for using a smoke machine:
High pressure diagnostic leak detection is the only way to simulate the boost of a running engine
Most carmakers are using boosted systems to improve fuel economy without sacrificing performance so technicians must know how to diagnose turbo, diesel, supercharged, boosted engines. Most boost faults are invisible, only opening up under the pressure of a running engine. The only way to pinpoint those failed components – and avoid replacing expensive known good parts or causing yourself comeback work – is to use a high pressure smoke machine. The high pressure smoke test simulates the boost of a running engine so you can test it with the engine safely off. In under 15 minutes the faulty component is pinpoint clear with 100 percent certainty.
Use leak detection during preventive maintenance to cut fuel costs
A leak in a boosted or naturally aspirated engine will cause performance problems and lower fuel economy. By using diagnostic leak detection in regular preventive maintenance, those leaks can be quickly found and repaired, reliably improving MPG for your customers. Using a smoke machine on your vehicles will not only improve fuel economy, it will lower maintenance costs by eliminating parts darts, and help technicians to fix it right the first time, giving customers better service while increasing technician profitability.
Use smoke and a diffuser to pinpoint wind, water and headlamp leaks
Take the guesswork out of finding whistles and water leaks. Turn the vehicle climate control on high, fresh air, to create a positive cabin pressure. Use a smoke machine and the diffuser accessory to lay down a layer of fluffy, long hanging smoke along the outside of widows, sunroofs, gaskets, door seals.  It's easy to see the disturbance in the smoke, which pinpoints the leak. Test again after the repair to be sure it's done right the first time and to keep the customers coming back.
Run a smoke test after DPF re-installation
Diesel particulate filter systems can be troublesome to maintain and a bear to repair. As air quality standards tighten, technicians need to know how to maintain and repair these widely used systems. Faults around DPF systems are caused by road wear but can also be accidentally caused when technicians re-install diesel particulate filters after routine maintenance and cleaning. Running a 10 minute smoke test after the filter re-installation is the only way to insure that there are no little leaks that are going to cause big problems.
Use a low pressure smoke machine to find EVAP leaks
Using a low pressure smoke machine, .5 PSI or less, to find EVAP leaks is a big time saver. EVAP leaks can cause the engine management system to throw on additional fuel, hurting MPG, without always triggering a check engine light. Searching for those leaks can take hours and be a guessing game. Using a smoke machine makes quick work with 100 percent certainty that the problem is fixed right the first time.
Information provided by: Redline Detection