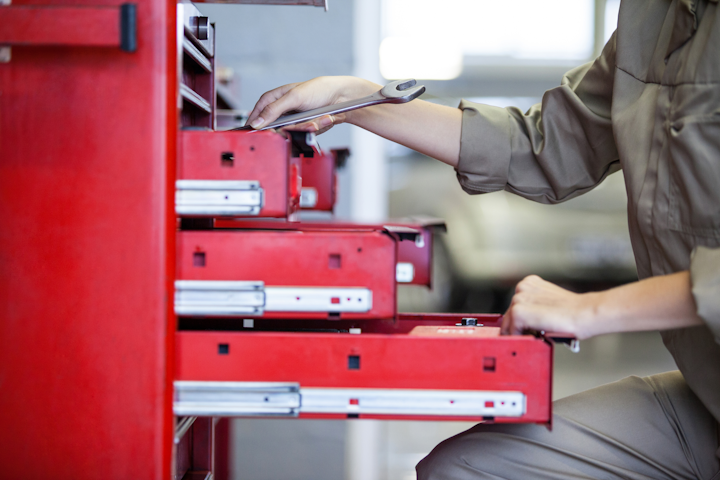 Recently, I made a visit to the north woods of Wisconsin. If you've never been, I'd highly recommend making the trip, especially during the fall as it is absolutely gorgeous. I typically love my visits to northern Wisconsin as it provides some level of peacefulness and a decent cruising trail.
This visit was different, though. I wasn't going up to take a vacation or to see old friends. For this trip, I was taking the trek to Antigo to talk with a group of technicians that had just lost their jobs and all of their tools to a fire that destroyed their place of work.
Everything was gone. Customers' vehicles that had been up on lifts now laid burnt to a char on the ground after the lifts' hydraulic cylinders had blown from heat. Office furniture and computers ... complete and utter destruction of everything. Pictures just don't do it justice.
While very few positives can be taken from something like this, no lives were lost and nobody was hurt. It may go without saying, but while material possessions can be replaced, it takes some time to rebuild. The shop owner had pretty good insurance on the building and all of the shop tools, but the technicians weren't as lucky.
With the exception of one technician (whose wife is an insurance agent), these highly skilled mechanics were left without the one thing they need to make a living: tools.
A true brotherhood of technicians
When I was meeting with the technicians in Antigo, my first reaction was that I couldn't believe how positive this group was after losing so much. They genuinely cared about one another, and it showed. It was a mix of highly experienced veteran technicians, and younger technicians just getting a feel for the business. The older technicians were more interested in making sure the younger ones were taken care of. It's hard to describe using words, but it felt like a true brotherhood.
As the technicians started to realize that they probably weren't going to be working together anymore, we started game planning for what was to come. J.J. Fay of Northwoods Tools, a Snap-On Tools distributor, set up a meeting and was really the catalyst to making things happen. He opened the discussion by asking, "How many of you want to remain technicians?" All of them nodded their heads that they wanted to stay in the industry.
A couple of the seasoned guys had already talked about opening a shop of their own. One was closing in on retirement and another was going full time on a tow truck. Three of the younger technicians wanted to wait to hear what the shop owner was going to do before pursuing anything outside. Luckily, the shop owner had another smaller building for them to get started in and, from what I've heard, they have started back up in it.
After confirming that they were staying in the business, Fay started up a GoFundMe page to help get these technicians back up and running. The older ones deferred, asking that all funds raised went to the younger technicians. I couldn't believe how willing they were to help out these younger guys.
On top of that, we reached out to people in the industry and boy, did they step up. The wonderful folks at VehicleServicePros.com started reaching out to people in the industry and were able to work with their partners to build an inventory of donated tools. Josh Carton of Curien was able to add additional fundraising efforts as well. If nothing else, it shows how many truly good people we have in our industry that were able to step up to the plate.
Thank you to everybody who contributed!
Where do we go from here?
While we were hopefully able to give the guys at this shop a running start at rebuilding their lives, it's impossible to do this every time there is a catastrophe. Fay opened my eyes to this when he said that it was the third shop fire in his territory that month. There are a lot of other shops that are going through similar issues.
One thing I feel like we need to do a better job at is educating both shop owners and the technicians that work for them about tool insurance. We cannot always prevent the unfortunate events that happen (shop fires, thefts, etc.), but we can protect our assets with insurance.
Tool insurance options for shops and technicians
The average technician has anywhere between $25,000 to $50,000 worth of tools in their toolbox. This isn't some universal kit of tools that can be purchased. Technicians add to their toolbox throughout their entire career, creating a customized set of tools suited to help them personally do their best work. But tools aren't always covered under the shop's insurance policy.
"There is an employee tool coverage [shop owners] can put in their policy to cover all employee tools while they are employed," explains Chad Paquette, owner of PWA Insurance Group, LLC.
The cost of insurance would vary greatly depending on a number of factors like gross sales, liability limits, etc., but to give an idea for an employer, covering $25,000 in tools for one employee would more than likely cost less than $1,000 per year.
Offering tool insurance can be a great employee benefit for the shops that can afford it, but this is realistically not always an option for smaller independent shops. For technicians working at a shop that cannot offer coverage on employee tools, technicians should strongly consider purchasing insurance themselves.
"Tools are not covered under home insurance if used for business," Paquette says. "The employee would need to get their own insurance if it's not included on the business's policy. [Employees] can purchase a small contractor [or] inland marine package to cover themselves for liability and tools."
If a technician took out an individual policy for liability on $25,000 worth of tools, it would cost close to $1,000 a year. However, the cost of insurance is trivial when thinking about the technicians from Antigo who lost their tools in the fire.
To conclude, I really hope that this shows that this can happen to anybody. We work in a dangerous environment. Sparks from a grinder can ignite a fuel source that can change people's lives. There's an inherent risk that comes when shop owners hang their 'open' sign every day. I plead with you to use the lessons learned from this shop in small town Antigo to protect your technicians' tools or, at the very least, educate them on protecting their own tools.