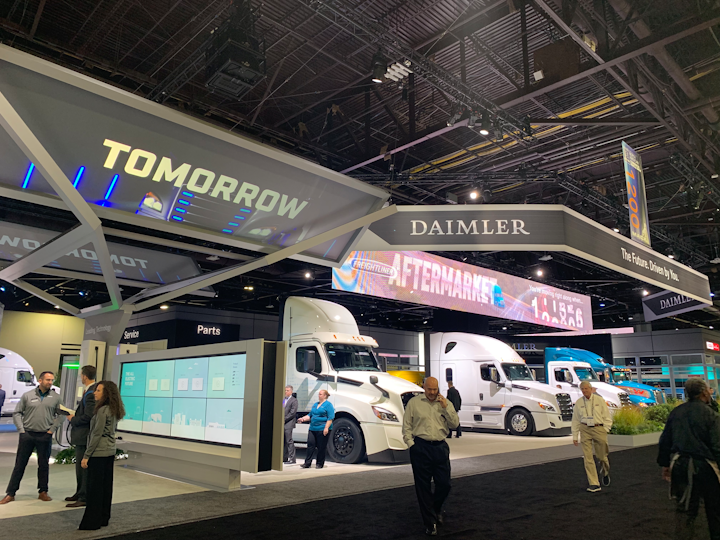 Truck manufacturer Daimler Trucks North America (DTNA) continues its focus on customer-driven solutions with the introduction and upgrades to a number of services and products.
"The key to achieving this never-ending goal is listening to our customers. Our focus is what is important to them: safety, efficiency, uptime," said DTNA President Roger Nielsen, during a presentation at the North American Commercial Vehicle (NACV) Show in Atlanta.  "We call it 'The future, driven by you.'" 
DTNA President Roger Nielsen highlighted a number of initiatives driving this focus. In particular, aftersales support has been an increased focus to ensure customers receive service after the initial purchase or lease of the vehicle. With that, the company has placed an emphasis on ensuring a fast and efficient turnaround of vehicle service, and an optimized parts ordering and delivery service.
"Regardless of how well we build our trucks, or how they're powered, it is inevitable that at some point they will need service. Our commitment is when that happens, we are going to get our customers trucks back on the road within 24 hours or less," said Stefan Kurschner, senior vice president, aftermarket for DTNA. 

Kurschner highlighted that DTNA is focused on delivering this promise in three key areas: through connected vehicles managed with the Detroit Connect platform, guided diagnostics and service tracking in the shop with the TechLane platform, and the company's new Excelerator eCommerce platform. DTNA announced updates to both Detroit Connect and TechLane, and the launch of Excelerator at NACV.
Detroit Connect platform enhancements
All of this information is managed through Detroit Connect, the telematics system management platform. Detroit Connect is available standard for any Detroit engine. 
Through the Detroit Connect platform, customers can review trip details such as mileage, idle time, and fuel usage. 
Lauren Murphree, connectivity product strategy manager for DTNA provided details on how all systems work together to offer a seamless solution for customers. 
"Many of our fleets pull this on a daily, weekly, basis, but they constantly need access to the vehicle," said Murphree. "Now with the click of a button within the Detroit Connect platform, they can extract that information, (and) utilize that in order to run the different parts of their operations today."

The Detroit Connect platform affords fleets the ability to access an update the vehicle's system without entering a service center, specifically through remote diagnostics and through remote programming, both of which can be completed through a cellular connection.
Through remote diagnostics Detroit Connect allows for prioritization of events to determine the severity of the vehicle issue. The system communicates with the vehicle itself to provide drivers clear prioritization and instruction, and with the fleet manager to offer enough details to best determine when and where the issue needs to be resolved. 

"As more of our trucks are connected, we continue to optimize and build on this extensive knowledge, to drive predictive analytics that maximize uptime for our customers," Kurchner said. 

Currently, DTNA offers Parameter Over the Air, allowing for fleets to update settings on the vehicle . Examples include updates to road speed limits, cruise speed limits, idle shutdown limits, and idle shutdown temperature. 

Announced as new functionality at the show, DTNA will also now offer Firmware Over the Air by the end of 2019. "if a customer needs to update their fuel engine map, for example, they will also be able to handle this whenever and wherever its most convenient with complete independence," Kurschner said. "Detroit Connect empowers our customers and keeps them out of the shop."

If an update is needed currently, a truck must come into the shop. With Detroit Connect remote updates, when the software update is required, the fleet can go into Detroit Connect and select which vehicles they'd like to apply that software package to and remotely send it to the vehicle," said Murphree. "This does require a driver to be available – during a break, or when the truck is back at home base. No plugging in, no diagnostic tools."
The process can be completed at the convenience of the fleet and the driver, without having the vehicle go into a service center. 
"We want to be the trusted source for data, that is usable to our customers," said Murphree. 

Service tracking system updates
Kurschner covered additional updates planned for DTNA's aftermarket service technology as well. Updates from DTNA include guided diagnostics provided through the Techlane smartphone app, a more streamlined pre-authorization process, and voice recognition technology to guide technicians through repairs.
Service Tracker, a new addition introduced for customers, provides real-time updates on repair status and communication.
Already available, the Express Writeup functionality uses a wireless connection to pull vehicle information such as VIN, mileage, fault codes, and trip details to create a repair order. The Techlane app provides technicians fault code classifications for a streamlined process to assist with faster and more accurate repairs.
"Techlane utilizes our rich data history to guide technicians to the root problem for quicker, more accurate repairs," said Kurschner. The goal, according to Kurschner, is to have the service work completed accurately and efficiently, in four hours or less. 

Another element to assist with streamlining this service process is through pre-authorized repairs. 

"For shorter repairs, our service pre authorization eliminates the need to stop to obtain approval from fleet offices, keeping the techs going and the trucks in the bay until the job is complete," Kurschner said. "This can shave hours off a repair, which could make the difference between a four hour and an overnight service event."

Improvements to the warranty claim process are also a focus to help improve vehicle uptime, said Kurschner. DTNA launched a One Stop program to eliminate variations in the claim process for extended supplier coverage programs.

"This program eliminates processing time for our customers utilizing suppliers extended coverage programs by moving the burden of processing warranty claims through DTNA," Kurschner said. "We want to take the pain out of the service process, and get our customers trucks back on the road as soon as possible."

New eCommerce platform
Coming in 2020, DTNA introduced its Excelerator ecommerce platform as well.

"Approximately 20 percent of last year's truck parts purchases were made on electronic devices,"  Kurschner said. "That trend will only grow, and we aim to be at the forefront of the industry in leading the customers' expectations."
Excelerator will provide an estimated time of arrival to track parts delivery, and will deliver part as quickly as two hours after order, if the part is available at the dealership, confirmed Kurschner.
The eCommerce platform is designed to connect the Detroit Connect management system with parts distribution centers, dealerships and alliance parts stores to help improve parts fulfillment and delivery times. 

"If the part is not available at the dealership, we'll deploy sophisticated logistics technology to support our  dedicated delivery service to get part delivered in under 12 hours on 90 percent of our dealer network," Kurschner said. 

"It will allow for an unparalleled level of transparency and setting the foundation for future customer enhancements," he continued.  
Other company announcements
In addition to the aftersales solutions announced at the show, DTNA also launched a telematics-based Dynamic Leasing program. The customized leasing option allows for personalized payment structure plans based on asset utilization, assessed through telematics data coming from the vehicle. The system uses the embedded telematics through Detroit Connect to track truck mileage, allowing DTNA to provide "pay-as-you-drive" finance rates and allow fleets to better manage cash flow, particularly during slower business. 

Improvement to the DD15 Gen 5, to meet coming fuel economy standards engine, will also be available for 2021, as well as updates to the Detroit Assurance 5.0 Safety System. 

The latest safety system improvements for Detroit Assurance 5.0 include active brake assist to enable full braking for moving pedestrians; adaptive cruise control down to zero miles per hour, designed ideally for stop-and-go traffic; and side guard assist which monitors and alerts drivers to obstacles along the entire length of the trailer such as signs, posts, or cyclists. 

Overall, DTNA is focused on the future with improvements to customer platforms and experience as well as future technologies. 

Detroit Assurance 5.0 will also include a new safety event viewer, which will allow fleets to monitor hard braking and other incidents, to help with coachable events. The system monitors driver behavior within the cab, and will record critical events 15 seconds before and after to recreate the event. These events are saved in the system for up to 30 days.  
"We are on the pathway to an electric future," Nielsen said. "A future of complimentary propulsion technologies to promote efficiency, safety, and uptime. And we're looking ahead to autonomous technologies. We're investing and testing, and when the time comes, we will launch an autonomous capable truck. Our money says within a decade. We are investing over half a billion dollars to bring Level 4 autonomous driving to the nation's highways in the next 10 years."