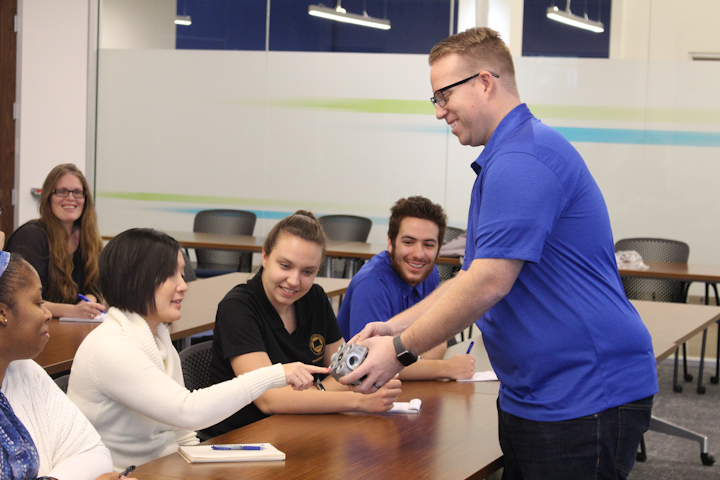 Image courtesy of Wabco
Fleets make money when their trucks are on the road. That means fleet managers need to start by specifying their new trucks with the best parts available, followed by having good supplier partners that will help keep those vehicles up and running. 
When specifying new trucks, fleets generally want the best components that meet their application needs and provide optimal performance and fuel economy. Even the most reliable trucks will require service and routine maintenance. That's when fleets turn to suppliers for help.
Defining a supplier partner
There is a difference between working with a supplier and establishing a partnership with a supplier partner. A supplier, by definition, provides something that's needed. In this case, truck and trailer parts or services. A  supplier partner does more than merely provide parts and service, but also develops a professional relationship with the fleet. A  supplier partner goes beyond just selling to provide comprehensive support – a highly strategic, end-to-end program – with a keen focus on the fleet's success.
For fleets, finding the right  supplier partner for their maintenance needs is important. While picking a supplier and hoping for the best may work sometimes, knowing what to look for and doing research ahead of time will increase the odds of finding a good long-term  supplier partner.
Here are a few key considerations when evaluating a  supplier partner:
Product portfolio. Look for a product lineup that supports the entire lifecycle of the vehicles in the fleet, including original equipment (OE) products, remanufactured solutions upgraded to the latest OE performance specifications, and quality aftermarket parts that ensure affordability without compromising quality or safety.
Starting with OE parts, a  supplier partner that has good relationships with the truck and trailer manufacturers is important. Fleets, distributors, and service providers demand parts that provide superior uptime, improved safety, and reduced cost-per-mile. The best – perhaps only – way to do that is by having deep knowledge of the operating demands of today's trucks and trailers.
It's also important to be able to support customers with aftermarket parts at every stage of the vehicle ownership lifecycle. For a newer vehicle, the fleet likely wants replacement parts that meet OE specifications and provide long-term reliability. On the other hand, it may not make sense to spend the money on OE-specified parts for older vehicles. In these cases, using a lower-cost part may be the best solution.
Remanufactured parts from an advanced supplier partner are a lower-cost option, without sacrificing quality. Once reserved for high-cost, large parts, suppliers are now offering an array of remanufactured solutions, from traditional driveline products like engines and transmissions to electronics. In most cases, parts are remanufactured back to OE specifications or even upgraded with the latest performance features. In some cases, this can make remanufactured parts as good, perhaps even better, than new parts.
Having a supplier partner that offers a range of new, remanufactured, and aftermarket parts provides fleets with options to meet their needs and budget. It also helps if the supplier offers retrofit solutions to improve the safety and efficiency of existing vehicles.
While it starts with the product portfolio, a supplier partner that has diagnostic tools to support troubleshooting their parts makes repairs or replacements faster, increasing uptime.
Parts availability. Selecting a supplier partner with a comprehensive distribution network helps customers source parts quickly and easily. Regional and national fleets need access to parts to get their vehicles back up and running as soon as possible. A supplier partner with an expansive distribution network can help get parts delivered faster than a supplier with a centralized warehouse inside or outside the country.
Authorized service provider programs. Supplier partners that provide extensive technical training and certification programs for service facilities and conduct audits to ensure safety and environmental best practices are followed, can provide fleets peace of mind that work is being done properly by an endorsed provider.
Training programs. Supplier partners should provide in-person and online training programs taught by technical experts to maximize product knowledge and educate service technicians on diagnostic and maintenance procedures. Ongoing training is critical, especially for rapidly advancing technologies such as those used in advanced driver assistance systems (ADAS), as well as electric or hybrid-electric vehicle powertrains. Offering in-person and online training provides fleets scheduling and budgeting options to ensure their educational needs are met.
Customer support. Look for a supplier partner that has a multi-layered customer support organization that can provide Level 1 phone or virtual support for immediate and real-time needs, as well as Level 2 support via field personnel performing live customer visits for more significant troubleshooting.
Good supplier partners have dedicated support teams that offer around-the-clock technical support and assistance, including diagnosing problems and ordering parts. Furthermore, the supplier partner's fleet sales team is an extension of its support organization to advise the customer on parts selection and help educate them on product features, benefits, and applications.
A supplier partner is not there merely to provide parts or services; a supplier partner, as the name implies, is a valued and trusted ally who adds daily value for its fleet customers – a partner in uptime.
Abe Aon is the business leader, North America aftersales, service, and support at Wabco. He is responsible for developing the Wabco North America Aftermarket functional organization, which encompasses original equipment supplier (OES) and independent aftermarket (IAM) sales, product management, project management, marketing and communications, workshop solutions, technical support, digital services, and product training. Wabco is a provider of electronic braking, stability, suspension, and transmission automation systems for heavy duty commercial vehicles.