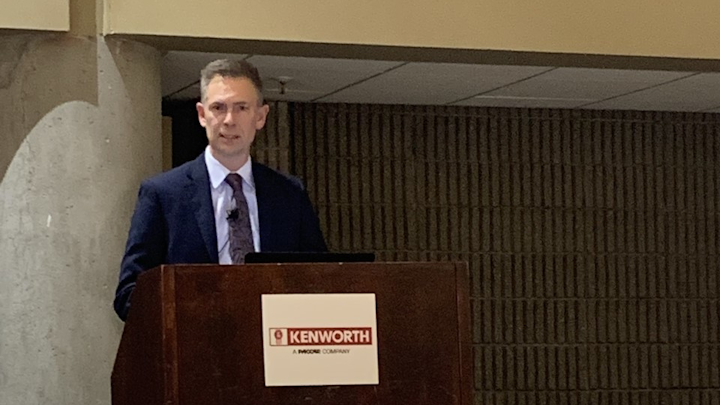 Kenworth will offer over-the-air (OTA) updates on engine and aftertreatment systems for Paccar MX engines, according to an announcement by Kenworth General Manager Kevin Baney during a press conference at the North American Commercial Vehicle (NACV) Show in Atlanta. 
These over-the-air updates will be available for 2017 and newer MX 11 and MX 13 engines, initiated through its TruckTech+ Service Management System. Active Kenworth TruckTech+ customers can access updates on the Paccar Solutions online portal, or through the PACCAR Over-The-Air mobile app.
The Kenworth TruckTech+ service management tool allows fleets to manage service and maintenance, with real-time visibility on repair service and data presented on a dashboard. This allows for fleets to manage trucks individually and as an entire fleet.
"It is important to provide customers with the latest engine and calibration updates that promote enhanced fuel economy and performance," Baney said.
When a truck is parked, a member of the customer's maintenance team or driver simply holds down the cruise control set switch for five seconds and the download begins through the secure PACCAR cloud server. The PACCAR mobile app allows monitoring of the download, and lets the customer know when the download is complete. It is expected that the secure software updates will typically take less than 30 minutes, and can be accomplished when the Kenworth Class 8 truck is parked.
"Kenworth has been developing an all-encompassing customer support program," Baney said. "This includes personalized customer care, and a web portal with connectivity to their Kenworth support team, instant access to product information, truck performance data, service history, and maintenance information. Building the right truck for the right job has been our mantra throughout Kenworth's history."
Over-the-air updates will be available for select customers beginning in December 2019, with a full roll out in 2020.