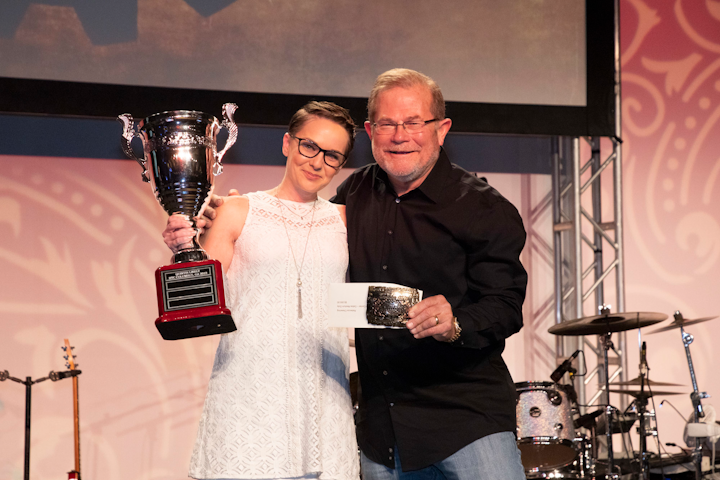 Photo courtesy of Erik Fossum
History was made this week in San Antonio, Texas at Rush Truck Centers' 14th annual Tech Skills Rodeo when 31-year-old Rebecca Chewning brought home the gold for the Hino parts division as the first female All-Around Grand Champion.
This was Chewning's second year competing, but first time making it as a finalist to compete the second day.
"I was not expecting it," Chewning says of her victory. "It's a little overwhelming, honestly."
Chewning has worked for Rush for three years, and though this industry does tend to be populated by males, she says there are a lot of females in the industry. With her win, Chewning hopes to set the trailblazing for other female competitors.
"I hope it opens more doors and opportunities for more females to be inspired to do this," Chewning said. "I don't know if they're just too intimated to [compete] or just don't think that they're good enough. We did actually have a second female competing this year as well, so I just hope to see more females in the future."
Chewning had this advice to give fellow Rush employees aspiring to compete at the rodeo: "Don't be afraid. Take the [competition's] qualifying test."
The other notable victory for the evening was the two-time All-Around Rodeo Champion winner, Justin Euler. Euler won his first Tech Skills Rodeo back in 2017 and has participated in the competition six times total.
With all this experience under his belt, Euler has kicked off some of the competition nerves, but because of the nature of this testing, there really is no way to prepare, he said. There's always that thought in the back of your mind: "You're one mistake from not making it," Euler said.
Euler does advise though that it's important not to let your mistakes get you down. "At the end of the day, you just have to push through and learn from your mistakes. If you do make mistakes and don't make it [to the next day of the competition], don't give up on it. There's always another test you can take."
When speaking about the rodeo, W.M. "Rusty" Rush, chairman, chief executive officer, and president of Rush Enterprises, Inc. said, "It's a testament to the best of the best. It's a reward for the hard work and dedication of the people that try to be better day in and day out."
The rodeo is really a result of the company's culture. A culture where employees are rewarded for striving to be better. It's not the kind of company where people just show up and punch the clock. It's the kind of company where people show up and work to get better every day.
It's not just about getting better though; this competition gives technicians the opportunity to prove themselves and see where they stand among their peers. "It's pride, right? It's pride to them," Rush said.
See below for a full list of winners for the 14th Annual Rush Tech Skills Rodeo. 
...
All-around and first place winners
All-Around Rodeo Champion (Prize: additional $4,000 plus signed Clint Bowyer racing helmet)
Justin Euler, Rush Truck Center – St. Peters
All-Around Grand Champions (additional $5,000 cash each, other prizes)
Aftermarket Sales: Steven Reed, Rush Truck Center – Cleveland
Parts: Rebecca Chewning, Rush Truck Center – Dallas Medium-Duty
Medium-Duty Service: Justin Euler, Rush Truck Center – St. Peters
Heavy-Duty Service: Raymond Jesse, Rush Truck Center – Tulsa
All-Around Reserve Champions (additional $3,500 cash each, other prizes)
Aftermarket Sales: Dillon Schroder, Rush Truck Center – San Antonio 
Parts: Chris Klansky, Rush Truck Center – Greeley 
Medium-Duty Service: Travis Graham, Rush Truck Center – Orlando 
Heavy-Duty Service: Jon Steckman, Rush Truck Center – Columbus OH
Parts, 1st Place by Category ($3,500 each)
Rebecca Chewning, Rush Truck Center – Dallas Medium-Duty (Hino)
Tim Howard, Rush Truck Center – Las Vegas (Ford)
Chris Klansky, Rush Truck Center – Greeley CO (Peterbilt)
Brian Lewis, Rush Truck Center – Cincinnati (Isuzu)
Quintin Likely, Rush Truck Center – Columbus GA (International)
Medium-Duty
Ford
1st, Nicholas Donet, Rush Truck Center – Denver ($5000)
2nd, Joe Walsh, Rush Truck Center – Orlando Light- and Medium-Duty ($2500)
Allison Transmission
1st, Byron Holmes, Rush Truck Center – Champaign ($5000)
2nd, Seth Gibson, Rush Truck Center – Bloomington IL ($2500)
Bus
1st Jayson McCarty, Rush Bus Center – Selma TX ($5000)
2nd Joseph Behrend, Rush Truck Center – Idaho Falls ($2500)
Isuzu
1st Rick Nonamaker, Rush Truck Center – Waco ($5000)
2nd Jacob Ely, Rush Truck Center – Columbus GA ($4000)
Hino
1st Billy Stanley, Rush Truck Center – Houston Medium-Duty ($5000)
2nd David Welker, Rush Truck Center – Phoenix ($4000)
International
1st Lucas Manlief, Rush Truck Center – Indianapolis ($5000)
2nd Justin Euler, Rush Truck Center – St. Peters MO ($4000)
Peterbilt
1st Travis Graham, Rush Truck Center – Orlando ($5000)
2nd Jose Garza, Rush Truck Center – Pharr TX ($4000)
Heavy-Duty
Alternative Fuels
1st Jaciel Contreras, Rush Truck Center – Houston ($5000)
2nd Jorge Alvarez, Rush Truck Center – Houston ($4000)
Vocational
1st Carl Trevino, Custom Vehicle Solutions – Denton ($5000)
2nd Rex Schulte, Custom Vehicle Solutions – Denton ($4000)
Cummins
1st Nicholas Misch, Rush Truck Center – San Antonio ($5000)
2nd Wesley Appleton, Rush Truck Center – Odessa ($4000)
3rd Raymond Jesse, Rush Truck Center – Tulsa ($3000)
Eaton
1st Peter Dezwart, Rush Truck Center – Doraville GA ($5000)
2nd Matthew Biggs, Rush Truck Center – Nashville ($4000)
3rd William Myers, Rush Truck Center – Laredo ($3000)
Navistar 
1st Jon Steckman, Rush Truck Center – Columbus OH ($5000)
2nd Tim Kelley, Rush Truck Center – Smyrna ($4000)
3rd Adam Fox Sr, Rush Truck Center – Akron ($3000)
PACCAR MX
1st Andres Campa, Rush Truck Center – San Antonio ($5000)
2nd Brandon Winebark, Rush Truck Center – Tyler ($4000)
3rd Randy Hughes, Rush Truck Center – Texarkana ($3000)
Truck Sales 1st place by category ($5,000 each)
Kyle Smith, Rush Truck Center – Fort Worth (Peterbilt Heavy Duty)
Andy Flagler, Rush Truck Center – Joliet (International Heavy Duty)
Devin Leissner, Rush Crane Systems (Peterbilt Medium Duty
Andrew Hirsch, Rush Truck Center – Charlotte (International Medium Duty)
Alvaro Parra, Rush Truck Center – Charlotte (Isuzu)
Brett Stair, Rush Truck Center – Dallas Medium-Duty (Hino)
Rod Tankerson, Rush Truck Center – Whittier (Ford)
All-Makes Division
1st Tim Cason, Rush Truck Center – Valdosta GA ($3,000)
2nd Mike Burbridge, Rush Truck Center – Oklahoma City ($2,000)
Rising Star Division
1st Devon Ducharme, Rush Truck Center – St. Peters ($3000)
2nd Mark Beck, Rush Truck Center – Effingham ($2000)
3rd Jason Daniels, Rush Truck Center – Lima ($1000)
Body Shop Division
Body Repair
1st Ed Polasek, Rush Truck Center – San Antonio ($4000)
2nd Richard Trahan, Rush Truck Center – San Antonio ($3000)
Body Paint
Jose Torres, Rush Truck Center – Houston ($4000)
Juan Trevino, Rush Truck Center – El Paso ($3000)