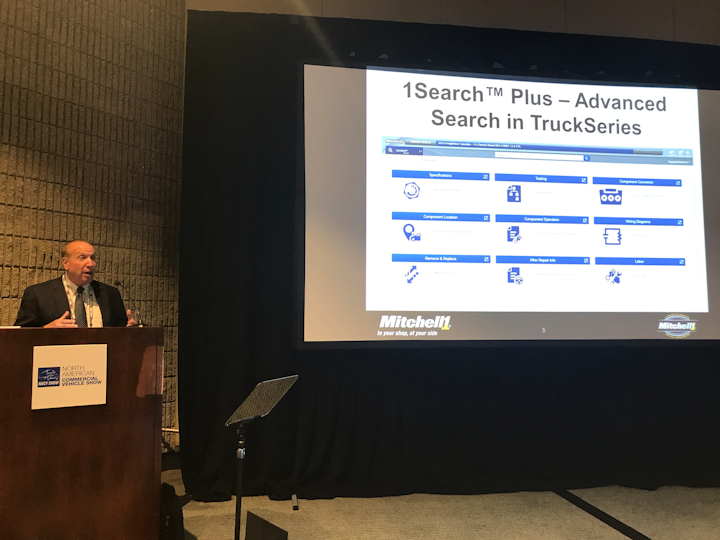 During a press event at the 2019 North American Commercial Vehicle (NACV) show, Scott DeGiorgio, general manager at Mitchell 1, detailed the recent advancements to the company's TruckSeries suite of web-based software that can significantly increase the efficiency of commercial vehicle service professionals.
TruckSeries provides access to complete labor estimating, diagnostic trouble code procedures and repair information for all makes of medium- and heavy-duty trucks in a single application.
"We are committed to continuously enhancing our software to provide all the information required to correctly diagnose and repair any make of truck in the fastest and least complicated way possible," said DeGiorgio. "Our company started over 100 years ago with industry-leading printed repair manuals and is now providing the most complete web-based software for today's commercial vehicles. And we are not done — many future advancements are on the horizon."
DeGiorgio gave an overview of how Mitchell 1's advanced 1Search Plus interface, as well as the company's newly enhanced wiring diagrams, utilize intelligent navigation to speed up the work of the technician by taking him or her directly to the information required with fewer clicks. "The less time a truck is down for repair, the more time it is available to produce revenue," DeGiorgio commented.
The 1Search Plus interface streamlines search and navigation for diagnostic and repair information specific to the vehicle being serviced. A technician simply selects the vehicle he or she is working on, enters a search term for the type of repair required, and 1Search Plus brings together all relevant information in a user-friendly layout.
Similarly, Mitchell 1's enhanced wiring diagrams take the user directly to the specific component diagram with the related wires automatically highlighted. Mitchell 1's renowned wiring diagrams have been a core feature of the company's commercial vehicle repair software since it was first introduced to the industry in 2006. Now, the new navigation feature speeds up the search process and quickly opens the right diagram for the component being searched, without the need to scroll through multiple pages.
Mitchell 1′s TruckSeries is the only comprehensive repair information software suite of its kind available for Class 4 through Class 8 trucks, delivering a one-stop, single log-in, all-makes data resource with scalable wiring diagrams, digital pictures, DTC-to-diagnostics, and more, all delivered in seconds. TruckSeries is integrated with Manager SE Truck Edition, Mitchell 1's industry-leading truck shop management software that delivers an end-to-end solution for every step of the repair process.