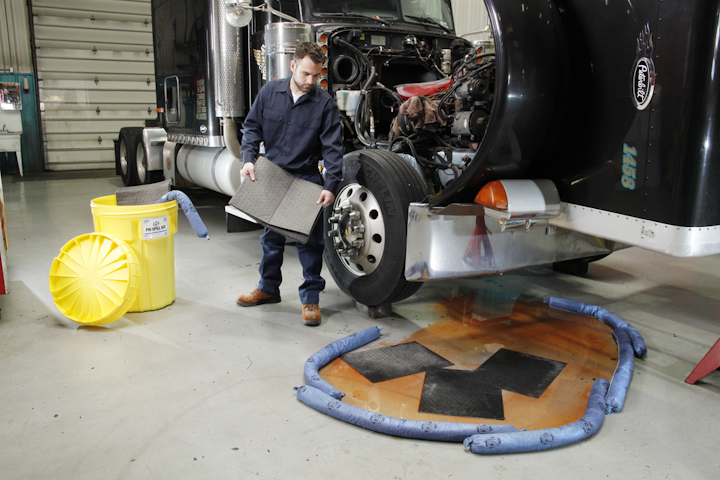 Photo courtesy of New Pig
Spills happen. There's no way around it. Oil, coolant, or even just water will at some point spill and make a mess that needs to be cleaned before anyone slips and falls, or the environment is contaminated. In these situations, training and preparation are key. Fleets must be aware of how to prevent spills, the training needed for thorough and efficient cleanup, how to determine the severity of the spill, where to store spill kits, and how to dispose of the used spill cleanup materials.
Spill prevention
Though technically there is no way to fully prevent spills from happening, fleets can mitigate spills through preparation and practice.
According to Dan Silver, vice president of product development, and Chris Iuzzolino, product operations manager, both of New Pig, each fleet needs to create a spill plan specific to their facility and the hazards present.
New Pig specializes in workplace safety and spill containment products.
Silver and Iuzzolino explain that a spill plan should include the containers, tanks, and equipment that could leak or spill, the plans and procedures in place to prevent spills and respond to them, and the tools and equipment needed to clean up or contain a spill. They recommend taking the following questions into consideration when creating a spill plan:
What could the potential spilled substance(s) be?
What is the worst-case scenario for the spill? In other words, what is the maximum amount of substance that could spill – 5 gallons, 55 gallons, a tanker truck, a 250-gal fuel oil tank?
What is the environment where the spill may occur – indoors or outdoors, on water or land?
Are there things such as storm drains or bodies of water in close proximity to the potential spill?
Do certain special precautions need to be taken with the spilled substance due to flammability or corrosivity?
When can the spill occur? This could include time during normal operations, during non-operating hours, day or night, or even seasonally such as during winter conditions.
The plan should also abide by local, state, and federal agencies' regulations for spill cleanup procedures. Additionally, copies of the spill plan should be distributed to local emergency responders along with emergency contact numbers and a blueprint of the facility. This allows the responders to familiarize themselves with the layout of the building and the associated hazards.
Furthermore, by creating a spill plan fleets can then use this as a training tool for their employees – the better trained the employees are, the quicker spills can be responded to and properly cleaned up.
"There's no better way to prepare for spills than to practice," note Silver and Iuzzolino. They also recommend that when a spill does occur, to complete a post-spill evaluation. This will help fleets determine what parts of the spill plans worked and which didn't, providing the opportunity to make changes for improvement in the future.
Staff training for spill cleanup
Fleets should require regular training for their employees to keep them up to date on spill cleanup and containment procedures in order to maintain response times, reduce potential hazardous situations, and increase the confidence of the employees responding to the spill.
Robin Thornett, marketing manager of SpillTech, a manufacturer of high-performance polypropylene sorbent products for industrial maintenance and spill cleanup, recommends establishing a chain of command and issuing individual responsibilities for each employee. By staging a mock spill, fleets can have their employees practice their roles in spill cleanup and make corrections to their actions to improve the facility's overall spill response performance.
Thornett recognizes that spill cleanup and the training that goes along with it will be different for each fleet and every employee, but in general, the process of cleaning a spill is the same. Thornett offers a guide she refers to as The Seven Steps of Spill Response:
Assess the risk: From the moment a spill occurs and throughout the response, determine the risks that may affect human health, the environment, and property. Always put safety first. If possible, identify the material spilled and try to determine how much was spilled.
Select personal protective equipment (PPE): Choose appropriate PPE to safely respond to the spill. Consult Safety Data Sheets (SDS) and literature from the chemical and PPE manufacturers for the best recommendations. If you are uncertain of the danger and the material is unknown, assume the worst and use the highest level of protection.
Confine the spill: Speed counts. Limit the spill area by blocking, diverting, or confining the spill using sorbents and sorbent socks. Stop the flow of liquid before it has a chance to contaminate a water source – be on the lookout for drains.
Stop the source: After the spill is confined, stop the source of the spill. This may be as simple as turning a container upright or plugging a leak in a damaged drum. Transfer liquids from the damaged container to a new one.
Evaluate the incident and implement cleanup: Once the spill is confined and the leak has been stopped, it is time to reassess the incident and develop a plan of action for implementing the spill cleanup. Spills are commonly absorbed. Specially designed spill pads should be used to absorb the remainder of the spill. Simply place the pads throughout the spill area. Unused absorbents are not hazardous. However, once the sorbents are saturated with oils, solvents, etc., they may be considered hazardous waste and should be disposed of as such according to federal, state, and local laws for the liquids they have absorbed.
Decontaminate: Decontaminate the site, personnel, and equipment by removing or neutralizing the hazardous materials that have accumulated during the spill. This may involve removing and disposing of contaminated media, such as soil, that was exposed during the spill incident. An effective decontamination area ensures the health and safety of emergency responders.
Complete required reports: Complete all notification and paperwork required by federal, state, and local guidelines for reporting all spill incidents. Failure to do so could result in severe penalties.
Something else to keep in mind while training staff is to motivate employees to take the initiative to prevent spills. Frank Casale, vice president of Flo-Dynamics, a manufacturer of vehicle maintenance and fluid exchange/recharging equipment for systems such as the transmission, power steering, coolant, A/C, and brake system, explains that when technicians are working on a vehicle, they don't always take the time or proper precautions to prevent spills. If a technician is working on a water pump, instead of taking the time to vacuum down below the connection level, they just let the spill happen because they see it as faster to clean up the spill than to prevent it.
This logic comes from how some technicians are paid, Casale suggests. If technicians are being paid "x" amount to complete a job and the sooner they finish the sooner they can move on to the next job, then it makes sense that some corners may be cut, he says. This logic doesn't hold up though, Casale adds, because properly cleaning multiple spills throughout the day will also eat into work time as well as unnecessary waste spill cleanup products.
Fleets must stress the importance of spill prevention and proper cleanup, not only to prevent environmental contamination, but also to keep their employees safe on the job.
Determine levels of spill severity
Spill severity falls into two categories: incidental and emergency. According to the Occupational Safety & Health Administration (OSHA), an incidental spill "is a release of a hazardous substance which does not pose a significant safety or health hazard to employees in the immediate vicinity or to the employee cleaning it up, nor does it have the potential to become an emergency within a short time frame."
Employees responding to incidental spills will need training in accordance with the OSHA hazard communication standard (HCS) 29 CFR 1910.1200, explain New Pig's Silver and Iuzzolino. The standard requires employees have proper training to protect themselves when handling a potentially hazardous spill.
An emergency spill is any spill that does pose a threat to safety, health, or the surrounding environment. Employees handling an emergency spill must be trained under OSHA's hazardous waste operations and emergency response (HAZWOPER) standard requirements, say Silver and Iuzzolino. If a fleet has employees trained as emergency responders, they must have a written spill plan detailing the steps the employees need to take.
"OSHA also requires that employees involved in HAZWOPER cleanup, emergency spill response, and other hazardous operations go through refresher training annually," say Silver and Iuzzolino.
In the case of any kind of spill, always proceed with caution, especially if the spilled substance is unknown. It is better to err on the side of safety rather than make assumptions that could worsen the situation.
Where to store spill kits
Where and how a fleet stores their spill kits will vary from facility to facility. Some fleets choose to have smaller spill kits located in any areas they deem could be a spill zone, and other fleets choose to have one or a few larger kits located in central areas around the shop.
Regardless of how many or how large the spill kits are, each should include absorbents, a broom, a wet floor sign, a dustpan, and a disposal bin or bags, says Patrick Shannon, director of marketing for Eco-Absorb, a manufacturer of environmentally friendly spill cleanup products.
"You can't always prevent spills," Shannon says, "but you can always be well-prepared for one."
Disposing of cleanup materials
Correctly disposing of spill cleanup materials is a crucial step to the cleanup process. Just because the spill is no longer on the floor doesn't mean the job is done. Fleets should have hazardous waste containers in their facilities for disposing of cleanup materials. There should be different containers for each type of hazardous material.
"Most of the [facilities] are going to have something for petroleum products," says Flo-Dynamics' Casale. "They're going to have something for coolants. Some [facilities] even mix it because their person that takes that away has the ability to separate the water and antifreeze from the petroleum products such as oil, transmission fluid, and power steering fluid."
Brake fluid disposal should be separated from the substances listed above, Casale adds.
It is also important to note that the absorbents used to clean the spill will take on the properties of the liquid that was absorbed, meaning the cleanup material will be just as hazardous as the spill itself, so proceed with caution.
Additionally, fleets must be aware of what the local, state, and federal regulations are when it comes to disposing of the contaminated materials. Landfilling, incineration, and fuel blending are just a few methods of disposal for the used materials, note New Pig's Silver
and Iuzzolino.
Occasionally, the liquid from the spill can be reclaimed from the cleanup materials if there is a need for recycling or reducing the total amount of waste being disposed, but the reclaiming process is typically not cost-effective or practical, Silver and Iuzzolino explain. Furthermore, not all liquids can be reclaimed. If acid is spilled, it will not be reclaimed due to safety issues. For the liquids that can be salvaged, use the process of centrifuging or wringing out the cleaning materials. It should be noted that after the liquid is reclaimed from the cleanup material, that material is no longer usable on future spills and must be disposed of.
Conclusion
Overall, spill containment and cleanup are about being prepared for what's inevitably going to happen. As long as fleets create comprehensive spill plans, train employees on best practices for handling spills, and know how to properly dispose of all used spill cleanup materials, they'll be ready for any leaks, drips, or spills that come their way.