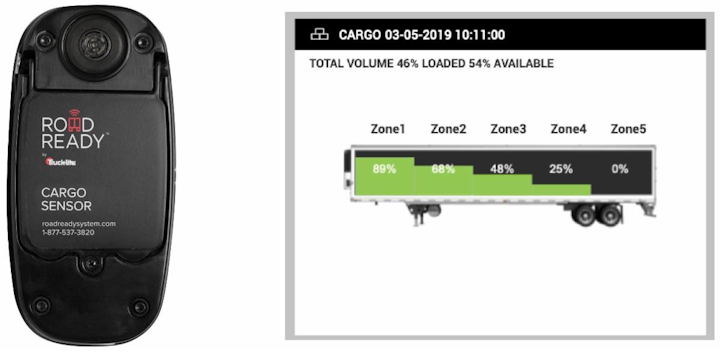 Photo courtesy of Truck-Lite
Truck-Lite Co., a producer of LED lighting, telematics, engine protection, safety and visibility systems, has added a volumetric cargo system to its Road Ready trailer telematics suite.
The system works by dividing a trailer into zones, depending on its size, and employing up to five cargo sensors that work in conjunction. Each sensor simultaneously reports how much freight is loaded into each zone, allowing fleets to see if there is any cargo space that is not being utilized.
"Road Ready's new volumetric cargo system gives fleets complete transparency into their trailers and helps them get the most out of their available space," said Rob Richard, general manager of Truck-Lite's Road Ready business division. "Knowing whether a trailer's capacity is fully utilized allows for better decision making and improved overall efficiency, and Road Ready is the first system that has been able to answer the transportation industry's growing demand for this technology."
Cargo volume from the new system will appear on a single widget on the Road Ready user interface, relaying how much freight is loaded into each zone, total loaded capacity and the percentage of remaining available space. Fewer sensors can be used on smaller trailers or bodies.
SKF wheel-end monitor integration
Truck-Lite also announced it has integrated SKF's TraX wheel-end monitor (WEM) data into the Road Ready system via its SmartBridge Integrator (SBI).
Released in 2018, the SBI bridges "smart" OE trailer systems with the Road Ready network, which communicates crucial trailer data to a fleet dispatcher and provides greater insight into a trailer environment. The recent integration with SKF allows any Road Ready fleet to access this critical wheel-end data and avoid downtime by taking preventive action.
"Truck-Lite's partnership with SKF allows Road Ready users to receive alerts on a single user interface and take the appropriate steps to avoid unscheduled downtime due to wheel bearing failure," Richard said. "By partnering with companies like SKF, Truck-Lite continues to lead the industry in offering a smart trailer solution to fleets."
SKF's TraX WEM tracks damage to the wheel bearing from an early stage by monitoring vibration and serves as a preventive warning system against bearing failures - well before they lead to an unplanned stop. Integrating the TraX WEM into the Road Ready system enables fleet maintenance and the driver to be notified via wireless communication about potential wheel-end deterioration to prevent damage, interruption of service and safety hazards. In the event of bearing failure detection, notifications are typically made thousands of miles before a problem becomes likely. In the case of an abnormal temperature reading or thermal event, the driver can be notified to pull over immediately.
"If a fleet is able to prevent a breakdown due to a failed wheel end, it can avoid not only expensive repairs and downtime but also danger to other traffic on the road," said Cengiz Shevket, VP of innovation and customer value for the Americas for SKF. "Integrating this technology with the Road Ready system helps fleets to identify and wirelessly communicate a potential issue before it becomes a serious problem."