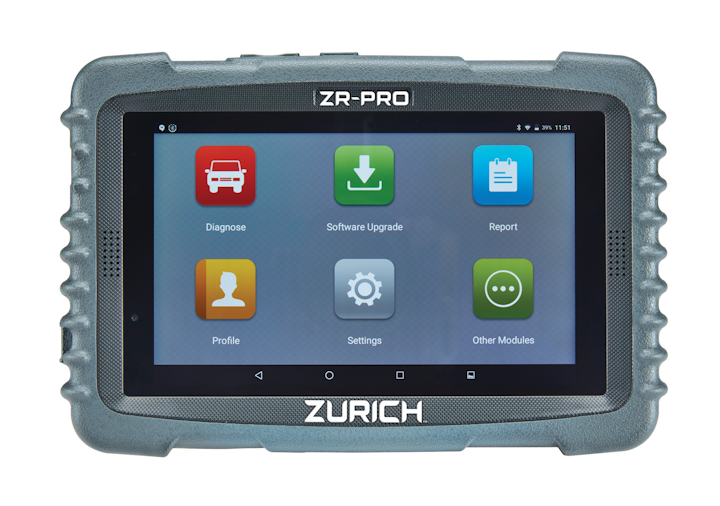 The Review:
What is the level of functionality you want the scan tool to possess? This is the most important question going into the purchasing process for a new scan tool; and the divisive benchmark is bidirectional functionality. What makes a scan tool bidirectional is the transfer of data, or communication, back-and-forth from the tool itself and select control modules on the vehicle. "That's where you separate a standard tool from a professional level. It'll help you save a ton of time when diagnosing what is going on," says Blair Brylawski. Brylawski is the owner-operator of Revit Auto, a mobile automotive fleet management company servicing the greater Washington, D.C. area. Brylawski and his team have been using the ZR-PRO for months, and he attests to the professional-level quality and functionality of the scanner.
"The packaging was really, really good. Even to this day, and I've been using it for over six months now, the foam insert is in really good shape. We put the tool back into [the] carrying case. Since we travel, this does not live in a toolbox, it lives in one of our service vans," Brylawski says.
The ZR-PRO comes with everything needed, including an additional stylus pen, which Brylawski says is handy in case one is lost on the road. There is also a quick-start manual which is easy to read and allows the user to get the scanner up and running quickly. "You can get up and going in about 30 minutes to an hour, depending on how much you need to download," Brylawski says.
At the time of start-up, the ZR-PRO allows the user to choose from an extensive library of software to install onto the tool. Brylawski says there are even more options than needed, but it is nice to know these are available. A tip Brylawski offered was to just download the necessities to keep as much free space on the tool as possible, allowing it to run a bit faster.
"We just download what we work on, what we need. That saves us space to focus on our main bread-and-butter, which is American trucks and vans, as well as Mercedes Sprinters and such," Brylawski says. Revit Auto does general automotive repair, covering a range of vehicles. Some of the services include diagnostics for other repair shops, and Brylawski says the ZR-PRO is particularly useful for such occasions. When working on a vehicle, the first step in their diagnostic process is plugging in the ZR-PRO and performing a VIN search, or VIN-to-code. This will pull the vehicle's information and allow the technicians to confirm such information, a process Brylawski claims has never failed him with the ZR-PRO. Following the VIN search, a health report is initiated, allowing the ZR-PRO to go through and scan all the modules for readiness monitors. While that process is happening, the technician is freed up to look at the vehicle's tires, check the brakes, and check underneath the hood.
Brylawski is a fan of the health report feature, which helps him and his team quickly identify and target issues. Another feature the Revit Auto team values is the Android platform, with its integration of G Suite and the seamless transfer of reports and code to team members and/or customers. The ZR-PRO can send PDF files directly through email, rather than the typical scanner only having the ability to send directly to a printer. "If you're an Android user, this tool is super easy to integrate into your day-to-day operations," Brylawski claims. "If my employee has a code he is not familiar with, or wants to share some live data, he can turn the page he is looking at into a PDF pretty fast, send it to me, and I will get that instantaneously. That's pretty cool. That's one of my favorite features – its huge," Brylawski says.
"Since I'm mobile, having clear communication is nearly impossible. Me and my employees can be separated by hours of driving time," Brylawski says. "So, for our office admin to be able to receive data that can be forwarded to the client to help sell a service or repair, there is no better way to do that than an email right now." Not only will the transfer of information increase the shop productivity, but it will also aid in assisting the customer relationship and experience, as codes and reports can be emailed to the customers in real-time.
Brylawski did share one instance where the tool was reading the wrong engine for the vehicle he was servicing. He reached out to the company and was put in contact with their support team. An update for the tool was released four days later and the issue had been resolved. "I haven't had any issues since then," Brylawski says.
Bidirectional functionality, email connectivity, and service functions such as VIN search and health reports are all reasons Brylawski gave the ZR-PRO a solid rating. "It has been a staple in one of our service trucks. Its been an awesome tool – I'll never get rid of it," Brylawski claims.