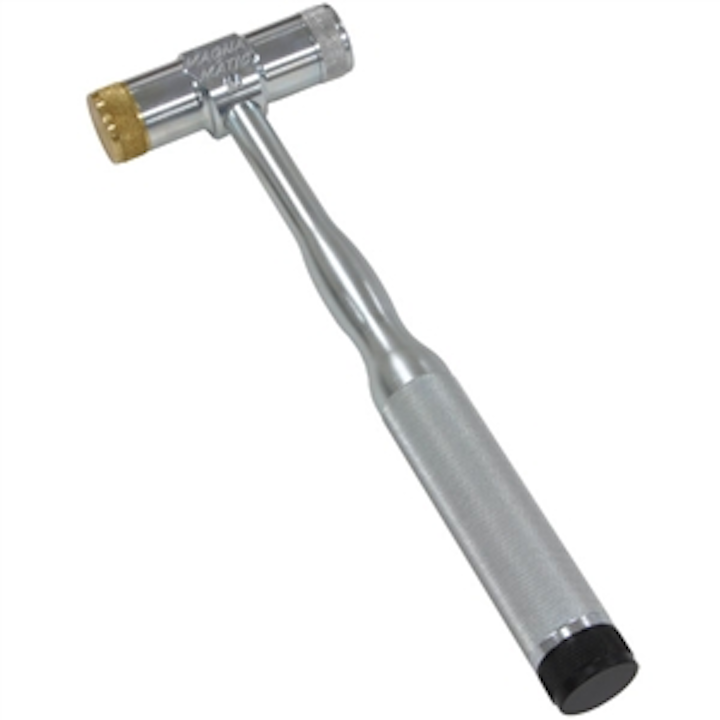 Photo from magna-matic-defense.com
The review 
A hammer is a standard tool in any shop, but issues arise with most hammers when working in tight quarters or when working with fragile parts and components. Phil Fournier, owner of Phil's Auto Clinic in Hemet, California, says the Magna-Matic Defense Precision Steel Dead-Blow Hammer, No. PSDB1, is ideal for those situations.
"The dead blow hammer is light duty but allows for more 'bang' in tight places," Fournier says. "Most dead blow hammers are quite large, and this one lets you do effective tapping in close quarters."
Around his shop, Fournier used the lightweight hammer for a variety of maintenance jobs, including tapping in grease or oil seals. He also used the hammer when installing a coolant fitting and pipe on a Ford 6.7 Power Stroke turbocharger.
"There is just very little room to work [on the turbocharger] and the tool [needed for the installations] – a Jiffy-Tite connector – has to be pushed in to lift the retaining clip away from the line," he says. "A light tapping was required to insert the [Jiffy-Tite connector] fully so as to release the clip, and [the Precision Steel Dead-Blow Hammer] did the job admirably."
While working with the hammer, Fournier was impressed with "the small profile and interchangeable hammer faces." He found that the three different faces of the hammer worked well for delicate work requiring light hammering and noted that the hammer didn't cause any damage to fragile parts or components during maintenance.
"[The hammer is] very good for tapping in fragile grease or oil seals, especially on front-wheel drive transverse engines where there is very little room to work between the shock tower and the engine," he says.
Though Fournier liked the precision hammer, he did feel it could be improved by replacing the magnet in the end cap with a rare earth super magnet.
"The [magnet] … will pick up the odd lightweight screw, but [not much] more than that."
Fournier also mentions that the hammer's price may be a bit much for some technicians, but "its value in tight spaces may make it worth the money for some," he says.
However, Fournier still found the hammer to be useful in a tight spot.
"The precision nature of the little dead-blow hammer makes it quite a nice addition to a tool set," he says.