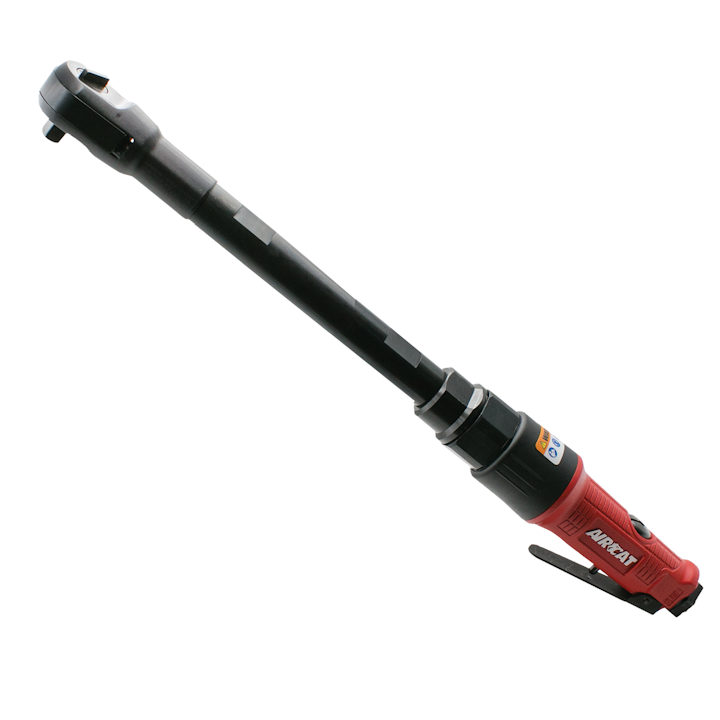 The Review:
Any tool that helps technicians get at those hard-to-reach places is worthy of keeping around the shop. Reviewer Jeff Buckley, master technician and owner of My Father's Shop Certified Auto Repair in Midlothian, Texas, couldn't agree more.
Buckley reviewed the AIRCAT 3/8" Drive Long Reach Ratchet, No. 808-15, saying, "This is a really nice tool. It's going to come in handy."
When he removed the ratchet from its box, the first thing he noticed was how comfortably the handle fit in the palm of his hand.
The long reach ratchet offers 30 ft-lbs of torque and is 15" long, enabling it to reach further down into those tight spaces.
"Even though we have this long extension on it … it still feels well-balanced," Buckley says. "It doesn't feel bulky."
Buckley tested the ratchet around the shop on maintenance jobs. When using the tool for engine work, he had no issues reaching around all the parts and components under the hood. He was impressed by how nicely the ratchet extended down to the compressor bolts and was pleased to not have to lean all the way across the engine to reach the bolts underneath the cowling.
"It just pops [the bolts] right off," Buckley says.
The long reach ratchet comes with an air connector and a manual, although Buckley states that the manual was "not really needed." The easy-to-use tool required no additional set-up other than installing the air connection.
As far as improvements go, Buckley had two suggestions. First – reconsider the round shaft so the tool can't roll out of reach, and second – "bump the torque up a little" in order to help get those stubborn bolts loose.
Regardless of these suggestions, Buckley says that AIRCAT's Long Reach Ratchet has a home in his toolbox.
Check out Buckley's video review of this product.