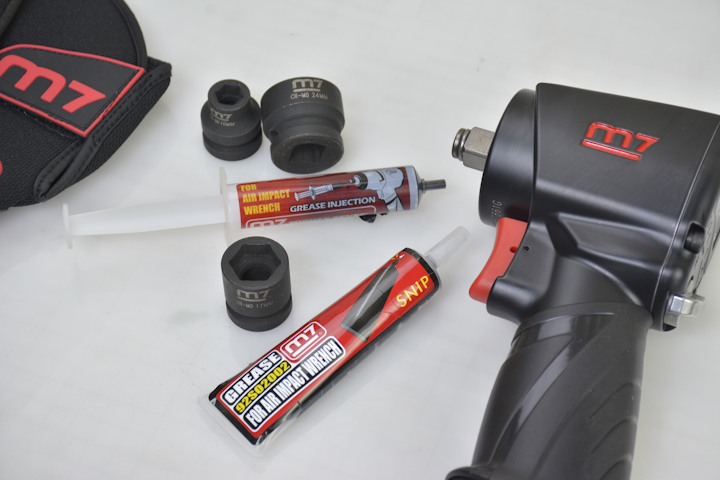 The Product:
The Mighty Seven 1/2" Drive EZ Grease Mini Impact Wrench, No. NC-4650HB, features the company's patented EZ grease system that is designed to extend the life and power of the tool. The design provides tool owners with a time-saving and effective method of self-maintenance. The mini impact wrench operates at 90 psi and can reach a maximum reverse torque of 650 ft-lbs in five seconds. The EZ Grease system is available in three other tools, and all are backed by a three-year warranty.  
The Review: 
A power tool that can get at tight spots to remove bolts and loosen fasteners can be a big help to busy techs, especiallty when that product is easy to maintain, too. That's a double-benefit. Buckley, owner and master technician of My Father's Shop in Midlothian, Texas, reviewed the 1/2" Drive EZ Grease Mini Impact Wrench from Mighty Seven and noted a number of key features, including its compact size and unique grease delivery system.
"It's truly a compact unit. The head of the unit is just a little bit bigger than the palm of my hand," Buckley says. In the shop, Buckley found that his favorite use for the impact wrench was for removing bolts found on the back of caliper mounting brackets, as the space on the backside is very limited. He liked that he was able to "take them right off and access them easily."
He also found the tool handy for suspension work, saying, "If you're working on the back and you're trying to get the shock bolts from the bottom, there are a lot of times you have a very limited space, so with this reduced head it's an extremely useful tool."
This shop owner also liked the easy ability to adjust speed options for forward and reverse. The back of the tool provides three speeds for each direction that can be moved within thumb's reach.
Buckley said what makes the 1/2" Drive EZ Grease Mini Impact Wrench so unique is the way Mighty Seven developed a new way to lubricate the tool.
"It comes with a packet of grease and a little syringe," he says. "There is a hole on the front of the anvil and all you do is fill the syringe up with the grease and inject the grease into the hole. That lubricates the front; you turn [the anvil] a couple of times, and it's ready to go."
He notes this offers a distinct advantage, as the method and location of grease-delivery keeps maintenance top-of-mind. Most power tools are lubricated using a special tip attached to a grease gun to deliver the grease.
"The majority of [technicians] don't do that," Buckley says. "You'll be using your impact and it wears out and won't take nuts off. They give it to the tool dealer to be reconditioned."
He adds, in this way the lubrication method on the mini impact wrench could cut out some of the time and effort spent sending tools out to be reconditioned.
With 650 ft-lbs of torque, this compact impact has the power needed to remove bolts. "You don't have to worry about breaking the bolts," he notes. "It's a mid-range power tool ... not necessarily a tool to take tires on or off or an everyday, all-day tool, but it's a great optional tool for smaller spaces, and noise is not a big issue."
Overall, Buckley enjoyed having the impact wrench at his shop and said that it's going right into his toolbox.
Check out Buckley's video review on Mighty Seven's 1/2" Drive EZ Grease Mini Impact Wrench, No. NC-4650HB, to see the tool in action.