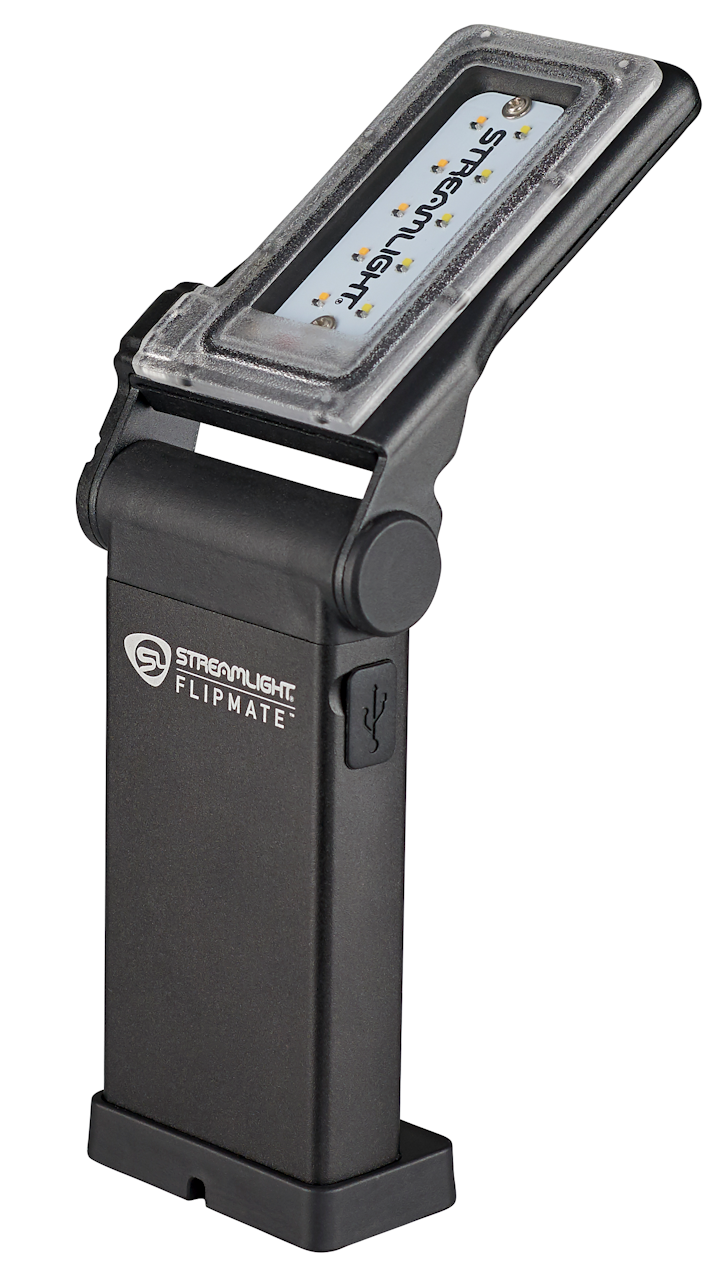 Selling points
Compact, 500 lm worklight with light blade that rotates 270 degrees
Cool white LEDs for illuminating large areas on a vehicle
90 CRI LEDs with Streamlight Color-Rite technology to identify color differences
Attaches to metal surfaces for task-specific lighting
Charges via a USB source or AC wall charger
Features and benefits
The FlipMate gives auto technicians two lights in one: area lighting to illuminate large areas anywhere on a vehicle, as well as color matching lighting for detailing and painting. It is designed for auto body repair and other professionals who require both light sources to perform their jobs. It can also be used as a cordless droplight via a stowable hanging hook or attached to metal surfaces for handsfree illumination. Its rechargeable battery offers low operating costs.
Application
The FlipMate can be used for inspecting, identifying, and repairing a wide variety of automotive problems. Its double function light blade produces bright white light for general lighting needs, such as illuminating large, hard-to-see areas under the dash, hood, or vehicle undercarriage. It also functions as a high CRI light with Streamlight Color-Rite technology, enabling automotive technicians to identify color differences in wiring or to differentiate among colors when performing painting and detailing jobs.
Origin
The light was developed in response to customer requests for a USB-rechargeable area and color matching light for use in automotive settings. The result is a product that is two lights in one: a bright white light, and a high CRI light for identifying color differences.
Manufacturing specs
The FlipMate is designed and engineered in the U.S.A. and made in China. It is manufactured from nylon and aluminum, and also features a replaceable polycarbonate lens. It features white LEDs that deliver 500 lm on the high setting and 250 lm on low, with run-times of 2.5 and 5.75 hours, respectively. The light's 90 CRI color matching LEDs offer 400 lm on high with a 2.5-hour run-time; on low, they provide 200 lm with a 6-hour run-time. The FlipMate uses a lithium ion 3,800 mAh cell battery that recharges in 4.5 hours with an AC wall charger. When using the USB/micro USB cord, charge times vary depending on the USB source's voltage. The light weighs 8.7 ounces. When folded, it measures 4.58" long, 2.56" wide, and 1.3" thick. With the light bar fully extended, it measures 7.94" in length.
Storage and display
The light ships in corrugated master cartons containing six units per master pack. Streamlight recommends hanging the blister packed packages on pegs.
Suggested retail price
$125
For more information
610-631-0600
cs@streamlight.com
www.streamlight.com