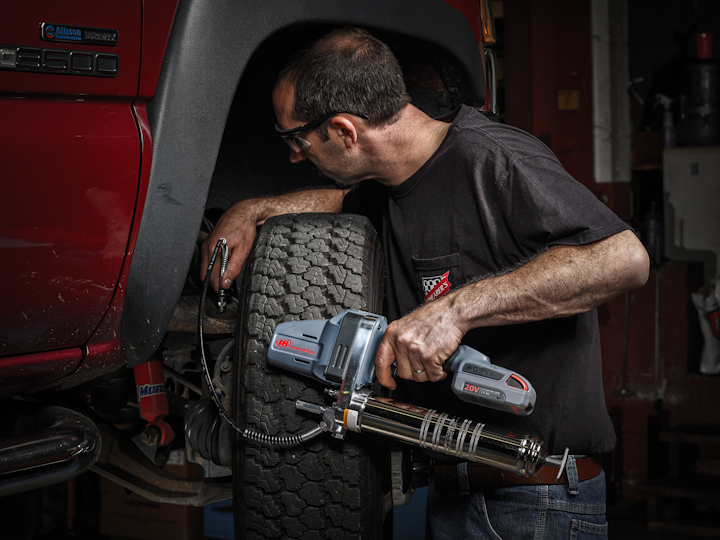 Although cordless power tools have been around for decades, the advancements in technology, size, and capabilities just within the last couple of years have come a long way. Even tools that have not been traditionally thought of as being battery operated (think grinders) are now going cordless.  
Cordless power tools put the power in the technician's hands – literally. Without sacrificing on power, technicians can move around the vehicle and the shop without being tethered to a cord or compressor.  
Whether technicians are making the switch to cordless for the purpose of enhanced features or convenience, cordless power tools continue to gain momentum in shops. Find out how technology has been moving forward, what technicians are looking for, and what the future looks like for cordless power tools.  
Technology advancements 
When cordless power tools were first introduced in the 1960s, all motors were brushed. In the past few years alone, more tool manufacturers have been making the switch to brushless motors.
The brushless motor is probably the latest trend working its way into the automotive space," says Cole Conrad, vice president of product management at Milwaukee Tool. "Just five to six years ago, brushless motors were only used in things like computers and remote-control cars."  
It has been a slower process in the automotive industry for brushless because pneumatic has held a strong footprint for so long before cordless tools were introduced. Now brushless motors are on the scene.  
"You're starting to see more innovation in the types of products," says Matt Rivera, national account manager at Makita. "[Brushed motors] would wear over time and they weren't the most efficient, so now what you have is a lot of [tool manufacturers] converting to brushless motors. They run more efficient and can get more power."  
Smart technology is also making its way into the automotive industry, especially for cordless tools. Digital connectivity allows technicians to track and manage their tools using Bluetooth technology, while web and mobile apps can provide users with the location of their tools, as well as information on things like a tool's usage, temperature, and the battery's state of charge. The technology can also disable the tool when they go out of range, helping to prevent theft.
Some systems offer additional features, such as Milwaukee Tool's ONE-KEY, which allows users to customize their tools by pre-determining setups like speed output and torque for a specific application.   
"Bluetooth enabled tools let mechanics basically tell the tool that they are installing lug nuts on a passenger car or a pickup truck or diesel equipment," says Conrad. "You're seeing the tools become a lot smarter and making the job a little bit easier and faster for the [technician] and also reducing the possibility of mistakes."  
Let's not forget the battery. From battery duration to charging time to power output, cordless tool batteries within the last few years have also advanced thanks to the newest technology, lithium-ion batteries. 
Lithium-ion batteries are lighter in weight, higher energy density, rechargeable, and hold their charge longer. A technician can now charge a drained to almost drained battery within an hour or two or even less. Along with a faster charging time, the battery also lasts longer and is smaller in size. While compared to pneumatic tools, the battery size is still larger, the power output is not sacrificed.  
Tips for selling 
Even though cordless power tools have been around for some time, that doesn't mean the sales pitch remains the same. Technicians and shop owners are not only looking for what's new and beneficial for everyday tasks; they also want to know what makes the tool worth their investment. In addition to the notable features in advancements and technology mentioned above, there are several additional highlights and techniques for selling cordless power tools to technicians and shop owners.
First, ask what platform is best for them. "Technicians are looking for a platform," Makita's Rivera says.  
"Not necessarily what tool, but what platform such as brand or battery system [is] going to cover most of their needs."
Compatibility is important in shops. Being able to have tools that use the same battery and battery charger is important.  
Many technicians also like to have the same type of battery or tool in their toolbox as they do at home. They like familiarity and, if allowed, the option to bring a tool home for a project.  
It's also important to ask customers what applications they will be performing the most to help point them in the right direction when selecting a platform, Milwaukee Tool's Conrad notes. Are they going to be working on passenger cars, pick-up trucks, heavy duty diesel equipment? This is a good starting question to ask. 
Another selling technique is having a cordless tool on display with an already charged battery. Technicians want to hold the tool, pull the trigger, and feel the power. Having access to it and seeing exactly what the tool can do is beneficial.  
"In some cases, there's a resistance to using cordless because there is a concern that the power is not going to be there when they are used to using an air product," says Hunter Golden, cordless product manager at Ingersoll Rand. "So really looking at the power of the tool and its breakaway – or what we call nut-busting torque with an impact wrench – is very important because that's going to show [the customer] that the product can actually replace some of their air tools."  
Golden suggests demoing the product. For a cordless impact wrench, he says to have a spare tire with fastened lug nut bolts and let the customer use the tool to loosen the bolt.  
Last, but certainly not least, is safety. Safety is always a concern no matter the size of the shop or number of technicians. Note that with cordless tools, technicians are not tethered to cords and hoses; this can help prevent trips and falls. Not to mention, without a cord or hose, they can move around the vehicle and shop more easily without the risk of getting tangled or having to stop a task because the cord or hose got in the way.  
The future for cordless power tools 
Going cordless is becoming more and more evident in the automotive industry and shows no sign of slowing down. This is true especially when tools that were once only thought of being air tools are now converting to cordless.
"The future looks bright," says Omar Macon, product marketing manager, vehicle service at Chicago Pneumatic. "Everything in the market is trending upward and [cordless tools] are the preferred choice of tooling for technicians."  
As advancements continue, so does convenience. 
"Continuing to push the limits on power for the tool, weight production, [and] durability enhancements across full product range, whether its impact tools for bolting or its more body type work, you'll see more cordless products replacing air [tools] just because of [their] convenience," Ingersoll Rand's Golden says.  
Cordless power tools are here to stay and will only continue to gain momentum within shops. Increase sales by learning what applications customers are performing and what platform best fits their needs.