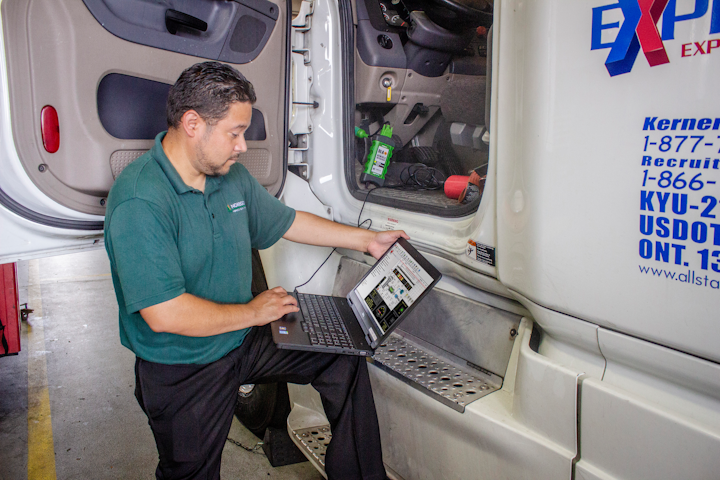 Image courtesy of Noregon
An effective maintenance program is vital for fleets who perform any level of maintenance and repairs on their vehicles. Effective maintenance practices drive uptime in a fleet, from limiting downtime on planned maintenance to preventing unexpected downtime via comprehensive, long-lasting repairs.
To improve maintenance procedures, fleets should focus on these four key areas:
Intake
Triage
Diagnosis and troubleshooting
Repairs
Intake
It's time to rethink your intake process and consider implementing a process that begins before the truck ever arrives at the shop. Intake involves gathering pertinent vehicle details and gaining a high-level overview of the truck's overall health. With the introduction of remote applications, fleets can now begin gathering this information while the vehicle is still en route.
Before the truck enters the yard, vehicle information such as component details, active faults, and the vehicle identification number (VIN) should be forwarded to the service facility to expedite the process.
Advanced notice of these items helps the service facility determine if it has the labor, parts, and expertise necessary to consider repair work on the truck. By knowing which faults are on the vehicle ahead of time, service centers can rely on experience to make an insource or outsource decision and expedite the next step in the process; triage.
Triage
Too often, shops are pulling their top technicians away from complex repair jobs to perform triage on vehicles with minor issues. Triage inefficiencies directly impact profits, particularly in the time of a technician shortage.
Consider having the service writer or technician connect all vehicles to an all-makes, all-models diagnostic and repair solution that will simultaneously diagnose all components. Doing so helps provide an overall snapshot of the vehicle's health, rather than diagnosing a single electronic control unit (ECU) only to discover additional issues during the diagnostic or repair process, increasing the original downtime estimate.
During triage, decisions occur regarding whether to repair in-house versus outsourcing repairs – a question that requires a comprehensive health report to answer. While in the triage stage, it is also the time to determine if a warranty will cover the work. As mentioned, the intake process should provide details regarding the types of components on the vehicle; have the correct OE software ready to connect and determine if that vehicle needs to be passed along to a dealership for warranty repairs. If performing repairs in-house, consider diagnostic scan tools that offer step-by-step guidance for users of any skill level which provide the optimal diagnostic path to best estimate time and parts requirements.
Diagnosis
Understandably, diagnosis is a critical part of the maintenance process; it's hard to correct something without first knowing what the problem is. When outfitting your shop with a diagnostic solution, it must be comprehensive yet user-friendly, support all-makes and all-models that make up the fleet, and include features that train technicians during diagnosis to improve shop efficiency.
Due to how comprehensive these tools are, a fleet's diagnostic tool(s) should include free or affordable self-paced training options to ensure users utilize all features. This can help technicians of all skill levels move from diagnosis to repair with less assistance from lead technicians or shop supervisors.
A diagnostic and repair solution should include a feature providing the vehicle's fault code history that assists with detecting recurring or intermittent issues. Failure to do so will result in increased comebacks, which threaten on-time deliveries and create unnecessary expenses from repairs that should have been handled the first time the truck was in the shop.
Troubleshooting helps the technician verify the diagnosis. To do so, integrate a troubleshooting module with the shop's diagnostic and repair tool. Doing so allows the technician to view wiring diagrams, enhanced fault descriptions, and live vehicle data without switching between multiple applications.
Repair
The final step in the process is to make the needed repairs.
At times, a diagnostic tool will point the technician toward a straightforward repair job, but other repairs will require a bit of assistance. That assistance doesn't have to come in the form of a more experienced technician, however. Consider purchasing a subscription to a database of detailed repair guides that includes repair manuals for all major components of the fleet vehicles. This information gives technicians a single-stop, centralized location for all repair steps and procedures with detailed diagrams and instructions for removals and installations.
Some key features to look for are standard repair times (SRTs) that help to more accurately estimate downtime, detailed schematics, diagrams, and vehicle repair points to save time and reduce mistakes. Another feature to consider would facilitate integration with the shop's diagnostic tool so users can utilize a single application to move from diagnosis to troubleshooting to repair. A subscription to this type of database is yet another way fleets can thrive during a technician shortage and accomplish more with less.
Ben Osborne is Noregon's marketing communications manager. Since joining the company in early 2016, Osborne has worked closely with Noregon's vehicle data experts to promote initiatives that help drive the commercial trucking industry forward. Noregon, an industry-recognized vehicle data expert, is an Internet of Things (IoT) company specializing in connected vehicle solutions. Through advanced commercial vehicle applications, including in-shop tools and remote vehicle solutions, Noregon helps businesses maximize vehicle uptime. Since 1993, top fleets, OE dealers, independent repair facilities, municipalities, and the military have all relied on Noregon to keep their vehicles rolling.