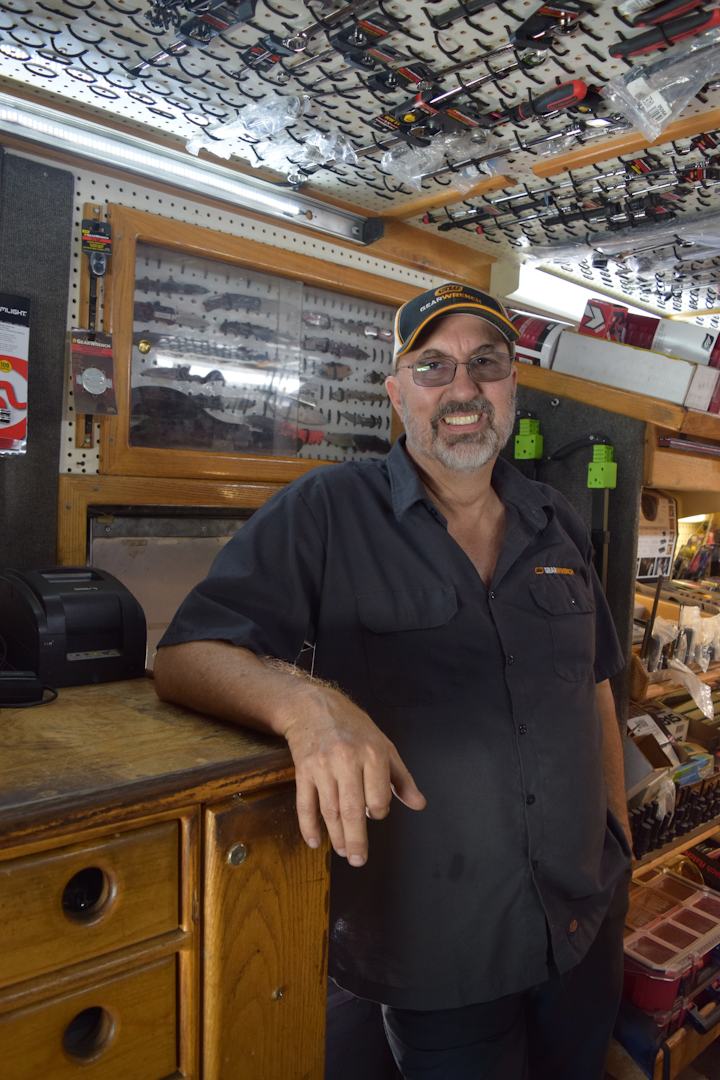 It's August in Alabama. The stretch of road we are on in rural Altoona is covered end-to-end in automotive repair businesses. The shops are so dense and close together that Steve Johnston, in his 42' International sticks to one side of the road the entire day. He'll come back  and start on the opposite side tomorrow.
In his 20-year career, this independent tool dealer and owner of SJ Enterprises has kick-started, re-started, and fine-tuned his business to make it fit. He moved the route outside of Birmingham and, more recently, scaled the business down from three trucks to one. Now, he enjoys finding ways serve all types of customers and maximize sales with special buying opportunities.
Finding the hot spots
Our first stop on this Thursday morning is a small towing company where Johnston replaces a GEARWRENCH ratchet for a customer. After that, we head to the first of two Chevrolet dealerships in the area. 
The 1996 42' International gets Johnston from point A to point B, and he is in no hurry to replace it. The 466 model is a step-up from the 444 in chassis size, which suits Johnston just fine.
"It took me a while to learn that. Step vans are just horrible," he jokes.
The '96 model year has only a few sensors and no DEF, qualities which make it simpler and less expensive for the former technician to maintain. A few small issues aside, the truck has done well for Johnston over the years. Even the time it broke down on a sales ride along, Johnston says he and the GEARWRENCH team moved everything into the GEARWRENCH sprinter van and managed to sell $25,000 in four days – without the truck.
"I credit the customers out here," Johnston says regarding his sales success. "It's nothing else. But overall, this old truck has been very reliable."
About three years ago when Johnston relocated the route about 100 miles outside of Birmingham, he experienced a welcome change of pace. Collections are easier, for one.
"They don't hide up here," Johnston says. "I can't tell you how many times I've seen a customer look me in the face and then drive out in their car when they owe me money [in Birmingham], and they'll just stay gone until I leave. That was a pretty common thing."
The rural towns offer familiarity, too. One service department manager along the route has known Johnston since he was twenty-two. The two grew up together in Huntsville, Alabama, and then again when Johnston returned from the military. 
Tuesdays and Wednesdays are travel days, where Johnston drives about 45 miles to greet customers at stops that were once part of his old, multi-truck route. When he scaled back the business, he was able to cherry pick some of these shops and keep the best prospects.
Thursday is a long day; Johnston will be on the road until about 5:30 PM or so. His customers are automotive and heavy duty repair technicians, but he's found some nontraditional stops  such as a lumberyard that "never had a tool guy before". Despite never having a tool dealer, the enormous facility does, in fact, have many "guys using tools."
"I went out there one day and made $1,000 ... and they all paid in cash," Johnston says. "I've been going back since and they've been great customers."
Shortly before lunch, we pull up to Dixon Tire, a newer stop on the route. An alignment technician got word of Johnston's business from technicians at another shop on the strip and requested the tool dealer stop by.
"Tire stores like that typically buy just two things: floor jacks and impact guns," Johnston says. "[Because I don't sell much to tire shops in the way of other tool categories] that knocks me out of a lot of that business. But an alignment guy – he's buying specialty tools, so I'll talk to him."
Gearing up for the big sale
Over the course of the day, Johnston hypes up a GEARWRENCH sale that is a few weeks out.
"I take advantage of the GEARWRENCH Street Team ride-along program, and I've had very good success with it," he says.
He has figured out a system that works for him pre-sale. That is, he prepares his customers and preorders the buy-one get-one-free goods. He also reminds customers to get their balances down so they have room to buy when they can get the best bang for their buck.
"I started talking up [the sale] a little too early this time," Johnston laughs, "and a lot of people have paid off their balances and are chomping at the bit." 
As we move from Altoona to Albertville, Alabama, in Marshall County, Johnston is active non-stop. Sometimes customers come onto the truck and sometimes he goes into the shop; it's a good, fast-paced mix of activity. Johnston is transparent and good-natured in dealing with customers.
"I try to go in there and make my pitch, or see if they need anything, say 'hello,' [and] be on my way," he says.
One customer on speakerphone with Johnston testifies: "I won't buy from [anyone] else." Another customer tells me Johnston is "the best organized" of all the tool dealers that come by. 
In addition to person-to-person sales, Johnston keeps up a business Facebook page customers visit. He also uses this page to post regularly and build momentum for upcoming sales. 
Soon, we head to a place the locals refer to as "Bondo Alley" – an area off the main road, saturated with body shops and detailers for about a mile and a half. 
"When I came out here, I literally took a pad of paper, drove down this road, and stopped in at every single place," Johnston recalls. "I was surveying the route; it was 45 shops, I think. Just on this side of the highway."
Johnston does well on a day-to-day basis, but he (and his customers) really come alive with sales and promotional opportunities. A couple months ago Johnston did another ride along promo with ISN. He preordered the same type of equipment to sell during the sale and managed to sell about $20,000 in one week. He earned recognition at ISN's show for "highest sale on a ride along," and did so not once, but twice in a few months. 
Challenge, change, and opportunity
Johnston makes his route look like smooth sailing, but in talking with him one quickly learns he's no stranger to tough decisions and taking initiative at pivotal times. 
"It was a super harry time for me when I went down from three trucks to one," he recalls. "It happened very quickly. One of my guys [who was on the truck I normally run] put his notice in. A week or two later, another guy put his notice in. I thought about it for a second, [considered] hiring someone and getting it going again, but … I was commuting from Birmingham five days a week, my wife wanted me to get out, and I begrudgingly did. [Now] I'm happier and she was right. Wives are always right … you know; very frustrating."
In fact, for a time Johnston's wife drove a second truck.
"She has a degree in nuclear medicine and was between jobs," he says. "Next thing you know, she's in a truck … she did great at it and I just handled all the bills. She knew about customer service; she averaged $8,000 a week and did better than me at four days a week [ whenI was doing five]."
In addition to the slower pace of life and conscientious customers in this area, Johnston has witnessed something else first-hand: the technician shortage.
"It's real." he says. "When there used to be a lot of technicians and prospective technicians, [shop owners] didn't have to take crap from an employee because there were five guys willing to do the job. It's not that way now. The shops lose a person and they're without [a technician] … sometimes for a long period of time." 
The relationship he's developed with his customers over the years is extremely important to Johnston.
"I'm not requesting them to be loyal to any brand, but I do pressure them to be loyal to me," he says.
In the early days when he turned in his flag gear to go independent, Johnston worried about whether he'd be able to retain his customers. When he discovered these customers were, in fact, loyal to him, it alleviated a lot of his fear. 
There are a number of dealers serving this region of Alabama, dealers representing all the flags and other independents, too.
"I have a lot of competition, but I have to look at it like I'm the competition – they have to compete with me," Johnston says, adding that his pricing helps a great deal.
But  pricing is not the only factor working in his favor.
"I don't have a lot of the assets [other tool dealers] have, but I make them nervous," he says. "All the time you hear customers say: 'As soon as I pay off that other guy, I'm only going to buy from you.' That's hardly ever true, but I've seen that to be truer out here than anywhere else." 
Above all else – be yourself
When he's not selling tools Johnston plays some golf, shoots guns, and builds and races old Datsuns – a hobby he's had "forever" – since his brother died in a motorcycle wreck at 21.
"I was about 18 and I was in the Air Force at the time," he says. "[My brother] had a Datsun when he died, and I inherited it. It just kind of became a hobby messing with it, racing it, and building it. It's really one of the things that led me into becoming a mechanic. I have been racing and building and doing that stuff ever since."
Johnston will head to Japan at the end of the year to tour the Nissan facilities and test Nissan and Datsun cars on the Suzuki raceway.
He has enjoyed a long and profitable career in sales. The challenge of being independent, he says, is there's "not always that support mechanism of district managers and people dedicated to supporting you. You're on your own."
For example, in the early days when he switched from a flag, learning new software "on the fly" took some time on top of meeting new customers and finding new stops. But, he says, he does get support from his sales teams.
The thing Johnston loves most about driving his truck and selling tools is the autonomy of choosing his customers and his stops, and the scale of his business. He goes along at his own pace, and his loyal customer base and collection of friends proves this style has been a successful one through the years.