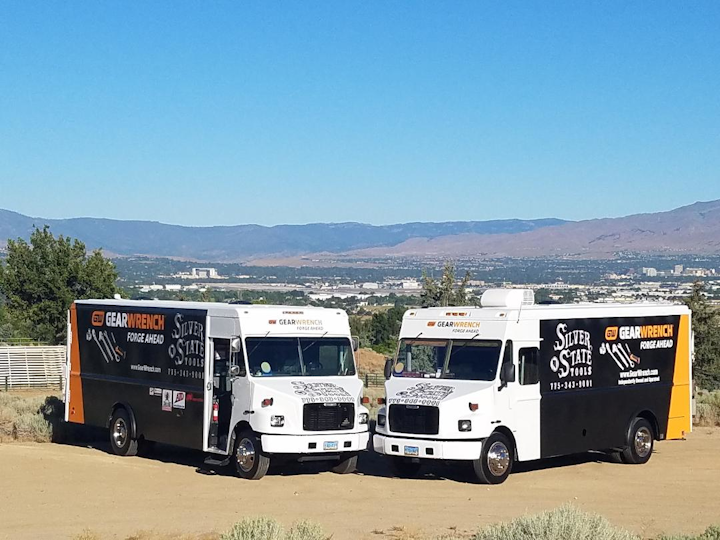 Bryan and Amanda Lee, owners of Silver State Tools, are independent tool dealers based in Reno, Nevada. They are part of the GEARWRENCH Street Team and have routes covering multiple industries, including manufacturing, automotive, paint and body, mining, and construction.
The couple has been on the road selling tools since October 2018. Within the first five months of rolling out their first tool truck, a 2003 20' Freightliner MT55, they had over 500 customers and quickly realized they would need another truck to meet their demand. In March 2019, they purchased their second tool truck, a 2001 18' Freightliner MT55.
Bryan has 35 years of experience as a technician. He and his wife Amanda, a car enthusiast, previously owned a mobile tool company in Sonoma County, California. However, due to economy they sold the company and later moved to Reno, Nevada.
"After moving, we realized there were not any independent tool dealers in the area and decided to take the leap," Amanda says.
The couple knew they wanted to purchase Freightliner MT55s for the trucks' heavy duty chassis and engine. They purchased the trucks from previous tool dealers, but both needed maintenance work and "some elbow grease." The 2003 Freightliner mainly needed interior lighting and a major cleaning, and the 2001 Freightliner – which has a completely different interior layout than the other truck – needed even more work.
The Silver State Tools team put in hardwood floors, removed the carpeting on the shelves, exposed the oak ends, and had a custom oak workstation built with a 2" hickory butcher block countertop. They also built hanging shelves on the back wall and door to hold merchandise on hooks.
"Customers have a hard time believing that our trucks are more than 15 years old," Amanda says. "This is our store and we want to present our store to our customers as if they are walking into an actual storefront. We are frequently complimented by our customers on how nice our trucks are. Keeping up on the cleaning and maintenance … is a big part of our presentation."
The Lees run their business by the motto, "Treat people as you would like them to treat you." They enjoy meeting people and being able to help their customers get the tools they need to be successful in their jobs. They also extend any sort of raffles, giveaways, and promotional deals from their manufacturers to their customers. For example, when a tool manufacturer has a "buy one, get one free" promotion, they will create a sign and place it in front of that product.
"A happy customer is a repeat customer," Amanda says.
For Bryan and Amanda, taking the leap back into the tool industry has been rewarding.
"Business is just business, but being passionate and caring really helps in making a business an extension of your everyday life," Amanda says. "If you are doing what you like, it's not hard to get up in the morning and face another day."