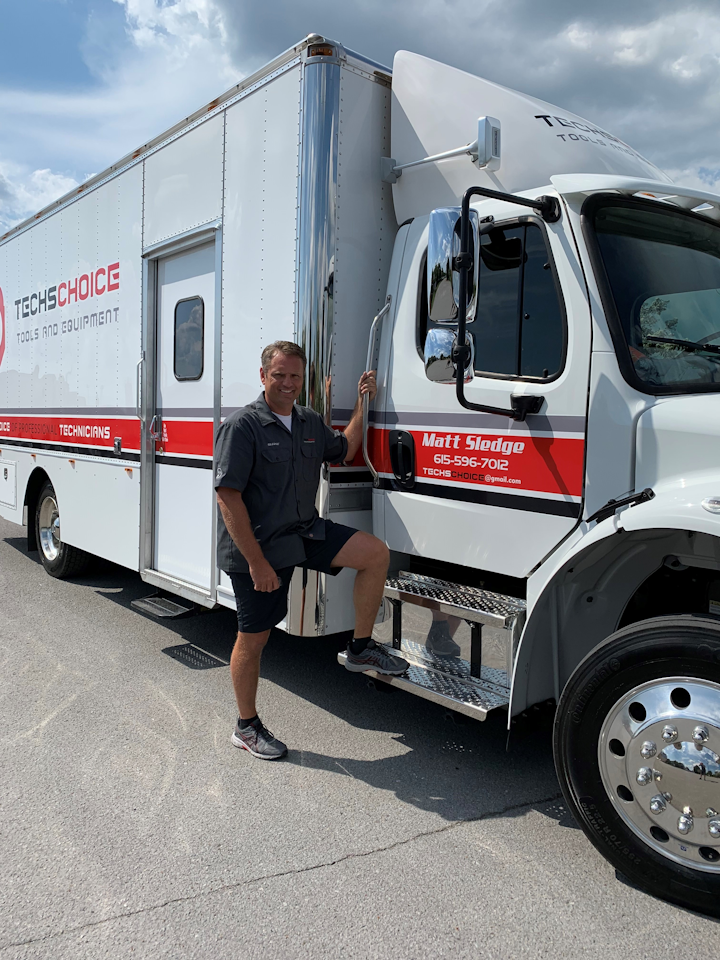 Matt Sledge has been an independent mobile tool dealer since 2010, but this September will mark his 19th year selling tools overall. His route is located in Rutherford County, Tennessee, and Sledge notes that he sells to about "90 percent automotive shops and 10 percent industrial."
Recently, Sledge bought a new Freightliner M2 22' truck from Summit Bodyworks. He purchased the truck in April but received it at ISN's Tool Dealer Expo in June. (To get an exclusive look at Sledge's truck before he stocked it with tools, click here).
Sledge's decision to buy a new truck came from him growing tired of all the problems his old truck had and seeing all those same problems in the used trucks he was looking at as replacements. After many nights scouring the internet for a truck that would fit his needs, Sledge had had enough.
"It just got to be too much," he says. "I drove to Gainesville, Florida, and looked at one, and then I drove to Atlanta and looked at another one. I sat on the computer every single night looking at trucks and options … it was very frustrating trying to find [a] truck that actually suited an independent's needs.
"It's not like you're looking for a blue [Toyota] Camry and there's a bunch of them out there," Sledge continues. "It's a tool truck. There's not many of them out there. It almost forces you to buy a new truck if you want something nice, or you want it the way you want it."
On a whim, while going on a ski trip to Colorado, Sledge decided to pay Summit Body Works a visit. Upon arrival at Summit's facility, Chris McHan, account manager at Summit Bodyworks, gave Sledge a personal tour of facility and the truck building process.
"[It] meant a lot to me," Sledge says of the tour, "because I actually got to see how much work was put into these trucks, which justifies the amount of money it costs to build one."
While some tool dealers look at the price tag that comes with buying a new truck and can't fathom spending that much money, Sledge looked at this way: He had the opportunity to start from "ground zero," so he knew every scratch, every oil change, every blowout, everything done to the truck … came from him. There were no surprises.
It also didn't hurt that McHan was accommodating with all the customizations Sledge requested. To really make the truck his own, Sledge had quite a few customizations added, such as custom cabinets, countertops built to a custom size, a window that allows you to look outside and see the other side of the truck, a 48" box on the outside, and 47" high drawers across the shelves. He also had a sound system with sub-woofers and a nice stereo, a refrigerator, and a microwave installed.
On top of those customizations, Summit went even further and added a small, custom metal strip down the shelf for tearing receipts, a custom-made card-display with Sledge's new logo for his business cards, and under-shelf lighting on every shelf, including the bottom ones.
"Whatever I needed, I pretty much got it," Sledge says. The only customization the manufacturers couldn't do was tinting the windows, so Sledge handled that after bringing the truck home.
Now that Sledge has his truck exactly how he wants it, he can focus on what he does best – selling tools. Cleanliness and professionalism are Sledge's two keys to success. He likes to keep this truck extremely organized and keeps tools from the same categories stored together. When it comes to displaying the tools, Sledge says, "I display them how they should be displayed – open and available [for customers] to [see] what they can buy."
Sledge likes to keep his workspace clean and free of clutter because that is the area customers hang out in the most. But it's not only the truck's appearance that matters. Sledge makes sure his shirts are ironed and pressed – he tries to carry an image that looks professional.
"I put a lot of emphasis on being as professional as can be because [customers are] dealing with other trucks that have programs that show them or mold them how to be professional," he says. "I just have to do this straight off my cuff."
With his new truck customized to perfection and not a tool out of place, Sledge is ready to hit the road and make some sales.