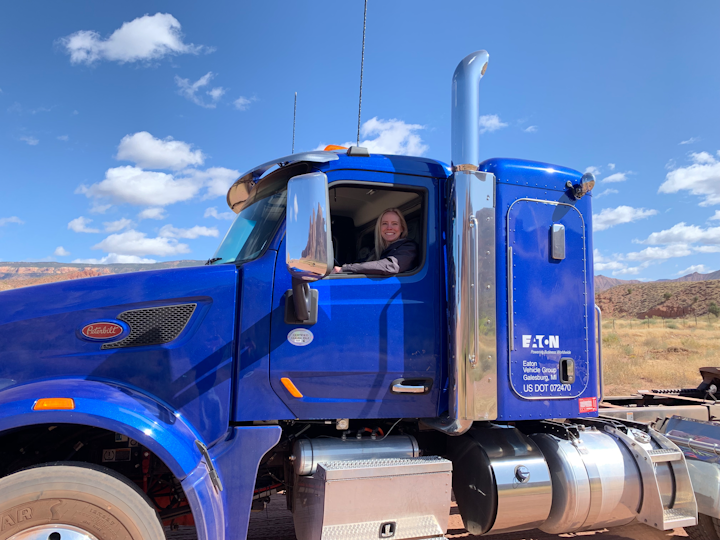 With the sun shining, temperatures in the mid-forties, and a brisk north wind, there was no better backdrop than the Gateway Canyons landscape in remote Colorado to test out some of the latest vocational lineup from Peterbilt. 
I had the opportunity to test drive a number of vocational vehicles on a 1.5-mile Professional Baja Truck off-road track in a remote mesa-rich area of western Colorado, less than an hour from the Utah border. I endearingly dubbed it the "spaghetti trail" since I would appear to be just about done with the loop, only to have another half-mile to drive on the winding track.
My guide for the day, Charlie Cook, has worked at Peterbilt Motors Company "since May … of 1992." Cook's current job title is vocational sales manager for refuse, but he has held a number of positions at the company since his tenure began nearly three decades ago. Cook says he's liked working with work trucks best.
"I've worked here 27 years; I've done a little bit of everything," he says. "The heart is in vocational, there's more fun stuff. You get to play in the dirt, with the big dump bodies, the crane trucks, construction equipment."
The lineup included 2020 Peterbilt Model 567s, some specified with traditional dump bodies, side dumps, and tractors designed for heavy haul like the Model 567-121 SFFA tridem axle. While testing out the trucks on the route, Cook provided an overview of the latest trends for today's vocational market. We talked next-level integration with support to bodybuilders and customers, additional safety features in the latest vehicles, a continued shift from manual to automated manual transmissions (AMTs), and the next generation of diagnostic capabilities for trucks. Along the way, I got behind the wheel to test out some of the functions for myself.
Building closer relationships with body builders
On-highway trucks come with their own variety of unique specification options (of which there are plenty), but tractors pulling trailers over the road don't hold a candle to the next level of truck specification options in the work truck market. 
Traditionally, body builders were left to manage the outfitting of work trucks after the chassis came off the line at the OE's manufacturing facility. Today, truck manufacturers like Peterbilt are working to make the integration for body builders more seamless and customizable than ever before. Cook confirms Peterbilt now has four full-time staff focused solely on body builder integration.
"The vocational world is so varied," Cook explains. "There are a hundred different body applications you could choose. Understanding what [the fleet is] going to be doing with the truck ahead of time, and communicating that with us and our engineering staff so we can work with the body companies, we can really customize that vehicle for that route. It's not a generic 'Here it is, paint it white, and go.'"
This transition to being a liaison between the body builders and end-users has helped to make a more efficient and useful product. For instance, Cook shared examples of changing the positioning of the fuel tank on a chassis to accommodate ladder steps for a Colt dump body.
"If you're putting a pump somewhere and we had the fuel tank there, of course, we can move that if we know about it ahead of time," Cook says. "We could move the fuel tank back [or] we could move it to the other side [of the truck]."
Speaking of unique specifications, axle positioning is hyper-customizable for work trucks in particular.
"We do wheelbases in one-inch increments," Cook says. "Is it axle-forward, axle-back, depending on the state [where the truck runs]?"
This is to help accommodate the payload requirements customers will be hauling, along with adhering to the bridge laws dependent on which state the truck will run.
The trucks available to drive during the Gateway vocational dealer event featured a variety of set forward and set back steer axles to accommodate these bridge laws.
"If all of your weight is compressed and you have shortened axles, you're harder on bridges," Cook explains. "If you spread it out, it's easier on bridges."
There's a balance specifications must meet in order to get as close to these bridge laws without exceeding weight limits per axle, while also getting as close to the maximum rating per axle. A far-forward steer axle compared to a set-back steer axle can be as much as 20 inches. A set-back steer axle allows a fleet to put more weight on the steer axle – reaching as close to that 20,000-pound maximum rating on the steer axle as possible.
Why would you want the steer axle farther forward? To spread out the weight for the per-axle limits, depending on bridge laws. The closer the axles, the more weight of that payload is placed closer together, which could potentially jeopardize the structural integrity of roads and, specifically, bridges.
Far-forward steers may only have a maximum of 16,000 pounds on the front axle.
It's really dependent on where the fleet is operating, in order to maximize the payload but still stay within the appropriate weight of the truck and to adhere to the bridge laws by state.
Examples of states that have to accommodate more strict bridge laws? According to Cook, "In Michigan, you see trucks with 10 axles on the trailers. They have their own version of bridge laws where the weight needs to be spread out over the different axles as much as possible. California has the steer axles way forward, long wheel base." In California and Arizona, sometimes you have an extra axle - a lift axle - in the back. "Forty feet is your [envelope], front to back, for California and Arizona. You want to be as long as you can be. From the bumper to the last part of the truck."
A typical work truck chassis will not exceed 40 feet, according to Cook. But it could be much shorter if application dictates it.
"Some folks want it as short as they can get it, for tight environments," Cook says. "That's where you do an axle-back and a short wheel base, so your turning radius is real tight."
Safety features
The commercial vehicle has seen a shift in recent years to a continued focus on safety. The vocational market is no exception.
The Bendix Wingman Fusion is now standard equipment on 2020 Model 567s, providing collision avoidance alerts and active mitigation. Fleets have the option to adjust the distance threshold.
Additional in-cab benefits include a fairly customizable seating and viewing area with air ride seats, a tilt and telescoping steering wheel controlled from a lever on the left-hand side of the steering column, and a few additional mirrors and camera options in addition to the standard plane (e.g. west coast) and convex options. These include a hood mirror that comes standard, outfitted on the passenger side, but also offers driver's side option.
The side mirrors are powered (nothing new there), but also heated and can defrost automatically when the defrost is turned on in the cab. 
There is also a look-down mirror on the passenger side attached to the top of the door looking down, to provide visibility on the passenger side of the vehicle at all times. It's standard on all Peterbilts, Cook says.
"You've got to find the right position for the driver, and drivers are all different sizes," Cook confirms. "You want the driver safe and comfortable."
Also noticeable while driving was the quietness in the cab. We were able to have a conversation while driving the track – even over bumps, twists, and turns – without having to shout over engine or road noise.
"For fleets, you're spending a lot of money recruiting qualified drivers and retaining qualified drivers," Cook says. "It's way more cost-effective to retain someone than it is to recruit someone and go through all the prospects to find someone qualified to do the job. You want your employees to be long-term with the company and have that relationship, and it's better for everyone."
Other safety features Cook covered included audible driver alerts when the parking brake is not engaged; customizable seat belt colors to get a quick visual confirmation if a driver is wearing their seat belt before leaving the yard; and high-visibility, non-slip A-pillar handles (near the front steering wheel) and B-pillar handles (behind the seat).
"We try to make drivers as safe as possible," Cook says. "Everybody shows up, and everybody goes home in the same condition."
Benefits of the fully automatic versus an AMT?
When it comes to safety, automated manual transmissions and, in some cases full automatics, have been increasingly specified on work trucks. Plus, having AMTs do not require shifting, which can be a draw to new drivers.
If you're dealing with the AMTs and running at the lower gears, the shifting can be so quick that it slips the clutch. In the case of automatic transmissions like the Allison, a torque converter can work well. For severe off-road conditions, automatics are more frequently specified.
"The industry as a whole has gone from the manuals to the [AMTs] because of the driver pool," Cook adds. "AMTs have been encroaching on the Allison market, but the Allison torque converter does a really great job in stop-and-go. In the refuse world, where you're stopping every 70 feet to pick up trash, Allison owns it."
For fleets making the decision between fully automatic and AMTs, the price point for AMTs is still less. With on-highway driving, AMTs make a lot of sense because once the truck is up to cruising speed, there's minimal – if any – shifting. From personal experience, driving a 2013 model truck specified with an AMT that shifting was a bit more, shall we say, "jumpy." On a truck specified with an older version of an AMT, I wanted it to shift before it was ready. More recent models, like the ones on this test track, have been improved to allow for smoother shifting, even at lower speeds.
"Like any new technology, it's going to get better," Cook says. "As we learn more about it, it will become more reliable, it'll become smoother. The big thing is the integration of the engine and the transmission in the vehicle, plus what load requirements, throttle position, what's the driver asking it to do … it provides better fuel economy and more reliability.
On the test track in Gateway, I wanted to compare an AMT to a fully automatic. So, I got behind the wheel of a truck with Paccar MX-13 engine and a 13-speed Eaton AMT, and then a Paccar MX-13 engine with a 6-speed Allision 4500 automatic transmission.
The shifting for both vehicles seemed comparable – quite smooth and not obvious when gears changed. The AMT can have a harder time with this because it has so many more gears than an automatic.
The reason for fewer gears with the automatic? There are bigger ranges because of the torque converter, Cook says. "Automated is a little more precise, with gear-to-gear mesh. Here [with an automatic transmission], you get more of the range."
Remote diagnostics
All Peterbilt trucks now come equipped with SmartLINQ telematics system to monitor vehicle location, as well as operational behaviors and system performance. One example includes remote diagnostics, which enables fleets to understand and prioritize vehicle issues over the road before coming into a shop for service or maintenance.
The SmartLink remote diagnostics and telematics communication system is connected to the vehicle and transmits back to the hub – whether that be the fleet, the dealer, or both. SmartLink has evolved from providing just a fault code from the unit, to now where the system provides a fault code and likely causes, probable fixes, and parts needed. It can also prioritize the severity of the event, says Cook. The system can also integrate into the service management tool to track the truck's progress. It can track information such as when the truck arrived, when it entered the bay for service, the length of time for the service, as well as relay that information to the customer throughout the day, notifying when "it's waiting on a part, it's being repaired, it'll be ready today, so they can plan their day," Cook says.
SmartLINQ provides alerts to the driver, fleet, and/or dealer, which allows them to make decisions on how to handle each situation.
The decision maker has access to a call center in Seattle, which is staffed around the clock and can also access additional details on the event and where the vehicle can go for service through the company's Paccar Solutions service management portal.